« Obama And McCain On Georgia UPDATED: Obama Take Two
|
Main
|
Shocker: Exxon Execs donated more to Obama than McCain »
August 09, 2008
US Postal Service: I've got a Package for you. [krakatoa]
Pants.
The scourge of letter carriers from time immemorial. Mile after interminable mile of heat, sweat and inevitable chaffing. And in these 2-income times, not even the respite of removing the "Postal Blues" for the occasional frustrated house-wife.
Well, if letter carriers in Seattle have their way, relief is on the horizon. Gone are the long, sweaty days for Admiral James T. Cock and his twin ensigns when he is transported through his rounds in a comfortable kilt.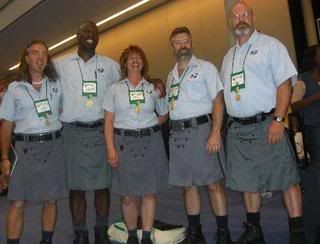 Leif Garrett (left) poses with his fellow letter carriers in the new kilt from their "Pony Express" line.

posted by xgenghisx at
11:54 PM
|
Access Comments