« 2005 "Hurricane Predictions indicate Global Warming will kill us all" - 2008 "Those Assholes with the Hurricane Models are full of crap"
|
Main
|
Mass. Hits Citizens Who Refuse to Buy Health Insurance With Fines »
June 03, 2008
PETA's Self-Parody
A non-coastal town in Maine is putting its old jail on the market. PETA has an intriguing proposal that will make all of you want to subscribe to their newsletter.
SKOWHEGAN, Maine - People for the Ethical Treatment of Animals has sent a proposal to the Somerset County commissioners to lease their jail for the world's first Lobster Empathy Center.

The central Maine county is constructing a new jail and has put the century-old jail in downtown Skowhegan up for sale. The Realtor handling the sale called the offer "likely a publicity stunt."

"A prison is the perfect setting to demonstrate how lobsters suffer when they are caught in traps or confined to cramped, filthy supermarket tanks," PETA wrote in a June 2 letter to the commissioners. "The center will teach visitors to have compassion for these interesting, sensitive animals while also commemorating the millions of lobsters who are ripped from their homes in the ocean off the coast of Maine each year before being boiled alive."
Interesting, sensitive animals?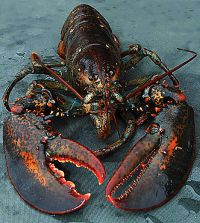 Hold me...
They're sea cockroaches, for crying out loud. The only thing interesting about them is the variety of ways they can be cooked and served on a plate. And sensitive? There's a reason they put those rubber bands on the lobster's claws before they drop them in a tank together.
We still haven't gotten to the best part of the story - the proposed educational exhibits.
PETA said the center would include educational displays and "testimonials from top independent scientists confirming that lobsters feel pain just like other animals."

PETA said the center would feature interactive exhibits such as a human-size lobster trap where visitors can have their fingers wrapped in large rubber bands that will remain on for their entire visit.

"At that point, visitors can be moved to a small, filth-strewn glass tank where they will be crammed together and confined for up to an hour," the proposal states.
Doesn't that sound like fun? You've got to wonder if they wanted to include an overheated steam room as part of the experience, but thought that might be taking things, you know, just a little too far.
What's really funny is that Skowhegan is about 53 miles from the coast. Anyone who has ever seen a lobsterman will understand why the PETA weenies are staying away. Lobstering towns are basically full of guys who look like cast members from "The Deadliest Catch" and they have minimal patience for people who want to shut down their livelihoods.

posted by Slublog at
09:31 AM
|
Access Comments