« Obama Sends Actor Ronnie Cox To Mend Fences With Small-Town Folks
|
Main
|
Jeremiah Wright Was a Muslim, and Why That Matters »
April 11, 2008
Is This is Why Hundreds of Thousands of Passengers Got Screwed?
These wire ties. In the wheel well. Which were one and one quarter inch apart, instead of the FAA mandated one inch apart.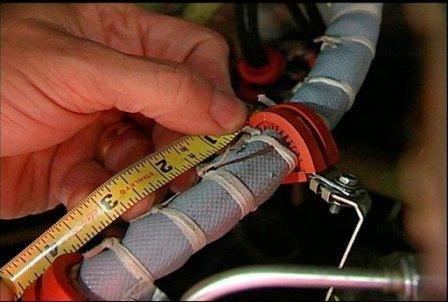 The 1/4" spacing on these fabric wire ties blew away the travel plans of a quarter of a million people. Is it because the FAA asserted itself (after having been embarrassed that some of their inspectors might have been on the take with the Southwest 737 debacle) and of course Congress stepped in to do "right things"?
I know. I'm asking bullshit questions that they can't respond to. Well fuck them. I want responses.
I'm no engineer, nor do I play one on television, but could not this non-flight risk concern have been addressed over time? I get it, I know, if the Dave in Texas Truck has an issue, he can pull over into the bar ditch without fear of flame.
I ask as a flier who didn't have to get fucked over by American this week.
Was it politics that inconvenienced a quarter of a million passengers these past couple of weeks? This week in particular?
And by that I mean was it a grand-standing asshole named James Oberstar, Dickhead-Minn?
I have needs. I wants to know.

posted by Dave In Texas at
08:47 PM
|
Access Comments