« Who Wants Some War Pr0n?
|
Main
|
Japanese Model Gets Off Due To Large Breasts »
March 04, 2008
Sorry, Once More: D&D Co-Inventor Gary Gygax Has Died, Failed His System Shock Roll For Resurrection
Pardon the joke. But he'd want it that way. Maybe.
It is almost too much to get my mind about. But I've just had news that our dear Dungeon Master has passed away. Ernie called this morning, he thought we should let the fans know. He's just sent an email out.

Gary was in his home when he gathered himself up to cross the great divide.

He was a very dear friend of mine. And I will miss him so.

God Speed My Friend.

Steve
"Ernie" would be his brother Ernie Gygax, who was Bigby or Melf the Elf or one of those gaywad characters that's still hardwired into the game.
The MSM confirms the death.
I'm posting too much D&D crap lately but how could I not note the (possible) passing of the man who taught me to use the pretentiously stuffy academic latinate contractions N.B. and q.v.?
He will be remembered by many geeks of a certain age for helping making long-lasting painful celibacy seem almost hip and cool (almost), and also, sadly, for undermining Israel's ability to defend herself from her enemies.

Thanks to Derek and Double Plus Undead.
Blacksheep:
Geeks everywhere should observe 1d4 + 1 moments of silence.

Gygax was a gaming titan ... or at least a storm giant. God bless.
Which god? Not Blipdoolpoolp I trust. She was like the original, ultimate Butterface.
Well-wishers are asked to send gold pieces and Potions of Super-Heroism to his family in lieu of flowers.
Even Michelle Malkin Notes His Passing. She gives me a shout-out because I brow-beat her into admitting she used to play the game in eighth grade, back on the Hoist the Black Flag show I used to do.
I think she said she really just liked a boy there and was willing to put up with this crap to work on him. Eh, , it still counts.
See-Dub:
Seriously--the vocabulary building for me when I got these books at, like, age 6 was phenomenal. I could never figure out what "misc. magic" meant and I went around telling my friends their gnome had found some "misk magic". Had no idea what that was until I was forced to learn the word "miscellaneous".

You learn scale mapping. Currency conversion. And probability theory--there were graphs of a bell curve in the DMG, I think, explaining why 2d6 gives you different expected results than 1d12.

You learned all kinds of things. Like the, um, picture of the sylph. Apparently women have all sorts of interesting different body parts, including gauzy, diaphanous wings...

Yes, D&D made me the pathetic geek I am today.
Well, yeah, I learned basic probability, but more important was the vocabulary. Gygax wrote with a style that would be called archly pretentious, except it wasn't arch; it was just him. However, yeah, I was exposed to a lot of SAT builder type words just browsing through his defensive explanations of why fighters only got one attack per minute.
And so too, from an early age, I wrote i.e. and e.g. and always knew the difference between them. In law school I had to explain to people the difference. I knew it from seventh grade, because of the Dungeon Masters Guide.
So, sure, I was a virgin until I was 34, but was it worth it?

Oh, hell's yeah.
Oh... And I would be remiss in not noting that Gary Gygax is responsible for the success of this blog.
Three or four days after starting this moronblog, I wrote a piece about what sorts of D&D characters were played by the 2004 Democratic candidates. It got massively linked, including by NRO, which is of course huge traffic. And suddenly I had an audience of thousands of geeks, morons, and sexually-frustrated shut-ins, and life was good enduring.
So really, if I didn't know my way around a d12, this blog never, ever would have gotten any sort of audience. Which may have been a good thing on balance, but I'm happy it worked out.
The Political Angle: As some of you may know, conservative Christians were rather down on D&D during its explosion in the early eighties. The magic, the polytheistic pantheons of gods, the devils, the demons. Etc.
D&D had to bow to pressure and delete the names "Devil" and "Demon" from their products, substituting in something like "Baatzu" and "T'naari,' or something. I don't know. I wasn't playing them. I was an adult and getting laid. (So why the interest now? Well, I'm an adult who passed his prime and so who's not getting laid, and hence old friends like TV, porn, and D&D have come back into my life.)
At any rate, the Jack Chick pamphlet about the Satanic influence of D&D is still kinda funny.
Incidentally... On that score, I hear (hear -- no idea if it's true) that the only reason the "Cleric" with his Holy Symbol and Christian-like aversion to sharp weapons was even included in the game was to appease Gary Gygax's wife, herself a conservative Christian, I guess a little off-put by the black magic and devils.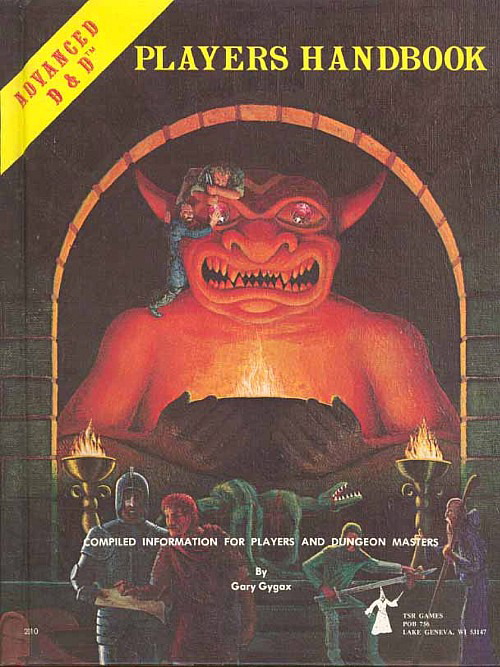 Pic lifted from Paizo.
Edited: I originally wrote this expressing some doubt in the claim, but now that Slublog has provided the MSM link establishing it, I edited to remove that hedging.
And just for shits and giggles, here's the original map of the Keep on the Borderlands.

posted by Ace at
02:36 PM
|
Access Comments