« Ghey Paree! [dri]
|
Main
|
Cracked Presents: "Scientology Is Nice" »
February 28, 2008
Grim Milestone: Media Interest In Surge Success Falls To Dangerously Unstable Levels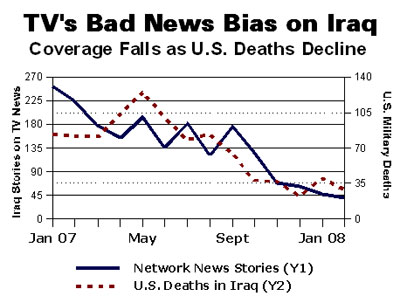 Correlation is not causation? Sure, whatever.
After heavy coverage of the shift to a new Iraq policy in January and February 2007, the TV coverage began to closely track the rising and falling death rates for U.S. soldiers in Iraq. When the number of U.S. fatalities jumped in May, TV coverage jumped, too. When U.S. casualties began to steadily decline, TV coverage of Iraq dramatically decreased.

While the amount of coverage has shriveled, the tone remains more negative than positive.....

Back in December, NBC's Tim Russert conceded that the media were less interested in covering a successful U.S. mission in Iraq, telling anchor Brian Williams that "with the surge in Iraq and the level of American deaths declining, it is off the front pages."

This is not neutral news judgment, but a great favor to anti-surge Democrats, since TV's lack of interest in Iraq spares them the chore of defending their now-discredited opposition to the surge. Does anyone think the media would have let John McCain off the hook had the surge failed as spectacularly as it has succeeded?
Not so much, no.
Meanwhile, the media is finally doing so truly thoughtful examination of itself as regards the question of its own biases. Yes, they're finally getting around to examining if the press has been biased against Hillary Clinton.
It always amuses me -- okay, angers me -- that the press is willing to examine every single possible allegation of bias except for their most persistent and severe one. The press regularly asks absurd questions -- "Is the press too anti-black? Too anti-gay? Too anti-feminist? To anti-Muslim?" etc. -- the moment an identity-politics group makes such an silly charge.
The answer to all these questions is, of course, "No." The press, being liberal as the day is long, is positively pre-disposed to any and all minority groups, particularly those which are important elements in the liberal political coalition. But they are willing to castigate themselves periodically for being, ahem, not quite pro-gay-marriage enough.
Meanwhile, the truly damning charge against them -- that they are nakedly partisan actors who skew their reportage always to favor one political party and disfavor the other, while absurdly insisting they cover politics fair and balanced, straight down the middle -- is always dismissed as being so ridiculous as to be beneath answering at all. You've actually got Neal Gabler, a twisted little dwarf, arguing on Fox News Watch every week (at least, when he worked there) that the media were actually biased in favor of conservatives. Other damaged, dwarfish bridge-trolls such as Paul Krugman periodically echo this outlandish conceit.
Think about it: the media is willing to entertain the possibility that it is actually institutionally racist against blacks while it angrily and arrogantly dismisses the possibility it may be slightly liberal and hence anti-conservative.
Me thinks the lady doth protest too much, eh? One would think the racist charge would be the one dismissed out of hand, so incendiary it is; and yet they're actually willing to ponder whether they are, in effect, effete Klansmen in the service of the Greater New York Metro Area Kleagle.
Yet that possibility they're willing to discuss openly, while it's simply ludicrous that they might be somewhat predisposed to one party's politics than the other.
Explanation? Simple. They know they're not terribly anti-black so it's a relatively easy and unemotional topic for them to chitter about. It's relatively easy to discuss flaws you know you're innocent of.
But when it comes to the anti-conservative bias... suddenly they're quite emotional about the charge, angry and petulant such an outrageous accusation is made in the first place.
A cynic might conclude they're simply unwilling to concede flaws they know they truly do possess, meanwhile making up for that by offering false confessions to a welter of sins they know they're not guilty of at all.

posted by Ace at
05:00 PM
|
Access Comments