ę Falling Icicles Kill Six In Russia
|
Main
|
Grim Milestone: Media Interest In Surge Success Falls To Dangerously Unstable Levels Ľ
February 28, 2008
Ghey Paree! [dri]
"I am from France"
They donít call it Gay Paree for nothing. This week marks the annual Paris Fall fashion week in which clothing designers from far and wide display their new lines of practical, ready to wear fashion. This year, possibly because of fears of an economic slowdown or concerns over the destruction of the planetís fragile ecosystem, the designers have chosen a more practical, more realistic approach to their designs. Finally the fashion elite have heard the voices of the common folk who have demanded that their clothing be utilitarian, functional and with just a tiny bit of ďI donít know whatĒ.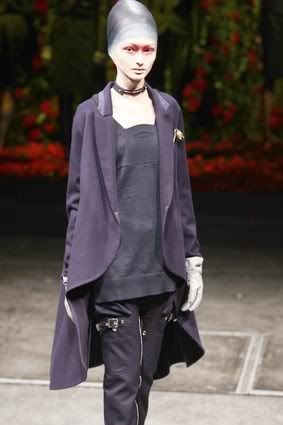 She gave me this come hither look and my knees turned to jelly.
"Tell me captain, what is this Earth kiss you speak of?"
"Why yes the lights work in my apartment, why do you ask?"
"My name is Connie. I am also from France"
"Damn it! Mutual of Omaha just called, I didn't get the job!"

"I don't know why men don't ask me out. Maybe I'm sending the wrong message"
"Why yes, I do play the harp. How did you know?"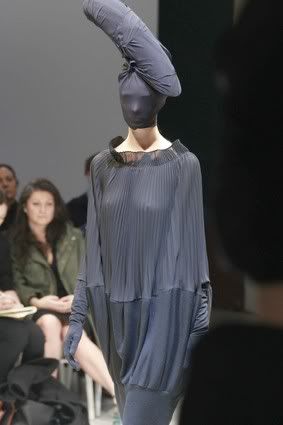 "Burka, eat your heart out!"
"I have been craving citrus. For some reason grapefruit has been on my mind all day"
My Favorites [Ace]: I asked dri to pick his favorites. Here are a few of mine:

"Who am I wearing? Why, The Riddler, as it turns out.
He left a lucrative career in bank-robbery and bad-pun-making
to win season four of Project Runway."
The next few show a designer who obviously thought he had a cute new inspiration for dressing beautiful women: Make them look like fucking furniture.
He tops himself by dressing a woman as a fucking ottoman:
I don't know... I think maybe that makes her look a little "hip-y."
Similar to Mrs. No up there, this chick tells you you can look but you can't touch...
This one, on the other hand, wants you to know she plays a Barbarian in World of Warcraft, which is kinda hot...
Gaultier's big idea this year is to pile on a bunch of mismatched fabrics, and then top each creation off by sticking a dead animal on the model's head:
Nothing says "casual elegance" like a dead squirrel.
This last guy's big idea? Well, you tell me. I think you'll see a theme.
and finally...
Hmmm... I do like the female body... sort of, in a very distant aesthete's way... but it just seems to be missing something. Something that reminds me of something really attractive...
Oh, I've got it: A giant foreskin around their necks.
Now that's hot.


posted by xgenghisx at
04:51 PM
|
Access Comments