« Filth, Etc.
|
Main
|
Death To The Gitmo Six: "This Has To Happen" »
February 13, 2008
Uno The Beagle Wins Best In Show
What set him apart from the pack, if you will?
Three reasons:
He was an exceptionally fine example of his breed.
He had a "spunky personality" that won judges over.
And he posses the power of telekinetic flight: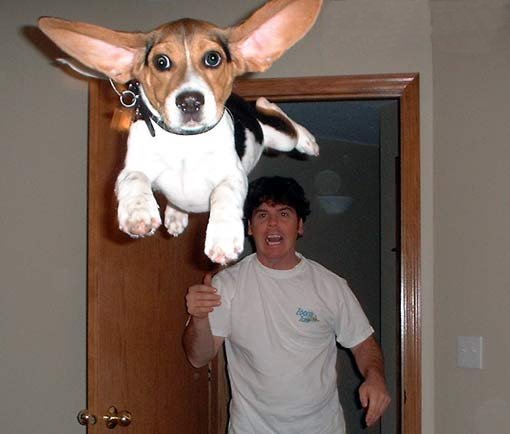 I'm sorry. Look, I know there's a lot of important news I should be linking. I'm just not up to it today.
PS: Good to see PETA maintains its even keel about animal-related issues.
I will repeat my theory that PETA people are largely asexual because they're frozen in a pre-pubescent state of development.

PPS: Well at least the animal-lovers have realistic solutions to what they perceive to be our problems.
For example, this MacArthur Genius Grant Laureate suggests that we can reduce our consumption of animal proteins, while also living healthier, simply by switching from a meat-heavy diet to a bug-heavy diet.
Is it time to start chowing down on some of those crawly critters we instinctively prefer to stomp on? The Feral Forager, a self-published 'zine excerpted in Sandor Katz's The Revolution Will Not Be Microwaved, rebrands pill bugs as "land shrimp"; grasshoppers are "surprisingly tasty and filling" and taste "something like popcorn"; crickets, "incredibly high in calcium and potassium." Roasted grubs make a fat-filled protein snack that, again, tastes "a lot like popcorn."

Earthworms make "a very nutritious flour," and ant eggs are edible, too; raw ant eggs reportedly taste "like couscous", but the author of the article confesses that "the only time I tried this it tasted like a hundred ants biting my tongue..."

But the Feral Foragers don't draw the line at eating insects; some of them go so far as to cross the (yellow) line in their pursuit of alternative food sources. As members of a North Carolina collective called Wildroots, they're what Katz calls "Roadkill Radicals" -- enthusiastic advocates of peeling "dishonored victims of the petroleum age" off the pavement and converting them into "food which nourishes."

As the Feral Forger notes, "picking up roadkill is a good way to get fresh, wild, totally free-range and organic meat for absolutely free." Finally, a silver lining to our car-crazed culture.
Thanks to Brian Faughnan at the Weekly Standard for that, who sent it my way because Michael Goldfarb vetoes it.
Ace of Spades HQ: Blogging the crap that respectable outfits won't.

posted by Ace at
06:43 PM
|
Access Comments