« Congress Passes Whopping $2.9 Trillion Budget
|
Main
|
Bolton's Moustache of Terror Unloads On BBC Interviewer »
May 17, 2007
Take The Pledge, Carry Out The Threat
MikeZ. sent his off:
May 17, 2007

By Telecopy – 202-225-3186

Congressman Rodney Frelinghuysen

Washington, D.C.

Re: The Immigration Bill

Dear Congressman Frelinghuysen:

I have been a Republican my entire adult life and I have lived in your district for over ten years.

I will never again vote for you or support the Republican Party with donations if the immigration bill currently under consideration passes.

The border must be secured first, verifiably, before any amnesty legislation passes.

To evidence my sincerity and seriousness, I attach a copy of my party affiliation declaration form. I intend to mail it tomorrow to the Superintendent of Elections, Commissioner of Registration, Administration & Records Building, 1 Court Street, PO Box 900, Morristown, NJ 07963-0900. I will reaffiliate myself with the Republican Party only if this legislation is defeated.

Respectfully but with regret,

[Name, address, cell phone number]
By The Way... People are asking "Why punish those Republicans fighting this?"
Well, duh, you don't. You can still vote for those Republicans who vote your interests, of course. Changing your party affiliation does not, you know, prevent you from voting Republican.
It will prevent you in Republican primaries, but 1) almost all of the Republicans who are good on this issue are in safe seats, unlikely to face a primary challenge and 2) if necessary you can always flip your affilliation back in time to vote in a primary, if it's actually necessary.
But changing affiliation demonstrates you're serious about this. It's a small gesture -- but so much political anger is just talk, or assumed to be so, that it's helpful to back your anger up with even a small gesture like this.
Incidentally, I don't care, really, about the "amnesty" thing. I always assumed that any deal would include something like amnesty; how could it not?
What incenses me is that is the government refuses to build the fence it promised, and is, rather obviously, not actually interested in "securing the border" as this bill dishonestly "requires." If they'd wanted to secure the border, they could have started doing so a year ago. If not five years ago. If not ten years ago.
The "secure the border" provision is bullshit, a rhetorical dodge, a sucker-provision tossed out to chump you guys into thinking anything's going to change. If things were going to change, they already would have begun changing.
I'm completely with Charles Krauthammer on this: I don't particularly mind the amnesty, if it's limited to the 12 million already hear and a few extra million family members. But it's not. With no real securing of the border, it's simply an invitation for half the population of Mexico, Columbia, the Dominican Republic, Haiti, etc. -- all of the Western Hemisphere, pretty much -- to come here in the reasonable expectation that whether they come here legally or illegally the government will, within a few years, grant them amnesty at some point.
It's a simple principle -- eat your vegetables (secure the border, build the wall, crack down on illegal-immigrant employers, end the sanctuary city regime) before getting to enjoy your dessert (amnesty).
The government just wants dessert, followed by a bit more dessert, followed by even more dessert, plus a whole lot more desserts coming in five or ten years, and then even more desert in fifteen or twenty years.
I don't care that the bill has "triggers" in it and promises -- vaguely -- "fortifying the border." They have had a long time to do this; they have refused to do so. Their only inducement for securing the border was part of a quid-pro-quo to get their amnesty plan passed -- and now that they already have the quo of the amnesty plan passed, why bother with the quid of border security?
Border security was supposed to be the political accomodation we were supposed to receive (our end) in order to accept the amnesty (their end). A trade, and a fair one.
But they've done a three-fer -- amnesty, plus no border sercurity in place, plus no reason to even pretend at border security now that they already have the amnesty they want.
Many of us were willing to accept amnesty in exchange for border security. They've decided they don't need to make deals with their lowly no-account constituents, and have given us amnesty in exchange for nothing. (Well -- in exchange for more amnesty, coming, inevitably, in 15 years or so, just as it unavoidably followed the Reagan amnesty.)

The Republican Party
Formerly the Party of Reagan, now the Party of Judge Elihu Smails: "You'll get nothing and like it!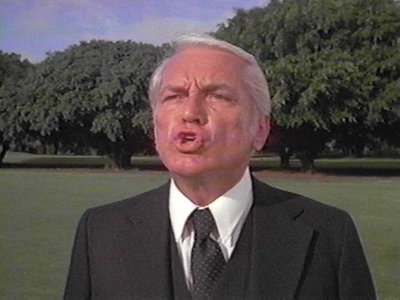 Like Reagan and Goldwater and Buckley, a man before his time.
History just needed time to catch up with his innovative theories of
go-fuck-yourselves-sideways governance.
Screw you guys, I'm going home.
Again, have fun with your new very-small-tent party.
To be honest, I never really liked you all that much anyway, and I feel kind of liberated by this break up.
You know that "It's not you, it's me" thing I'm supposed to say?
Sorry. It was you. It was always you.

posted by Ace at
06:44 PM
|
Access Comments