« Dean Barnett Rips Anti-Coercion Hysterics
|
Main
|
Ridley Scott, Russell Crowe Team Up For Robin Hood Rehash -- In Which Robin Hood Is the Bad Guy, And Nottingham the Hero »
May 03, 2007
Man Who Married Goat Now, Sadly, Widowed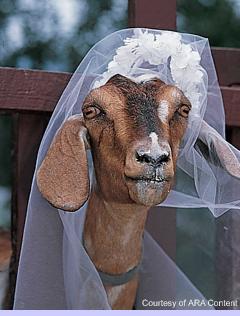 The best-known goat in Sudan has died months after being "married" to a man in the South Sudan capital, Juba, the BBC has learned.

Local elders ordered a man found having sex with the goat, later called Rose, to "marry" her last February.

"The idea was to publicly embarrass the man," says Tom Rhodes, editor of the Juba Post, which first ran the story.

The BBC's story of the "wedding" caught the public imagination and became one of the most read internet stories.

Rose, black and white, is believed to have died after choking on a plastic bag she swallowed as she was eating scraps on the streets of Juba.

After the marriage, Rose had a male kid - but "not a human one" - Mr Rhodes said, hastily.
The dirty whore cheated on him?
Straying wife dying under unusual circumstances... I'm thinking murder.
Thanks to Sinistar.
Update: Thanks to digital brownshirt for the awesome pic.

posted by Ace at
05:08 PM
|
Access Comments