« Cowbell: Economy Grows 3.5% In 3rd Q, Easily Besting Expectations
|
Main
|
Boston Shut Down Due To Idiotic Guerilla-Marketing Campaign For Aqua Teen Hunger Force »
January 31, 2007
Joe Biden Confuses Barack Obama For Geico Cavemen
Biden's all impressed with Obama because, it seems, he uses soap.
I'm not sure I care about this story, but everyone else seems to, and I guess it's kind of fun to knock Joe Biden, who, ummm, is "running for President," he says, in much the same way this is a "very smart military blog."
P'Shop: El Capitan already made the Geico connection: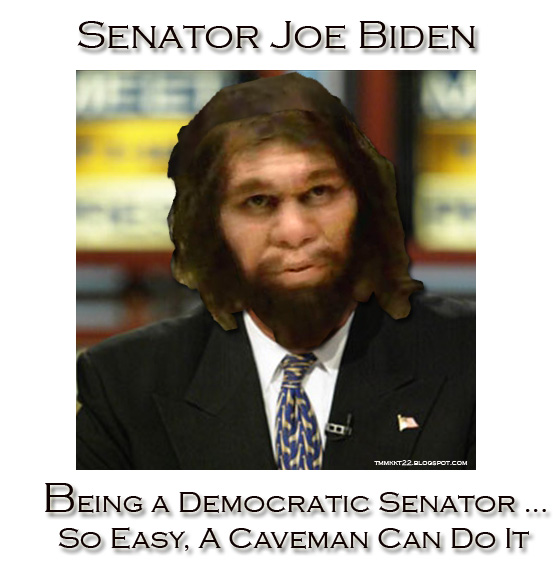 Obama Messiah Watch: The media and Democratic Party (but I repeat myself), being simultaneously stupid, out-of-control true-believer partisans, and pretty racist, is now just praising Barack Obama for crap that anyone can do. Slate's generally-useless Tim Noah has started the Obama Messiah Watch to document this phenomenon. First entry? Lavishing praise upon Obama for actually managing to take coherent notes as a student:
In [political science professor Roger] Boesche's European politics class, [classmate Ken] Sulzer said he was impressed at how few notes [italics Noah's] Obama took. "Where I had five pages, Barry had probably a paragraph of the pithiest, tightest prose you'd ever see. … It was very short, very sweet. Obviously somebody almost Clintonesque in being able to sum a whole lot of concepts and place them into a succinct written style."
And now Joe Biden is praising Obama's Christ-like perserverence in managing to shower five or six times a week.
Good Lord.
Coming Soon: Hillary! praises Obama's "moderation" in "limiting himself to just three or four carjackings per year."

posted by Ace at
04:52 PM
|
Access Comments