« NYC Protest On Behalf Of Imprisoned Egyptian Blogger At 3:30
|
Main
|
Joe Biden Confuses Barack Obama For Geico Cavemen »
January 31, 2007
Cowbell: Economy Grows 3.5% In 3rd Q, Easily Besting Expectations
The economy snapped out of a sluggish spell and grew at a faster-than- expected 3.5 percent pace in the final quarter of last year as consumers ratcheted up spending despite a painful housing slump.

The fresh snapshot of business activity, released by the Commerce Department Wednesday, underscored the resilience of the economy; it has managed to keep on moving despite the ill effects of the residential real-estate bust.

The economy's performance in the October-to-December quarter, which followed two quarters of rather listless activity, exceeded analysts' forecasts for a 3 percent growth rate.

The economy opened 2006 on a strong note, growing at a 5.6 percent pace, the fastest spurt in 2 1/2 years. But it lost steam during the spring and late summer. It grew at a 2.6 percent pace in the second quarter and then a weaker 2 percent pace in the third quarter. The fourth-quarter's rebound ended the year on a positive note.

For all of 2006, the gross domestic product (GDP) increased by 3.4 percent, an improvement from a 3.2 percent showing in 2005.

That's even more impressive considering the economy was hit by the housing slump. Investment in home building for all of last year was slashed by 4.2 percent, the most in 15 years.

GDP measures the value of all goods and services produced within the United States and is the best barometer of the country's economic standing.

President Bush, who had a trip to New York scheduled Wednesday to discuss the economy, was certain to point to the GDP figures as evidence that his policies are working and benefiting most Americans. But Democrats, now in control of Congress for the first time in a dozen years, counter that economic inequality is widening and that it's harder for America's middle class to get ahead.
With the Fed
facing a strongly rebounding economy" but leaving interest rates alone, the Dow looks on its way to setting a new record:
Has anyone kind of noticed the economy's been growing steadily and nicely since the Clinton-Gore recession of late 2000?
Maybe an easy-to-read picture will help our subretarded media understand: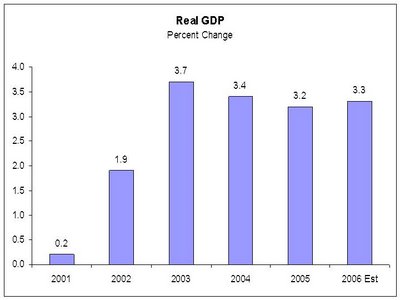 Hmm... how does a very smart military blog mark this news?
Click on the pic for Blaster's Cowbell Theme

posted by Ace at
04:36 PM
|
Access Comments