« Becoming a Guest Blogger - Behind the Scenes
|
Main
|
A move that any self-worshipping anonymous blogger will recognize »
February 03, 2006
Ed Sullivan! Ed Sullivan! We're going to be on Ed Sullivan!
Ok, this one will surely get me fired, if ace is sober. Admittedly that's a big if.
For those of you who have no idea who Ed Sullivan was, please rub it in. You will die one day too.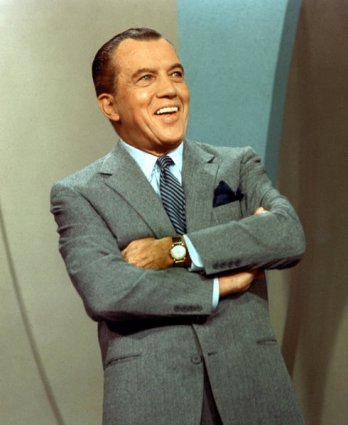 Just got back from the show. Bye Bye Birdie. The kids did a nice job. Especially the youngster that played Rose Alvarez, she kicked ass.
But I was like in a time warp man. I mean, 1963 was when the movie came out. Albert was frickin Dick Van Dyke. The 15 year old teen aged Kim McAfee was Ann frickin Margaret!
And how did Mr. McAfee get into the computer virus protection industry?
How do you explain Ed Sullivan to a 17 year old? I tried, earlier this week, but you have to fall back on language and examples that are in no way relevant to them. It would be like my dad explaining vaudeville to me. No, worse really. Vaudeville I could have understood, because the variety show was an extension of that.
Tonight was a very strange experience for me. I watched a bunch of teenagers perform a musical that I performed 28 years ago. (They did a pretty good job).
But it was "dated" to me then. I mean, come on, Elvis? The Army? How irrelevant was that to me in 1977? Elvis was some fat guy fixing to die on a toilet.
Tomorrow I'm going to have to call my dad and ask him some questions about his experience sitting in the audience watching this musical. I'm going to ask him "when did your world change and what were you doing when it did"?
I'll bet he laughs his ass off at me. That's his normal response to me learning something he's known for 3 decades.
I wonder what the kids will be performing in 2046?


posted by Dave In Texas at
11:56 PM
|
Access Comments