« Prosecution Seeks Death Penalty For Would-Be VX Bomber
|
Main
|
Jobless Claims Fall To 320,000 Per Week »
December 01, 2005
They All Look Tougher Than Hayden Christianson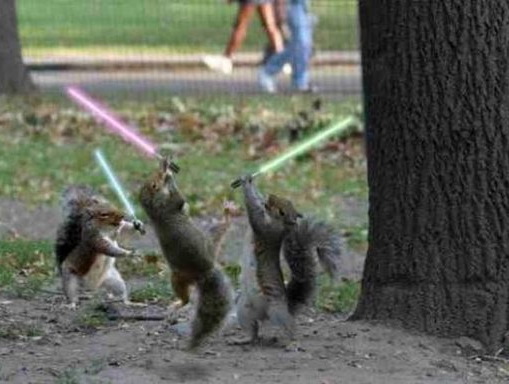 You know why those squirrels have turned to the Dark Side?
Global Warming, that's why.
Photo swiped from World of Wonder (so as not to leach their bandwidth). Check out their paean to Chuck Norris, with a link to the top thirty cool facts about the man I know as "Lone Wolf McQuaid." Here are a few:
*Chuck Norris built a time machine and went back in time to stop the JFK assassination. As Oswald shot, Chuck met all three bullets with his beard, deflecting them. JFK's head exploded out of sheer amazement.

* Chuck Norris' tears cure cancer. Too bad he has never cried.

* The grass is always greener on the other side, unless Chuck Norris has been there. In that case the grass is most likely soaked in blood and tears.

* Chuck Norris does not sleep. He waits.

* A blind man once stepped on Chuck Norris' shoe. Chuck replied, "Don't you know who I am? I'm Chuck Norris!" The mere mention of his name cured this man blindness. Sadly the first, last, and only thing this man ever saw, was a fatal roundhouse delivered by Chuck Norris.

*Chuck Norris can make a woman climax by simply pointing at her and saying "booya".

* Chuck Norris is not hung like a horse... horses are hung like Chuck Norris.

* Chuck Norris is 1/8th Cherokee. This has nothing to do with ancestry, the man ate a fucking Indian.

And yes, I know that list is old, because there's already a lot of votes for the best of 'em.

posted by Ace at
02:31 AM
|
Access Comments