« As a complement to Ace's excellent preceeding post...
|
Main
|
Prosecution Seeks Death Penalty For Would-Be VX Bomber »
November 30, 2005
Smells Like Tween Spirit
For his daughter's coming-of-age celebration last weekend, multimillionaire Long Island defense contractor David H. Brooks booked two floors of the Rainbow Room, hauled in concert-ready equipment, built a stage, installed special carpeting, outfitted the space with Jumbotrons and arranged command performances by everyone from 50 Cent to Tom Petty to Aerosmith.
And not just those three. Also performing at the teenie bash: Don Henley, Joe Walsh, Stevie Nicks, Kenny G (Kenny G?). Don't believe me? Here's a snap of 'Fitty' keeping it real.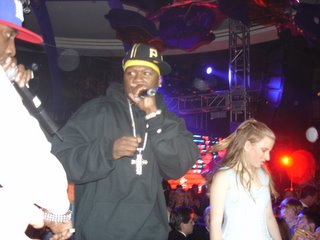 And check this blog for snaps of the other "rockers" rocking out for the assembled tween/teens.
No, I'm not going to go off on the Rock-n-Roll sell-out angle. Never really believed in that, and the pictures say all I ever could anyway. Besides, Rock-n-Roll broke my heart a long time ago - been dead to me for bout a decade.
What I wonder about is her classmate. You know, the one whose kinda-not-hip parents booked the Christina Aguilera impersonator for her coming out two weeks later. ("She's very good honey. She brings her own light show and everything!")
Man, how much must that kid dread her upcoming shindig? Cause you just know 12 year old girls wouldn't dream of, say, later circulating a checklist comparing and contrasting the two parties in comical fashion or coming up to her in the hallway at school and asking her if she still has the impersonator's number "Cause my sister, Megan, she has her party next year (*snicker*) and we just thought it was soooo cool."
No. Cause 12 year old girls aren't catty like that.

posted by Dr. Reo Symes at
10:37 PM
|
Access Comments