ę Fully Naked Men Proudly Show Their Penises to Children at the "Pride" March in Seattle
|
Main
|
Perjury Trial of Loudoun County School Spokesman Who Covered Up Transgender Sexual Assault Begins Ľ
June 26, 2023
Hunter Biden's Lawyer: Ignore The Fact that Hunter Invoked Joe Biden's Name as He Threatened a ChiCom Agent into Giving the Bidens Money. Hunter Was So High on Crack He Didn't Know What He Was Saying.
That's what the lawyer actually claims.
Hunter Biden was too doped up on crack cocaine when he invoked President Joe Biden's name in threatening texts to a Chinese businessman to be taken seriously, his attorney said in a statement Friday.


The attorney, Chris Clark, said Hunter Biden's "verifiable words or actions" took place "in the midst of a horrible addiction" and therefore have "no connection to anyone in his family." The statement is an apparent reference to a July 30, 2017, text message Hunter Biden sent to an official with the Chinese energy conglomerate CEFC China Energy threatening that he and then-former vice president Joe Biden would come down on him with their full weight if he did not fulfill his "commitment."

"We would like to understand why the commitment made has not been fulfilled." Hunter Biden said in the message. "I am sitting here waiting for the call with my father."
Here's a mock-up of the text: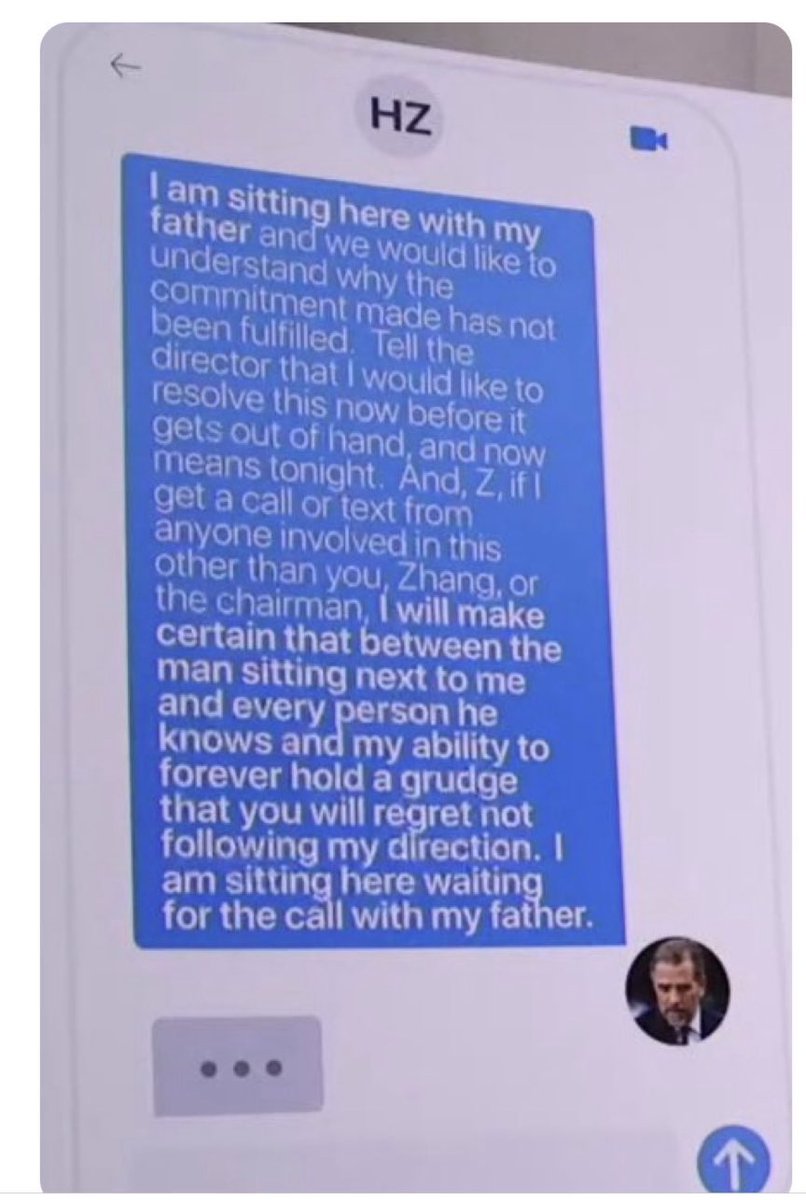 Photographs prove that Hunter was in fact at Joe Biden's residence that day.
Clark's move to discredit his own client appears to be an effort to shield the president from the implications of the message. If Joe Biden was sitting next to his son as he sent the message as it suggests, it would be a blow to his repeated claims that he never discussed overseas business deals with his son. Ten days after Hunter Biden sent the message, a Chinese official associated with CEFC China Energy wired two payments totaling $5.1 million to the first son.

IRS whistleblower Gary Shapley told the House Ways and Means Committee that federal prosecutors blocked their attempts to confirm the locations of Joe and Hunter Biden when the first son sent the threatening message through WhatsApp. But photos from Hunter Biden's abandoned laptop place him at his father's house the day he sent the message, the Washington Free Beacon reported.
Trump reads Hunter's text to the Chinese communist party official, stating that "my father is waiting right next to me" for the money, and if the money isn't sent, there will be consequences.
A few in the media don't seem thrilled about covering up for Joe Biden and his family business any longer. Karine Jean-Pierre "really appreciates the question" about whether Joe Biden helped coerce a Chinese business partner into giving the Biden Crime Family millions of dollars. She appreciates the question so much that she refuses to answer it for four minutes straight.
Note she absolutely refuses to confirm, or deny, that Joe Biden was in the room while Hunter was making threats to his Chinese communist party business partner, and also says she has no intention to ask him whether he was or not.
Joe Biden is just going to refuse to answer, because he can't admit he was present for the threat, and he also can't deny it -- because he was there.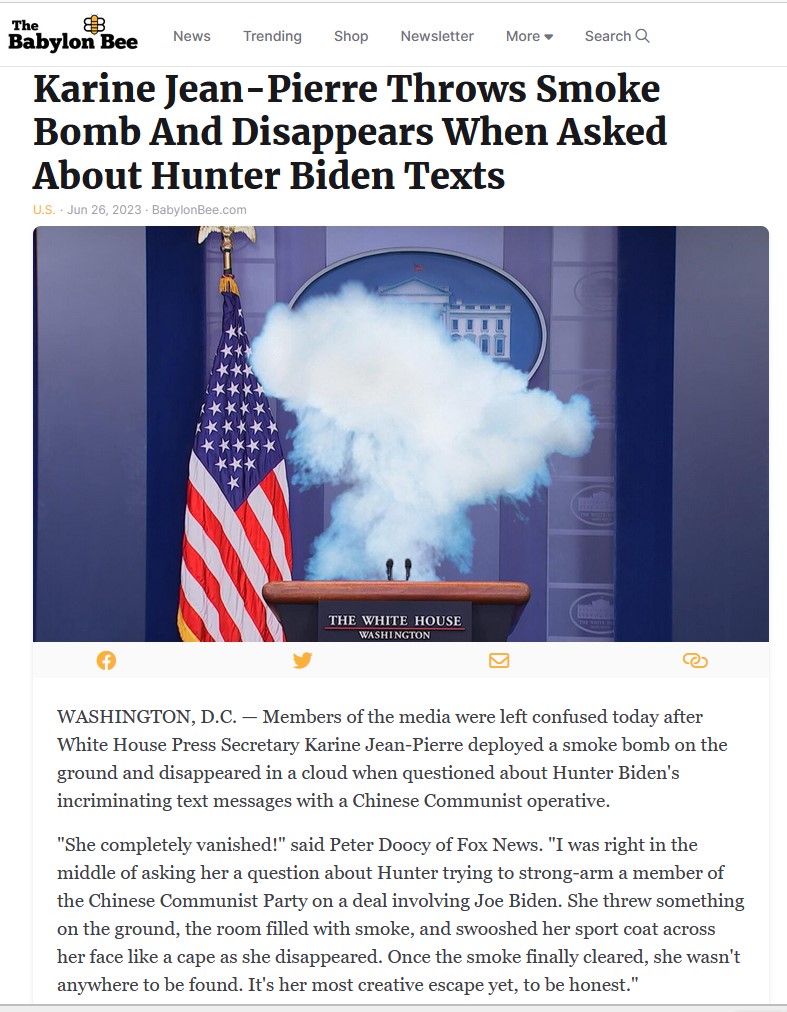 posted by Ace at
03:20 PM
|
Access Comments