« Mid-Morning Art Thread
|
Main
|
Drones-R-Us »
January 06, 2023
THE MORNING RANT: Bravo to the GOP Rebels If They Can Break The Congressional Seniority System; (plus a crazy alternative idea – "Reverse Seniority" )
The intra-party battle among Republicans over Kevin McCarthy's divine, pre-ordained right to be Speaker of the House has not been something I've paid much attention to. I have no expectation that the GOP leadership will pursue an agenda that I care about - issues such as border security, fiscal restraint, accountability and consequences for rogue government officials, eliminating "omnibus" bills, requiring that bills actually be read, etc.
That said, my sympathies are with the 20 Republican rebels that Dan Crenshaw so charmingly slandered as "terrorists" because they choose to prioritize their constituents over the DC establishment.
Then I read this tweet from Ben Domenech, and now I do care. If the 20 Republican rebels can shake up the Congressional seniority system before coronating McCarthy or an equivalent "surrender caucus" Republican as Speaker, then something significant will have been accomplished.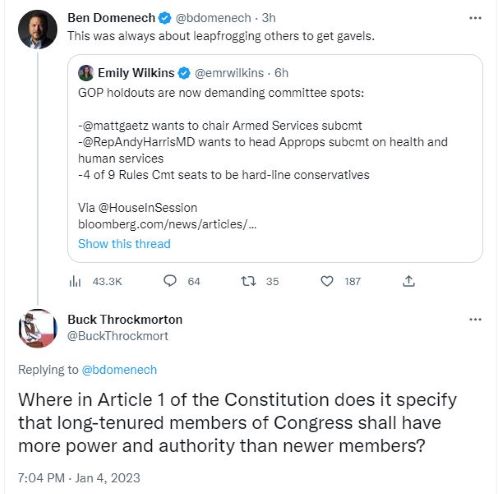 "Leapfrogging"
By the way, this post is not about beating up on Ben Domenech. His "protect the establishment from newly elected activists" tweet just reminded me of something I have periodically meant to write about, specifically, how destructive the Congressional seniority system is, and how it undermines the constitutional intent of Representatives being equal in Congress.
By the way, I am well aware that Article 1 Section 5 of the Constitution states that "Each house [of Congress] may determine the Rules of its Proceedings."
Fine. Does that mean it would be OK if Congress made a rule that when voting on bills, each Congressman's vote is weighted based on his tenure, such that a first-term Congressman's vote has only one-tenth the weight of a 10-term Congressman's vote?
Or, if the House can make its own rules, can it completely deny to newly elected members of Congress the right to vote on bills? Can the House make a rule that only when a member is on, say, his 3rd term does he accrue the right to cast a representative vote on behalf of his constituents?
That would be unthinkable, right? Well, why then is it accepted that only long-tenured Congressmen may be appointed to Committee chairmanships, where they have elevated powers to determine how bills will be written and which bills will be voted on?
One of the primary arguments for Term Limits is that it would push out of Congress those who have risen to powerful positions, allowing turnover in both that specific seat, and in the positions of power the termed-out Congressman held.
I enthusiastically support Term Limits in Congress – preferably no more than 12 years in either house of Congress. Of course, it would take a Constitutional Amendment to bring it about, which requires 38 states to ratify the amendment, so it's not easy. But with 50 statehouses full of legislators who look in the mirror and see a future Congressman, wouldn't they be doing themselves a favor if they passed such an amendment, since that would guarantee that every seat in Congress would have to come open within 12 years?
But a Term Limit amendment will probably never be passed. So here's a completely outrageous idea that has no chance of ever happening, but if it did, it would certainly incentivize senior members of Congress to retire…
Reverse Seniority: The more time a Representative spends in Congress, the less power he has.
Since the House can set its own rules, how about if it establishes these rules based on Congressional tenure:
• No Committee Chairmanships after 10 years (5 terms) in Congress.
• No Sub-Committee Chairmanships after 12 years (6 terms).
• Barred from all committee membership after 14 years (7 terms).
Once a Congressman started his 8th term he would be a powerless back bencher until he finally relinquished his seat. As a powerless backbencher he'd be under considerable pressure to relinquish his seat.
Preposterous? Maybe. But it's no more ridiculous than our current system which punishes the electorate if they dare to replace existing Congressional fossils with new blood.
(buck.throckmorton at protonmail dot com)

posted by Buck Throckmorton at
11:00 AM
|
Access Comments