« Wednesday Morning Rant [Joe Mannix]
|
Main
|
"Expert" on "Right-Wing Extremist Rhetoric" is Confronted With His Own History of Extremist Rhetoric »
December 14, 2022
Can We Actually Prosecute Fauci Under Title 18 Section 241 for Conspiracy to Deprive Citizens of Their Civil Rights, Through Censorship?
Everyone's sick now.
How is everyone doing, sickness-wise? I think I'm in the last stages of mine. I'm coughing a lot, but it's a "productive cough." I think that means I'm clearing out my lungs. Most of the other symptoms are much reduced. I do seem to have a persistent low-grade headache. That might be due to the dehydration a lot of people report experiencing with this illness. I'm drinking a lot but the headaches remain.
Not the worst cold I've had, but this is officially a week I've had it now. Like fish and guests who've overstayed their welcome, it's begun to stink.

This article by Jeffrey Tucker reminds us all of those two doctors from Accelerated Urgent Care who appeared early into the covid panic.
Remember these guys? Remember how they were basically smeared into silence and read out of the medical profession?
Tucker writes:
Early during lockdowns in 2020, when the whole of the media marched in lockstep with the most appalling reach of public policy in our lifetimes, two doctors from Bakersfield, California went out on a limb and objected.

Their names: Dan Erikson and Artin Massihi from Accelerated Urgent Care. They held a press conference in which they claimed that lockdowns would only delay but not finally control the virus. Moreover, they predicted, at the end of this, we would also be sicker than ever because of our lack of exposure to endemic pathogens.

You could say they were brave but why should it require bravery simply to share conventional wisdom that is part of every medical background? Indeed, the idea that reducing exposure to pathogens creates more vulnerability to disease is a point every generation in the last hundred years has learned in school.

How well I can recall the outrage! They were treated like seditious cranks and new media blasted their comments as somehow radically heterodox, even though they said nothing I had not learned in 9th-grade biology class. It was utterly bizarre how quickly lockdowns became an orthodoxy, enforced, as we are now learning, by media and tech platforms working closely with government agencies to warp public perceptions of science.

...


Here we are three years later and the headlines are all over the place.

It Seems Like Everyone Is Getting Sick This Winter -- CNN
Everyone Is Sick Right Now -- Yahoo
Why Does It Seem Like Everyone's Sick Right Now? -- MSNBC
Why Is Everyone Sick? -- Wired

And so on.
He then quotes an evolutionary biologist who views the human-pathogen relationship as its own kind of complexly-connected biosphere, where any changes -- such as removing humans from the usual processes of getting sick a couple of times per year and building an immunity to that pathogen -- can "wreck the system."
Well, the system is now wrecked. Everybody is sick. I know someone who just had to wait four days for a hospital bed. She was sitting on a gurney until a room finally opened.
Fifteen days to flatten the curve, y'all.
She explains that society-wide pathogenic avoidance creates an "immunity debt," a gap in the level of protection that you have developed from previous exposure. There is a "threshold of immunity in the population at which rates of new infections start to decline -- known as the herd immunity threshold. If we are below this threshold, we are in immunity debt; if we are above it, we are in credit -- at least for a while."
The Hodgetwins -- the creators of GAINZZZ -- asked Elon Musk if his "Prosecute/Fauci" tweet meant that there are documents coming showing Fauci (or his team) demanding censorship of those who disagreed with him. Here was his answer: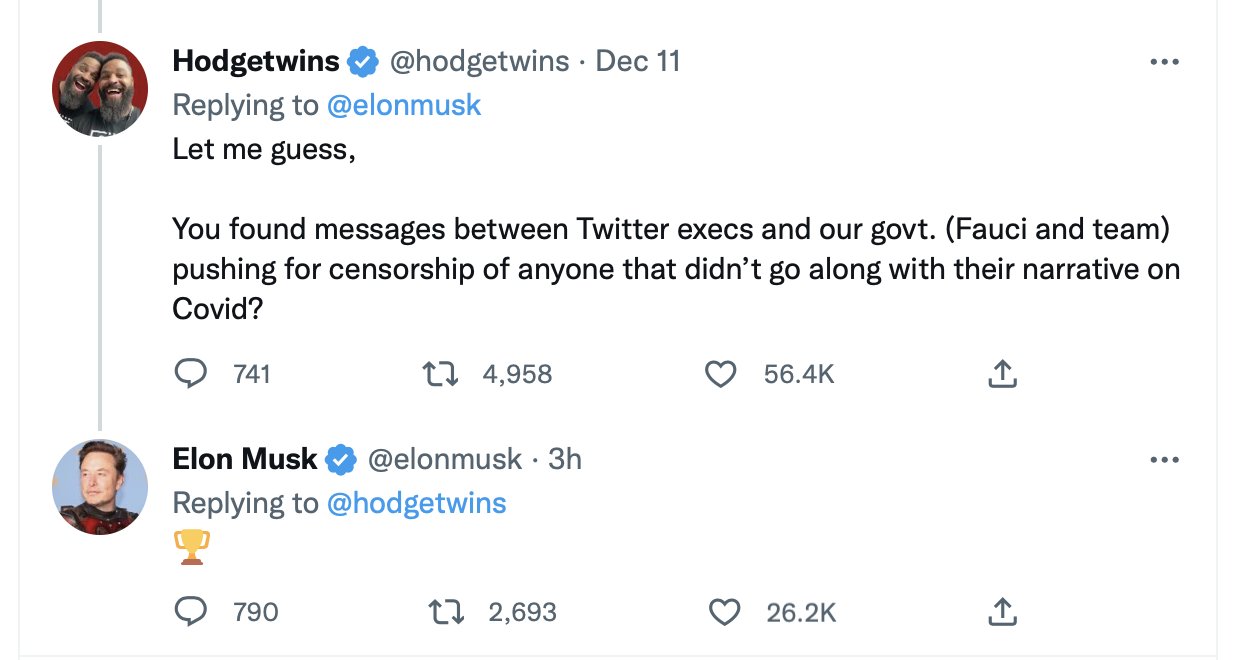 "Prosecute Fauci" might be more than a slogan, writes Phillip Hamburger at the Wall Street Journal.
When government officials conspire with social media monopolists to deprive Americans of their first amendment right to free speech, that's a conspiracy to deprive someone of their civil rights -- a federal felony.
Amid growing revelations about government involvement in social-media censorship, it's no longer enough to talk simply about tech censorship. The problem should be understood as gov-tech censorship. The Biden White House has threatened tech companies and federal agencies have pressed them to censor disfavored opinions and users. So it's time to ask about accountability.


Will there be legal consequences for government officials, for the companies, or for their personnel who cooperate in the gov-tech censorship of dissent on Covid-19, election irregularities or other matters? Cooperation between government officials and private parties to suppress speech could be considered a criminal conspiracy to violate civil rights. The current administration won't entertain such a theory, but a future one might.

Section 241 of Title 18 of the U.S. Code provides: "If two or more persons conspire to injure, oppress, threaten, or intimidate any person . . . in the free exercise or enjoyment of any right or privilege secured to him by the Constitution or laws of the United States, or because of his having so exercised the same, . . . they shall be fined under this title or imprisoned not more than ten years, or both."

This post-Civil War statute responded to the depredations of the Ku Klux Klan and similar private organizations. Then as now, government officers sometimes relied on private allies to accomplish what they couldn't--sometimes violently, sometimes more subtly. Whether for government officers or cooperating private parties, Section 241 makes conspiracy to violate civil rights a crime.

Section 241 was long applied cautiously--for instance to protect against involuntary servitude and abuses of detained persons. But now it is being applied more expansively. Last year a federal grand jury indicted Douglass Mackey under Section 241 for allegedly interfering with the right to vote by coordinating with four unindicted co-conspirators to distribute memes claiming that voters could cast ballots for Hillary Clinton via text message or hashtag. (Mr. Mackey protests that his memes were satire and thus constitutionally protected speech.)

Because the First Amendment doesn't bar private parties from independently suppressing speech, Section 241 would apply to tech censorship only if government officers, acting as part of a conspiracy, have violated the Constitution. Doctrine on Section 241 requires this underlying constitutional violation to be clear. But clarity isn't elusive. The type of suppression most clearly barred by the First Amendment was the 17th-century English censorship imposed partly through cooperative private entities--universities and the Stationers' Company, the printers trade guild.

Government remains bound by the First Amendment even when it works through private cutouts. There would be no purpose to a Bill of Rights if government could evade it by using private entities to do its dirty work. As the Supreme Court put it in Frost & Frost Trucking Co. v. Railroad Commission (1926), "It is inconceivable that guaranties embedded in the Constitution of the United States may thus be manipulated out of existence."

Read the whole thing. It's behind a paywall, but read it if you can.
My name is Ace and my pronouns are Prosecute/Fauci. But I also answer to Prosecute/Biden, Prosecute/Wray, Prosecute/Elvis Chan, Prosecute/Merrick Garland, Prosecute/Yoel Roth and Prosecute/Vijaya Gadde.


posted by Ace at
12:22 PM
|
Access Comments