« Can We Actually Prosecute Fauci Under Title 18 Section 241 for Conspiracy to Deprive Citizens of Their Civil Rights, Through Censorship?
|
Main
|
Washington Post Announces Layoffs, and Coddled Socialist Staffers Do Not React Well »
December 14, 2022
"Expert" on "Right-Wing Extremist Rhetoric" is Confronted With His Own History of Extremist Rhetoric
At a House Oversight Committee on "Evolution of Anti-Democratic Extremist Groups and the Ongoing Threat to Democracy," Nancy Mace confronted a violent, repulsive fascist named Aleandro Caraballo, though he now styles it as "Alejandra."
Alejando "Alejanda" Caraballo -- whose twitter handle is "@esqueer_" (is queer) -- is a transexual activist extremist.
Is there any other kind.
Alejandra Caraballo


Alejandra Caraballo (born 1990 or 1991)[1] is a transgender civil rights attorney and clinical instructor at the Harvard Law School Cyberlaw Clinic. Caraballo is an expert on transgender issues,[2] and has spent years monitoring anti-LGBT and right-wing rhetoric online.[3][4][5] She is a transgender rights activist, and has spoken out against anti-trans legislation and policies,[2] transphobia from media personalities and other prominent individuals,[6][4] and inadequate social media moderation of anti-trans rhetoric.[7]

He is an expert in "right-wing extremism," constantly calling for censorship, but in between talking about the dangers of rhetoric that could cause "stochastic terrorism," he engages in rhetoric that could cause "stochastic terrorism" itself.
Nancy Mace -- who is a RINO flake and generally not worth paying attention to -- called this hateful extremist out for a tweet in which he demanded that Supreme Court Justices be "accosted" wherever they go, and "never have a peaceful moment in public again."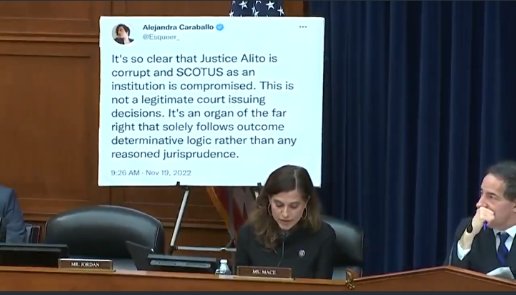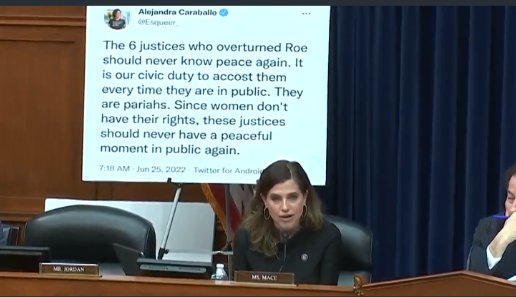 "To accost" is to "confront" someone "aggressively" or "angrily" -- to confront them with fighting words, that is.
Asra Nomani was a panelist and took a video of the trans activist extremist (is there any other kind) squirming about his call to violence against Supreme Court justices.

Cernovich
@Cernovich

While it's true that "stern letters" are no substitute for legislation, Rep Nancy Mace's [exposing] of the "disinformation community" feels good, is enjoyable to watch, and changes minds re: who is and isn't inciting violence. That's why the left censors, they fear being exposed!
Some naive soul asked how could this specimen still have a job? And one could ask further, how could this violence-loving lunatic have a job specifically of "monitoring" and denouncing extremist rhetoric?
Oh you poor naive soul -- don't you know that this angry little fat man is "oppressed" and therefore has the freedom of a Greek god to do as he chooses?
By the way, Asra Nomani, a writer at the Federalist among other things, was the only right-leaning speaker permitted at this inquiry.
She talked about CRT in schools, and how she had been branded a "white supremacist" for objecting to it.
Calling Muslim women "white supremacists"? Talk about stochastic terrorism.

posted by Ace at
01:24 PM
|
Access Comments