« College Dropouts Mark Zuckerberg, Friend-of-Jeffrey-Epstein Funding Effort to Toxify Public Education and Push Woke Indoctrination on Impressionable Children, Parents Group Says
|
Main
|
Dog Sandwich Cafe »
November 21, 2022
Quick Hits
An update on Bob Iger: I completely forgot that when Bob Chapek first resisted calls to oppose Ron DeSantis' Parental Rights in Education Bill -- "Don't Say Gay," as the leftwing propaganda trans-extremist media called it -- Bob Iger decided to go on to CNN+ and trash him.
Bob Chapek, Iger's successor, initially opted not to speak out against the controversial law. But corporate executives should voice their opinions about ethical dilemmas, Iger recently told CNN+ host Chris Wallace.

"A lot of these issues are not necessarily political," Iger told CNN+ host Chris Wallace. "It's about right and wrong. So, I happen to feel and I tweeted an opinion about the 'Don't Say Gay' bill in Florida. To me, it wasn't about politics. It is about what is right and what is wrong, and that just seemed wrong. It seemed potentially harmful to kids."
That is, of course, the doctrinaire leftwing position, and leftwing corporatist media position: We're not taking a political position, because this isn't political. It's just about right and wrong, and Republicans are just wrong.
We're not politically biased, because none of the 600 strong political positions we're taking on-air are political positions at all, they're just ethical humane positions of goodness. There is no opposing position worth crediting as a "position" at all. The opposing position is not a political position; it's just evil.
And that's how they claim they're not actually politically biased -- by employing a definition of "political" that literally dehumanizes their opponents.
I had also forgotten about this: Chapek was gearing up to lay off workers Disney to return the company to profitability.
Critical Drinker speculates that the workers that were to be targeted would have been like those targeted at Twitter and Facebook -- the leftwing DEI/Diversity Fluff Nonsense workers.
And just like that, the leftwing Diversity-or-Die savoir Bob Iger comes storming in to tell Disney, You can't do that!
I bet there won't be layoffs now.
Speaking of the cuts at Twitter, Lauren Chen posted these pics of Twitter, before-and-after the layoffs: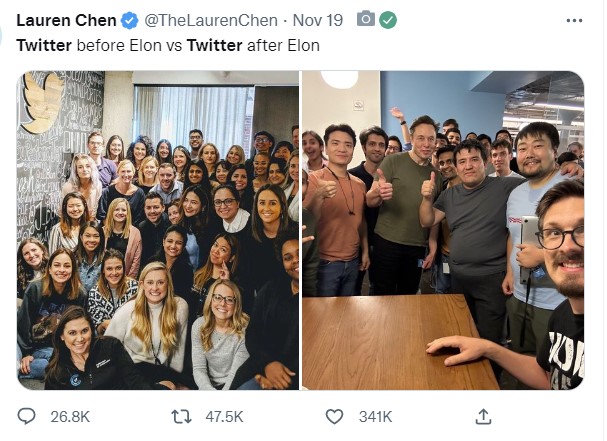 Obviously this isn't a real before-and-after, just a ferinstance, but I bet a lot of those lollipops did lose their jobs.
This guy says he still works at Twitter, and says he hasn't "felt this alive" since Computer Science 301.
Matt Wensing @mattwensing

i still work at twitter

i used to attend meetings about tweaking the icons

last night i drank 8 redbulls and rewrote the worst parts of our direct messages backend

i haven't felt this alive since cs 301

thank you elon
Is that real? Well he seems like a real tech guy. I don't know if he's just joking about working at Twitter, though. The part about being endlessly harassed by diversity goonsquad lollipops about tweaking icons to have more Representation has the Air of Truthiness, surely.
This user thanked him:
Jennifer Greenberg @JennMGreenberg

Replying to @mattwensing and @ztrussell

Thank YOU for improving our space. I've noticed I'm now able to search my DMs for keywords. That was sketchy at best before and now it works great.

And I totally get the creative rush and riding the energy wave. Ignore the haters. They have no lives or imagination.
First thing that happens when the censors get kicked out? Like magic, the search function starts working properly again. It isn't all gummed up with 1000 clashing, nonsensical, politically correct directives that contradict its actual mission.
Lot of very normal people are still obsessing that the power of censorship is out of friendly hands:
Dave Troy @davetroy

I believe the Twitter purchase was an act of war and intentional sabotage. Former employees, or others who have information regarding this, may contact me via Signal at +1-410-570-5739. Thanks.
This Media Matters drull spazzed out chain-tattle-taling that Elon Musk was seen talking on Twitter to people not on the Approved List.
Many of the most sensitive souls have fled to a Twitter semi-clone called Mastodon. Steven Miller checked in on the poor dears to see how they were doing over there.
Legit Content Warning for this next item -- hardcore racism, Nazi promotion, Holocaust denial, all of it.
Censorship fairies left Twitter looking for a place with more censorship. They Censorship Utopia they arrived at is Mastodon.
But Mastodon isn't like Twitter. If I understand how this works, every Mastodon user creates his own version of Mastodon -- basically, his own "twitter page," or "twitter instance," if you will, for you World of Warcraft players -- and then everyone connects their "twitter pages" together to get an experience that looks like Twitter's threaded conversations.
But the point is, a lot of the racist an Nazi-type users who were banned from Twitter had decamped to Mastodon years ago and set up their own pages.
So when the Censorship-Loving Progressives who left Twitter because they thought it had too much racism and allowed too much free speech made new pages on Mastodon, they didn't know that Mastodon's default free speech code was "allow everything," and therefore didn't know that they'd be greeted by n-bombs and swastikas. Part 2 here. Remember, Legitimate Content Warning. Not Safe For Work. Check it at home.

Jonathan Turley caught the AP lying on behalf of Biden -- claiming that there was "no evidence" that Biden had ever spoken to Hunter about his business dealings. Apart from, you know, all the evidence of Biden talking to Hunter about his business dealings which the press refuses to report, because they come from the emails in the laptop which the press until recently claimed, through coordinated disinformation, was disinformation.
Jonathan Turley @JonathanTurley

Nov 20

The statement of the Associated Press at this stage of the scandal is breathtaking but telling: "Joe Biden has said he's never spoken to his son about his foreign business, and nothing the Republicans have put forth suggests otherwise." ...


Bidens have succeeded in a Houdini-like trick in making this elephant of a scandal disappear from the public stage. They did so by enlisting the media in the illusion. However, this level of audience participation in the trick truly defies belief.

The Associated Press story shows that even pointing at the elephant -- heck, even riding the elephant around the stage-- will not dislodge these denials. This is no elephant because there cannot be an elephant.
Without acknowledging its correction -- and without acknowledging there is evidence Biden spoke to Hunter about his business dealings -- the AP deleted that claim from its piece.
In its place, it inserted a new dubious claim -- that the investigation had "nothing" to do with Joe Biden.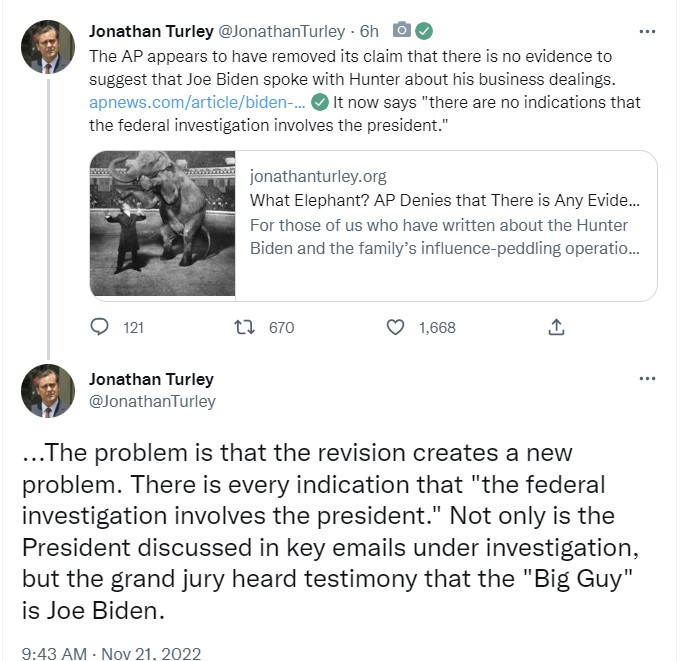 Speaking of Joe Biden and his dubious sources of unaccountably immense wealth -- Biden sprung $300,000 for his daughter's wedding this weekend, holding it on the White House grounds. Media was not allowed to be present, despite it being held... on the White House grounds.

In Chicago, a car was pulled over and decided to flee the police. He would have escaped, because cops aren't allowed to chase fugitives any longer, even though fugitives are dangerous and put people's lives at risk.
However, the fugitive did not get far, because he was immediate struck by another car which was also fleeing a police stop
CWBChicago @CWBChicago

A 3-car crash involving a driver who tried to escape from a police traffic stop left 1 dead and 6 injured in the South Loop.

Initial info indicates that the fleeing driver's vehicle was struck by another car that was also trying to speed away from CPD.

Meanwhile, mutant trollkin Lori Lightfoot decided to open her big deformed mouth about the shootings in Colorado Springs, because she's decided to worry about crime everywhere except the city she's actually mayor of.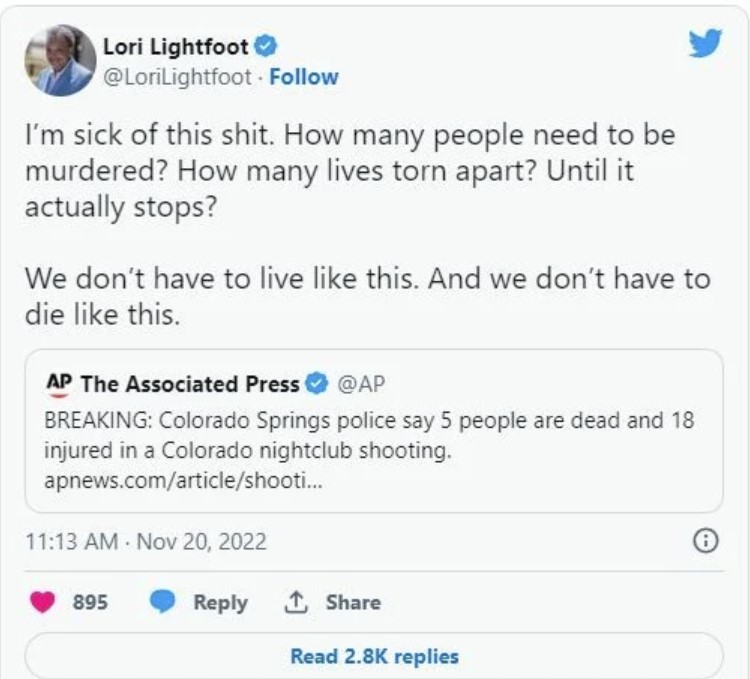 Fourteen people where shot in a drive-by shooting in Chicago the weekend of October 29-30. She didn't have anything to say about that.
But she did dance.

If you're not watching Three People No One Wants to F***, which is what I think CNN's morning show should be called, you're missing classic TV anchormoron babble like this:

Terrible comment on Michelle Obama's claim that America just wasn't ready for her hair.
I denounce that comment and that channel.
Keep watching another 40 seconds to see a transgender claim that The Patriarchy is responsible for making the word monthly "period" synonymous with "menstruation." He insists that everyone has "periods," and it can just mean feeling low energy and having a headache or whatever, and only The Patriarchy created this false period=menstruation equivalency to exclude transgenders and enforce this insane fiction of a gender binary, and we're all living a lie and I can't f***ing take it, kill me now.
Juanita Broaddrick @atensnut

I am back. Thank you so much @elonmusk and thanks my friend @catturd2

posted by Ace at
06:45 PM
|
Access Comments