« Daily Tech News 27 July 2022
|
Main
|
Mid-Morning Art Thread »
July 27, 2022
The Morning Report — 7/27/22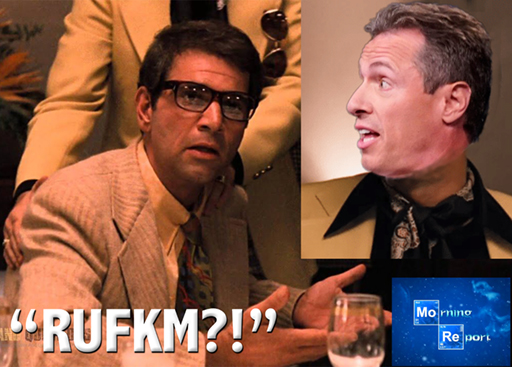 Good morning, kids. Wednesday and I'm sure you're as surprised as I am (not) that Chris "Fredo" Cuomo, the steroid-addled, no-talent, idiot son and brother of mobsters, has emerged from an imposed period of hibernation to both proclaim his innocence in covering up and lobbying for other propagandists to do the same in his brother's sexual assaults as well as mass murder of elderly nursing home residents via exposure to the General Tso's Sickness and to announce a new gig. He got picked up by shyster Dan Abrams' junta house organ News Nation.
The network touted Cuomo's experience in investigative journalism and anchoring, pointing to his past interviews with presidents, world leaders, coverage of 9/11 and war zones, and "hundreds of powerful, eye-opening stories."

"NewsNation has earned high-praise from multiple media watchdog groups by remaining true to its mission to bring viewers the fact-based news that impacts their lives without opinion or bias," Nexstar Media Inc. Sean Compton, the president of the network's parent company, said. "Chris joins our growing team of seasoned, award-winning journalists and will further our efforts to continue to ensure fairness and transparency in our news reporting and talk shows."
Are you fucking kidding me? This is a prime example of pissing on my back and telling me it's raining. Meh, why waste pixels on this? The only reason I cite this is that it mirrors both the double standards regarding those in favor of the junta and those that are not in every other aspect of our lives. In this case, the media is about as trusted and respected as a known child molester; the irony in that simile is that child molestation is now an avowed public policy goal of the left and has been an avocation of the current Oval Office occupant for decades. But that said, News Nation, which probably has an audience approaching that of CNN+, knows who they hired. It's their way of flipping the bird to us as well as attempting to preserve the illusion and myth of the so-called Fourth Estate, which is in point of fact, the tip of the spear of the American Fifth Column. Same reason they threw a gala testimonial dinner for Dan Rather after his propaganda attempt to derail Dubya just prior to the 2004 election. Same reason the Pulitzer Prize, spelled and pronounced "Pull It, Surprise!" has never been taken away from Walter Duranty and for sure the CNN propagandists who were used as tools to concoct and release the Russiagate hoax by the CIA/FBI at the behest of Hillary Clinton.
So much for not wanting to waste pixels on this, but I guess (read: I hope) I had a salient point to make. And the fact that trust in the media has been trending downward for years now and has cratered in the eyes of a large majority of people is a hopeful sign. Yes, as Lincoln(?) said "You can fool some of the people all of the time and all of the people some of the time, but you can't fool all of the people all of the time." Crucially, I think we are at a point where that number in "some of the people" is at its lowest level and that "all of the people" are on to them. Gas at $6.00 a gallon and climbing with all sorts of excuse making and especially the condescension and insanity of transitioning to "green energy" as good for you, does not engender trust as it is so patiently false. Yet still they persist.
They have to. It is somewhat of a miracle that even after stealing an election, incarcerating innocent Americans as political prisoners for an insurrection that they, the Left, orchestrated and so thoroughly destabilizing our society and nation that they still have not quite captured the country, lock stock and barrel. But the fact remains that they are this close (I'm holding my thumb and forefinger a pubic hair from a Coke can's breadth apart) to doing so. And they're not going to just give up.
When we speak of corruption, arguably one of the most in-your-face examples beyond the media is the FBI.


The FBI has become a cancer on the American body politic. The FBI must go.

Grassley summarized how the FBI spiked the Hunter Biden material, stating that "the allegations provided to my office appear to indicate that there was a scheme in place among certain FBI officials to undermine derogatory information connected to Hunter Biden by falsely suggesting it was disinformation." He noted that a 2020 FBI intelligence assessment that was "used by an FBI headquarters team to improperly discredit negative Hunter Biden information as disinformation." He added: "Based on allegations, verified and verifiable derogatory information on Hunter Biden was falsely labeled as disinformation. . . "

. . . Hunter Biden isn't even close to being the first sign of this institutional corruption. Garland even sicced the FBI on parents protesting at school board meetings over the imposition of the woke agenda in public schools. When challenged, Garland insisted that this was all on the up-and-up: "Parents have been complaining about the education of their children and about school boards since there were such things as school boards and public education. This is totally protected by the First Amendment. True threats of violence are not protected by the First Amendment. Those are the things we are worried about here. Those are the only things we are worried about here. We are not investigating peaceful protests or parent involvement in school board meetings. There is no precedent for doing that and we would never do that. We are only concerned about violence and threats of violence against school administrators, teachers, staff.

That sounds reasonable, but PJ Media's Megan Fox did a deep dive into the supposed "threats" that school board members had allegedly received that justified FBI intervention, and came up empty. Fox concluded, "There isn't one legitimate threat on the NSBA's list or a situation that wasn't handled easily by the police." The NSBA is the National School Boards Association, which appealed to the FBI for help, with Wray's corrupt Bureau only too happy to oblige. . .

. . . This is the same FBI that consistently denies the nature and magnitude of the jihad threat, and lied outright about the jihadi who stormed the Congregation Beth Israel synagogue in Colleyville, Texas, and took hostages in January 2022, demanding the release of convicted jihad terrorist Aafia Siddiqui. FBI Special Agent in Charge Matt DeSarno said: "We do believe from our engagement with this subject that he was singularly focused on one issue, uh, and it was not specifically related to the Jewish community, uh, but we're continuing to work to find motive and, and we will continue on that path." Several days later, with the evidence overwhelming, the FBI had to admit sheepishly that it was a targeted attack on Jews after all. . .

. . . FBI and Homeland Security Department officials have often insisted and frequently repeated the claim that "white supremacists" and other "domestic extremists" constitute the foremost terror threat the nation faces. The FBI is currently pursuing no fewer than 2,700 investigations of "domestic extremism," more than twice the usual number of such investigations. The dramatic increase in investigations suggests, at least in a sane world, a response to a sharply increased threat, but Biden's handlers have shown no evidence of a massive spike in "white supremacist" terrorism. It's just something we're supposed to take their word for. Timothy Langan, the assistant director of the FBI's Counterterrorism Division, in November 2021 presented it to Congress as axiomatic: "It goes without saying that the threat from domestic terrorism is heightened and has significantly increased in the last 18 months."

Does it really? Or is that just what the feds would have us believe as the January 6 Committee continues its efforts to stigmatize legitimate political opposition as terrorism?. . .

. . . And all this is aside from the FBI's role in the Russian Collusion hoax and so much more. The FBI today is a rogue, out-of-control agency in service not of justice but of the interests of the Democrat Party. It should be shut down. But will there ever be a president with the courage to do so?
The estimable Robert Spencer is, of course 1,000% correct. The FBI has got to be abolished. But what would that really accomplish? What would impeaching President Sponge-Brain Shits-Pants accomplish? Our entire government and far too much of the private sector is so thoroughly corrupted with ideologues, criminals and ideologically-driven criminals that elections, even relatively honest ones, will have little impact in the long term insofar as reversing course from the abyss we are this close to being shoved into.
It's not necessarily the system. It's the people who are in positions of power that have zero moral compass, zero ethics and worst of all, an absolute unshakeable faith that not only what they are doing is right but they have the moral and intellectual superiority, and the duty to impose their will on us. This is why I believe we're not going to be voting our way out of it as we did, or thought we did, in the old days. That doesn't mean you shouldn't vote. But long term, an American revival to pre-2001 days, let alone pre-1913, is just not in the cards from where I stand.
That said, a revival of Americanism can be in our future. What form that takes geographically and politically is anyone's guess. How we arrive at that point is also an unknown, but sadly, it will involve much pain, suffering and likely, bloodshed.
ABOVE THE FOLD, BREAKING, NOTEWORTHY
CIVIL WAR 2.0: J-6 FBI FALSE FLAG "RIOT" & AFTERMATH, LEFTIST PERSECUTIONS, DEMOCRAT PUTSCH, AMERICAN DISSOLUTION
NOTE: The opinions expressed in the links may or may not reflect my own. I include them because of their relevance to the discussion of a particular issue.
ALSO: The Morning Report is cross-posted at CutJibNewsletter.com if you want to continue the conversation all day.
Follow us on Twitter: @CutJibNews
Follow us on Instagram: @Cutjibnewsletter

posted by J.J. Sefton at
07:41 AM
|
Access Comments