« The Morning Rant: Minimalist Edition
|
Main
|
Heroic Pizza Delivery Man Repeatedly Rushes Into Burning Building to Save Children From Fire »
July 19, 2022
Under Pressure from Public, Soros DA Alvin Bragg Drops Charges Against Bodega Owner Who Killed Thug In Self-Defense
But they have served notice: Your "right" to self-defense is paper-thin and contingent on public outrcy. They'll steal it if they can.
The DA's office said it had filed a motion in Manhattan Criminal Court to dismiss the case against the 61-year-old bodega worker after a investigation found they couldn't prove the "defendant was not justified in his use of deadly physical force."

Bragg and his office had faced widespread backlash after Alba was swiftly charged with fatally stabbing 35-year-old violent ex-con, Austin Simon, who had attacked him inside the bodega on July 1.

The decision to drop the second-degree murder charge comes weeks after The Post highlighted Alba's plight, which saw the hard-working bodega clerk initially holed up at Rikers Island on a whopping $250,000 bond.

"If it weren't for the NY Post. Mr Alba would still be in jail," said Frank Garcia, chairman of the National Association of Latino state Chambers of Commerce.
Dana Loesch @DLoesch

Glad murder charges were dropped against Jose Alba -- but they never should have existed in the first place. Apparently Bragg felt the girlfriend who repeatedly stabbed Alba is in the clear. Justice is a joke in NY.

So is GoFundMe: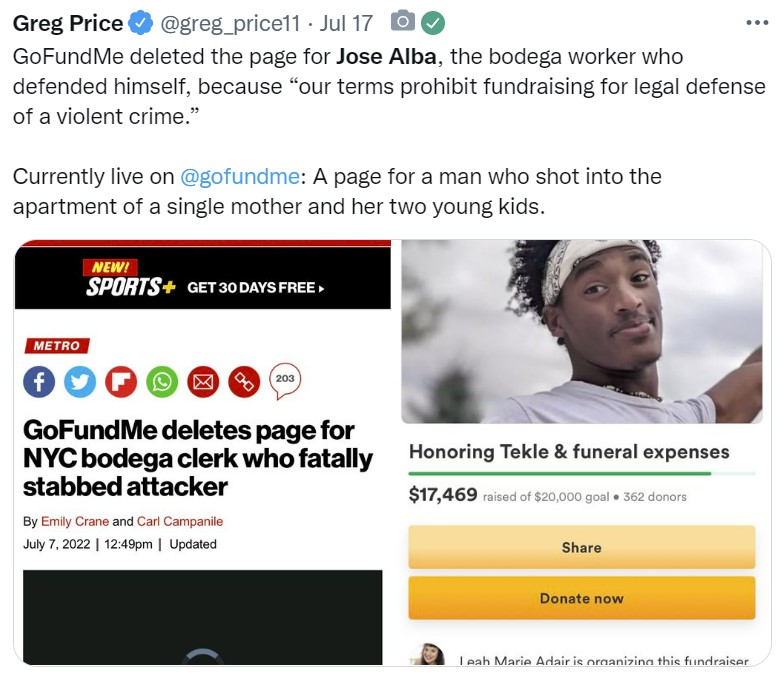 It occurs to me that social media censorship and vindictive discrimination could be substantially cured by a law mandating clear disclosure of bias. GoFundMe, Twitter, Google, YouTube, FaceBook, etc., could discriminate under this hypothetical law -- but only if they clearly state, for example, that antifa is permitted to organize on their platforms, but Christian groups are not. They have to be clear about what their biases are. They cannot be vague about it.
Otherwise, the people they discriminate against have a cause of action against them and can sue them for failure to abide by contractual terms (those offered generally to the public).

posted by Ace at
12:04 PM
|
Access Comments