« Studies: Masks Did Nothing. Lockdowns Did Nothing.
|
Main
|
Quick Hits: Dear Diary Edition »
June 17, 2022
SpaceX Employees Circulate Open Letter Demanding Elon Musk Stop Tweeting, Because His Tweets Reflect Poorly On Them;
SpaceX Fires Employees Circulating Open Letter
Noam Blum put it like this:
"F**k around:"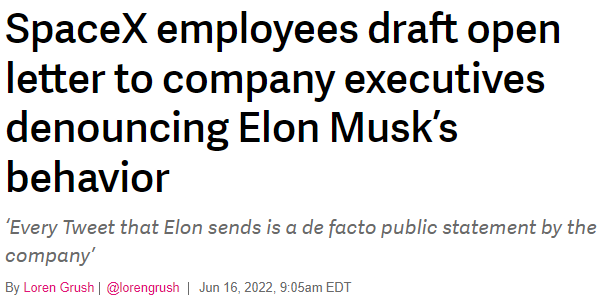 "Find out:"

Noam Blum/@neontaster writes:
@neontaster The internet has made these activist idiots way too f*cking comfortable sh*tting where they eat and it's nice to see the increasingly ensuing coprophagy.

Career pro-tip: Don't trash your boss in public if you want to keep working there. Felicia's Razor.


Anyone mad at this should be forced to tell me their age. Something tells me it'll skew heavily towards under 30. I see comments like "ok, be a suck up" as though that's the alternative to not trashing your employer in public for internet sympathy points.

It blows my mind that people are actually arguing that a commitment to free speech means you would tolerate your employees undermining you and your business in public. Are you guys f*cking high?

There is no bigger capitalist bootlicker than the progressive employee who wants to trash their bosses in public but still continue making money for them because how else am I supposed to afford my bougie coastal urbanite lifestyle?

Tried to Google whether SpaceX has a standard Non-Disparagement Clause in employment contracts and guess what? I discovered articles calling Musk a free speech hypocrite for having them in Tesla employment contracts.

IT'S LITERALLY A STANDARD BUSINESS PRACTICE.
SpaceX used SJW Jujitsu to claim that they fired these SJWs to protect other employees from the harm of being pressured into signing letters they don't agree with.
I don't know if that's true or not. I kind of hope it's not true, and that they're just lying to troll the SJWs.
Because, f*** these people.
These people are almost certainly at the very, very bottom of the company.
SpaceX has reportedly fired the employees who released an open letter this week criticizing CEO Elon Musk and referring to his recent behavior as a "distraction and embarrassment" to the company.

SpaceX president and Musk ally Gwynne Shotwell said in a memo that the firm had "terminated a number of employees involved" in crafting the letter -- noting the workers in question had "upset many" with an "unsolicited request" to add their signatures.

"The letter, solicitations and general process made employees feel uncomfortable, intimidated and bullied, and/or angry because the letter pressured them to sign onto something that did not reflect their views," Shotwell said in the memo, which was obtained by The Verge.

Shotwell referred to the open letter campaign within the company as "unacceptable" and said the workers were fired after an investigation into their actions. The number of employees terminated wasn't immediately clear.

"We have too much critical work to accomplish and no need for this kind of overreaching activism," Shotwell added.
Well that's definitely true -- SpaceX is a workplace, not an "activist space" and not the Quad at Oberlin College.
It's time for these Useless Eaters to reckon with that reality.
I didn't just speculate that these were the most incompetent, least skilled, least valuable employees at SpaceX out of pure spite -- I also have some evidence for that.
In that Ryan Grim article about leftwing organization paralyzed and disrupted by nonstop internal witch-hunts prompted by activists, one insider made this key point: These witch-hunts are started by people who are incompetent and would get fired if the organization could ever return to normal business operations, in which the incompetent are evaluated and fired.
So they deliberately keep every organization they infiltrate in a state of chaos, and out of normal business operations, forever:
Inner turmoil can often begin, the managers said, with performance-based disputes that spiral into moral questions. "I also see a pattern of ... people who are not competent in their orgs getting ahead of the game by declaring that others have engaged in some kind of -ism, thereby triggering a process that protects them in that job while there's an investigation or turmoil over it," the foundation official added. Such disputes then trigger broader cultural conversations, with battle lines being drawn on each side.
Got an employee evaluation coming up you're worried about? Start an open letter demanding Elon Musk resign from SpaceX because he's a bad man.
Below, the leaked "meeting" of Musk with Twitter's nutjobs. The hidden headline here is that apparently, the sale of Twitter is back on. With no discount, I guess.
Musk again champions a pretty robust version of free speech, in which people are free to say "fairly outrageous" things as long as they're within the confines of the law. He says there should be freedom of speech, but that vile speech might not have full "freedom of reach," which sounds like just endorsing the shadowbanning regime, albeit only for very bad actors who would otherwise be outright banned.
I'm not sure that's a great compromise -- he'll have the headache and bad press of having Nazis posting Nazi agitprop, but he's also saying he'll limit their "freedom of reach" through, I assume, the old twitter techniques of shadowbanning and stopping the spread of messages. Seems a bit of worst of both worlds.
But you can't doubt, based on what he's saying, that for all typical users -- including the many, many conservatives banned or shadowbanned/reach-limited now -- they'll have full free speech/full free reach restored.
The slack logs of Twitter employees whining that they didn't feel "safe" with Musk about to take over, and that he creates "harm" for LGBT members, were also leaked.
Musk responded to these leaked logs: "Interesting."
So maybe more firings!
Quotes from those panicky slack messages at Rebel News.
Irate employees first mocked Musk for being 10 minutes late, and later took issue with Musk's remarks about "exceptional employees."

"Friendly reminder that you can show up 10 minutes late to a meeting that was announced to the world and still be exceptional," wrote one employee.
Oh my.
Numerous workers threw snide remarks at Musk, with some suggesting he might not be as intelligent as others have said.

"Y'all told me this man was a genius," wrote Twitter employee Nya Green, who received dozens of positive emoji reactions to her remark.

"Would love to hear from him about all the civil lawsuits at Tesla around racial discrimination," wrote Xori Johnson.

When Musk suggested that the goal of the company should be to entertain and engage its audience rather than be preoccupied with not offending people, the Slack chatroom erupted in anger with many suggesting that Musk was irresponsible for not catering to the woke mob.

"So, during the coup, he would have allowed Trump to continue for civil unrest," said Gianna Gantz, who was responding to Musk's remarks that all forms of free speech must be permitted on Twitter so long as they are within the boundaries of the law.

An employee named Ryan Tanner gave a middle finger emoji to Twitter's board of directors for "selling the company to someone who cannot get through a single coherent sentence about this platform, and who thinks a QAnon candidate is a 'moderate candidate,'" referring to Musk's admission that he voted for Mayra Flores in Texas.
That's Raciss, Ryan.
The Wokies were very committed to the idea that they should have veto power over Musk's voting preferences. Because his voting preferences can cause them "harm."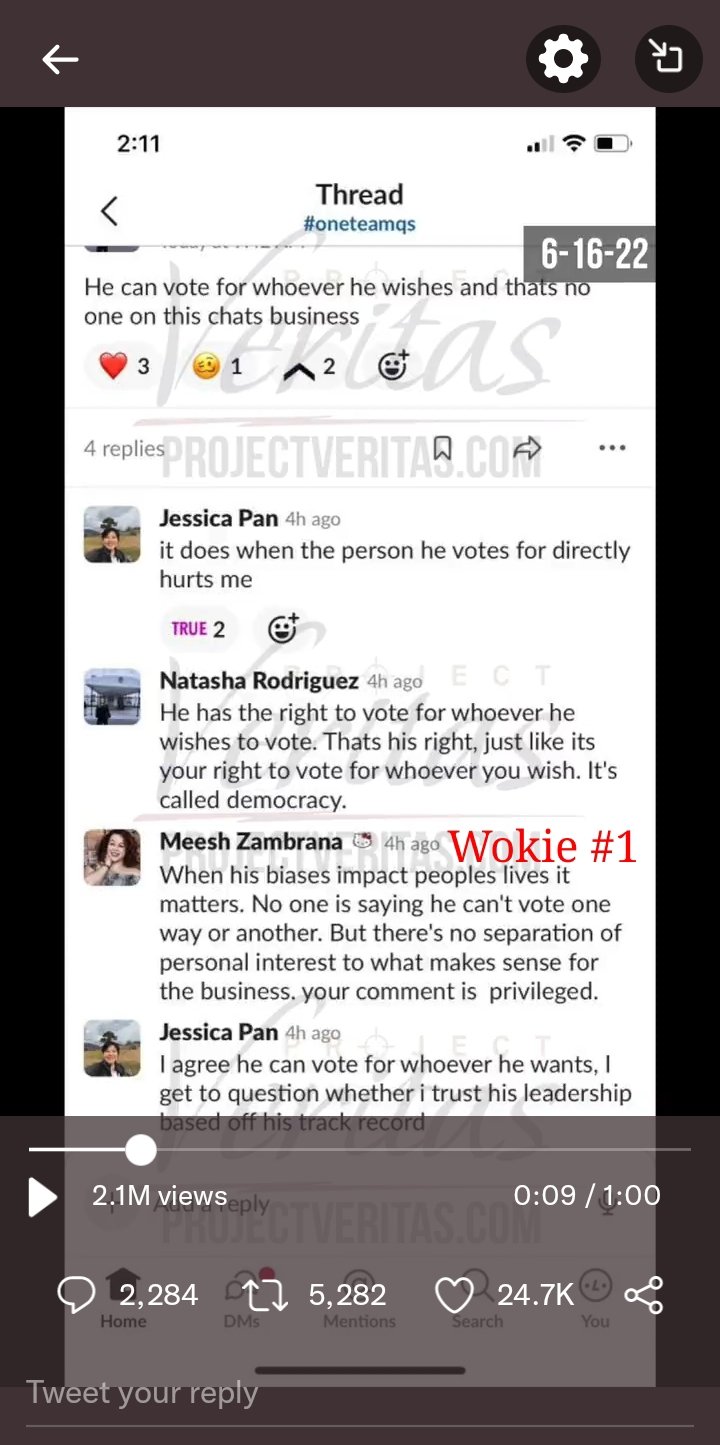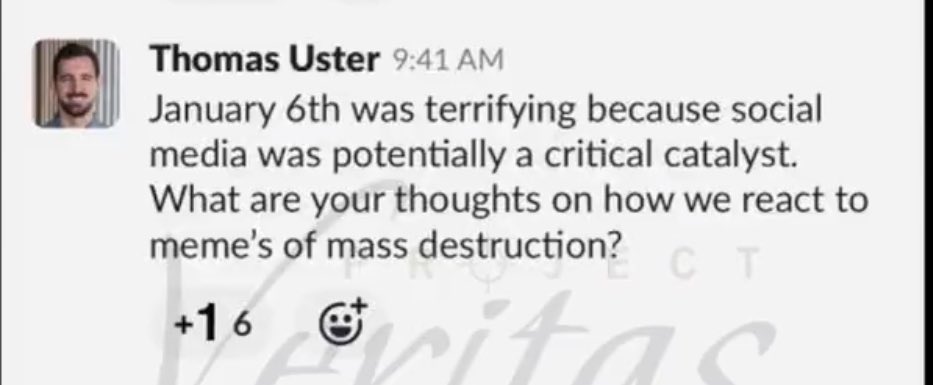 I'm going to say four words (gleaned from Kurt Schlichter) which will become very central to these people's future career endeavors:
"Fetch my latte, peon."

posted by Ace at
05:10 PM
|
Access Comments