« SpaceX Employees Circulate Open Letter Demanding Elon Musk Stop Tweeting, Because His Tweets Reflect Poorly On Them;
SpaceX Fires Employees Circulating Open Letter
|
Main
|
Staffers for the "Late Show With Steven Colbert" Arrested Breaking Into Congressional Buildings At Night »
June 17, 2022
Quick Hits: Dear Diary Edition
Golfer Paige Spiranac is named The Sexiest Woman Alive according to Maxim magazine.
She said something about golf here, I think. It's all kind of a blur to be honest.
Jordan Peterson courted controversy by declaring that a woman who is clearly beautiful is in fact beautiful. Because we are now all forced to live in an Empire of Lies.
She actually does play golf.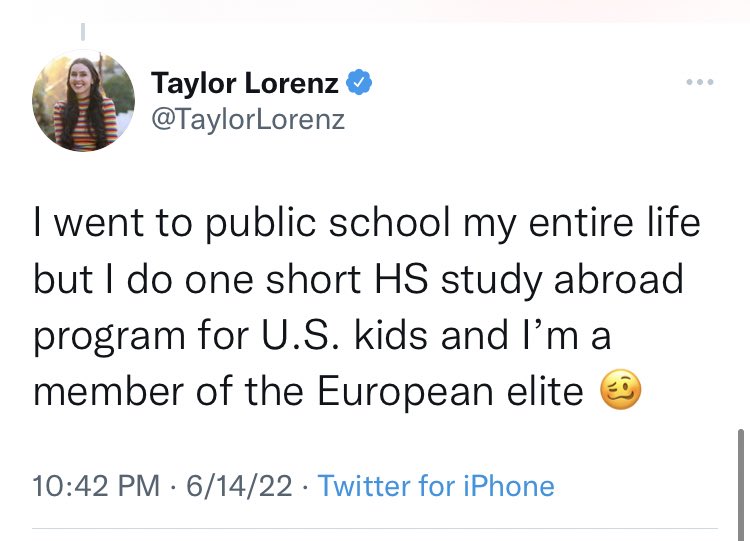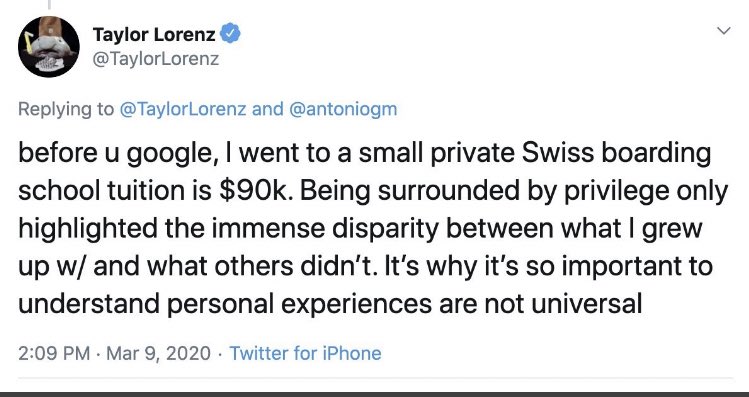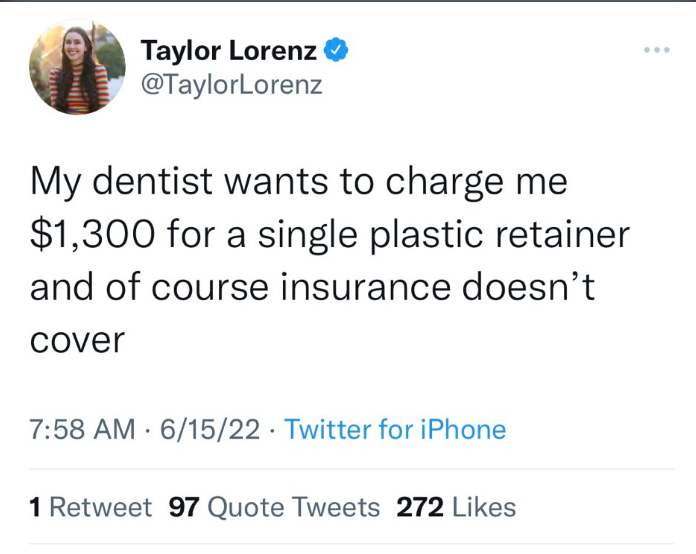 9 Damn. Waited for a drag queen to read me the content. Posted by: Roy
Jordan @JordanChariton


So the @dnc had to move a May fundraiser with VP Kamala Harris to the fall because "they couldn't sell enough tickets."

Tough sledding when even the donors aren't buying what you're selling.
She could probably still sell some tickets for Mustache Rides. I mean, yeah, she's got a mustache. If she had better skin and legs she'd look like Carl Weathers in Rocky III. Naiw Faciaw Cweam!

Via Twitchy, Glen Greenwald is on an emotional roller-coaster reading Jen Rubin's reactions to the January 6 hearings.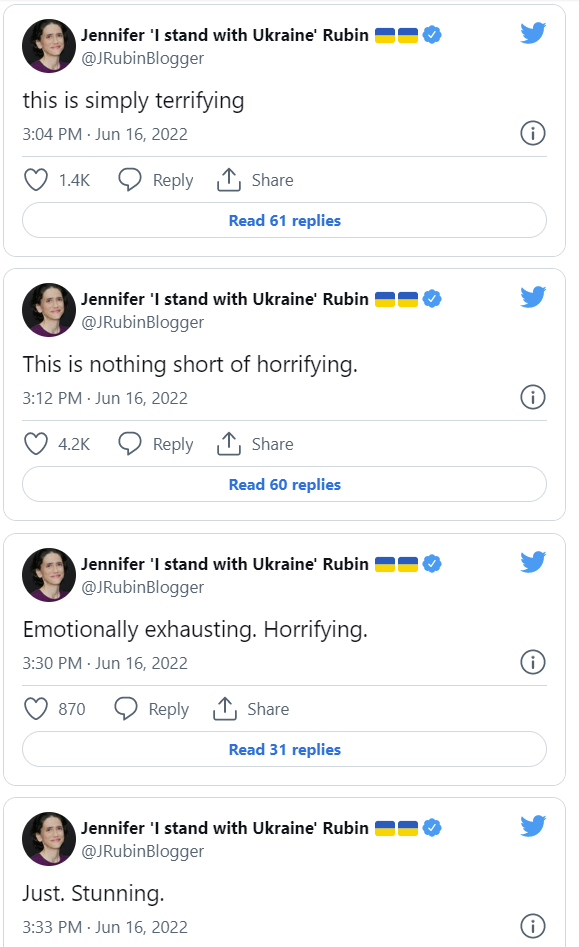 One of my pet peeves is People Who Watch TV and Tweet About It. Because they're lying to themselves. They're telling themselves both "I'm not just being a potato and watching TV" and "I'm not just being a social media zombie and attention-whore and posting on Twitter."
They're instead lying to themselves: "I'm Joining the National Discussion by both watching TV and posting on Twitter about it!"
Jen, be honest with yourself: You're useless, sexless slug with bile for blood. You're just wasting your rapidly-declining lifespan in two different yet equally useless, brainless ways, simultaneously.
You're multitasking your way into an unvisited grave.
I think all those boring shows on Premium Cable TV that I hate, the ones that somehow cram 12 minutes of story into 54 minutes of runtime, are specifically designed with the notion that the women (and it is mostly women) watching them will be "multitasking" while watching them by scrolling on Twitter and posting.
That's how they get away with having so little happen in an hour episode -- they know the audience isn't really watching. They're just occasionally looking up from their phones to see what's going on, and then rewinding a little if they think they've missed one of the three actually interesting things that happens this episode.
The phone is a necessary peripheral device for "watching" Quality Premium Cable TV shows. I'd like to see a study to find out what percentage of the country watches Quality Premium Cable TV without a phone in hand or a keyboard on their chest (as they recline on the couch). I bet it's single-digits.
So Twitter is keeping garbage television alive, too.
Speaking of the January 6 hearing that have gotten NeverTrump their first three-quarters erections since 2014:
Some stuff I've meant to link all week, from Doug P. at Twitchy:

Jonathan Turley
@JonathanTurley

Chairman Thompson hit a fairly ironic note in his opening statement when he said that you have to accept the results of elections if you respect democracy. Thompson used this same law in 2004 to challenge the certification of President George W. Bush.
Turley's article about that here.
Batrachian, Irma-Bunt-like woman who committed sedition to weaponize the US's law enforcement and intelligence agencies to join her illegal coup plot has thoughts:

This is going to seem familiar at first, but give it a chance. It's new material.
By the way, if that Brian Stelter riff on "reporters vs. repeaters" sounds familiar, you've been listening to this too much.

The US government propaganda outfit taxpayers are still forced to fund because Republican Senators' awful wives listen to NPR, and they know their husbands cheat on them, says that "people who menstruate" need tampons: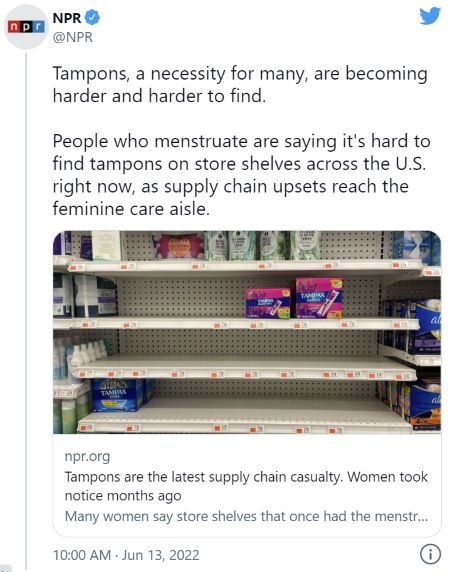 People who menstruate are saying it's hard to find tampons on store shelves across the U.S. right now, as supply chain upsets reach the feminine care aisle.

"I just went to 5 different Walgreens [and] the shelves are CLEARED," said one Twitter user this past week, while people on Reddit have posted about empty shelves going back months.

The shortage stems from a combination of factory staffing challenges, transportation bottlenecks, and the rising costs of key raw materials used to make the products, tampon makers say.

Jennifer Oliver O'Connor at Red State points out that Time Magazine knows who to blame for all this: White men. But not Joe Biden or Pete Bootyjudge (the Secretary of Transportation, who is actually tasked with straightening out the supply chain snafu.)
[Quick side note: We learned during the formula shortage that some men are a little rusty on how women's bodies work, so allow me to briefly explain. Women get their periods when the lining of their uterus breaks down every month. Tampons are manufactured pieces of fabric that about 40% of women in the U.S. use to absorb the blood.]
Quick side note: if feminist women were doing jobs that were more than just moving pixels on a screen, you could deal with this yourselves instead of just endlessly complaining and demanding that WHITE MEN fix your lives for you.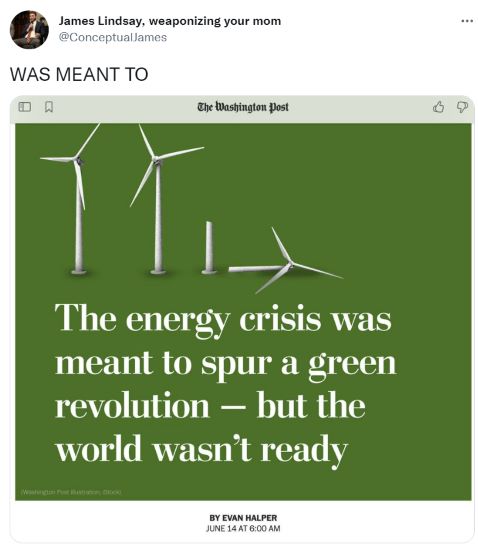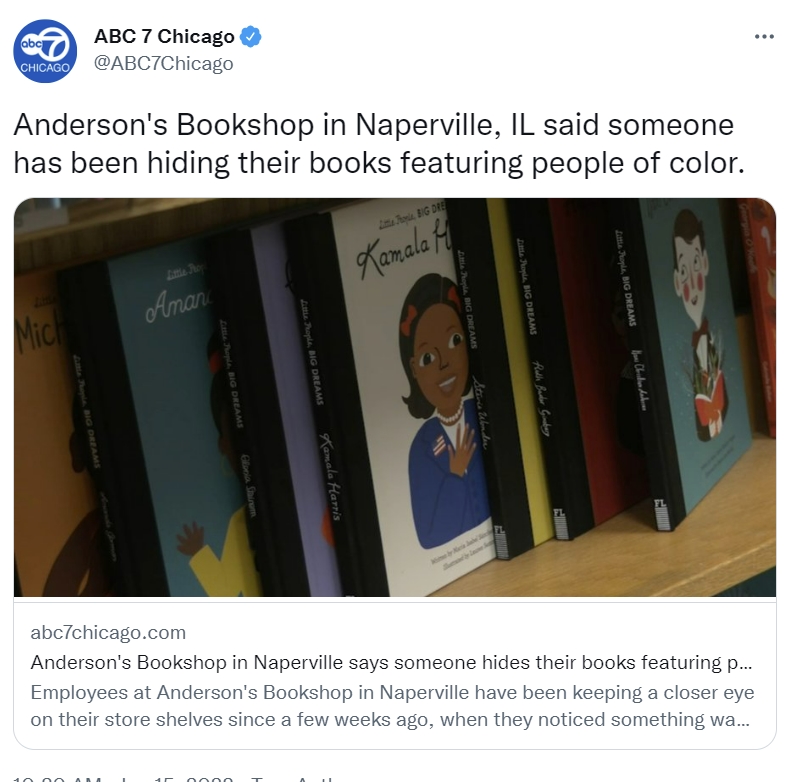 Oh no: racist book hiding at a woke book store.
I wonder who the culprit could possibly be.
NAPERVILLE, Ill. (WLS) -- Employees at Anderson's Bookshop in Naperville have been keeping a closer eye on their store shelves since a few weeks ago, when they noticed something was not right.

"They have kind of put things together and realized there was a pattern," Anderson's Bookshop Director of Events and Marketing Ginny Wehrli-Hemmeter said.

They found that books featuring people of color were being turned around or hidden behind other books. One time, they caught someone in the act.

"We found over 45 books that were turned around or covered," Anderson's Children Manager Carolyn Roys said. "We found more later that we missed the first time."

Wehrli-Hemmeter said they've made Naperville police aware of these occurrences.

At Anderson's, celebrating diversity is a priority. They have had signs up for years to make sure shoppers know it.

"To be clear, this is not a new initiative for us. It is something that we have always done," Wehrli-Hemmeter said. "But we feel like the current national situation has brought it to the forefront."

...

We Need Diverse Books Development Manager Kaitlyn Sage Patterson said this censorship can come in the form of book bans, but it can also come through in ways she describes as soft censorship, like what's happening at Anderson's.

Either this is an inside job and another hoax, or they're lying about what books are being hidden, and the books being hidden are "Lawn Boy" and "Gender Queer."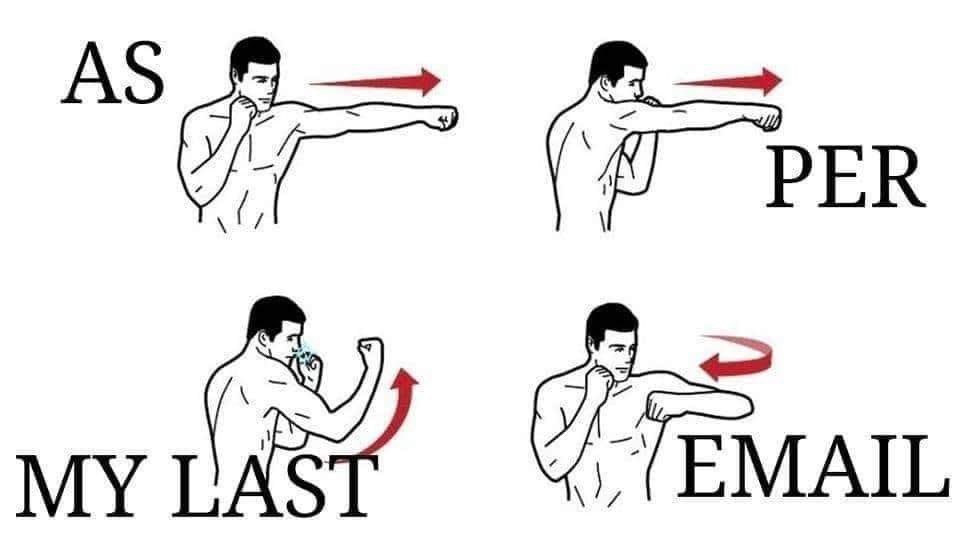 posted by Ace at
06:10 PM
|
Access Comments