« EMT 06/19/22
|
Main
|
How Much is a Gallon of Gas? [Joe Mannix] »
June 19, 2022
Sunday Morning Book Thread - 06-19-2022 ["Perfessor" Squirrel]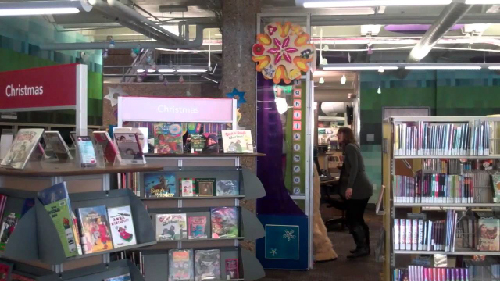 Welcome to the Father's Day edition of the prestigious, internationally acclaimed, stately, and illustrious Sunday Morning Book Thread! The place where all readers are welcome, regardless of whatever guilty pleasure we feel like reading (with complimentary hair in your dirt). Here is where we can discuss, argue, bicker, quibble, consider, debate, confabulate, converse, and jaw about our latest fancy in reading material, even if it's nothing more than the economic predictions of Paul Ehrlich. As always, pants are required, especially if you are wearing these pants...
So relax, find yourself a warm kitty (or warm puppy--I won't judge) to curl up in your lap, sprinkle some cinnamon and sugar on your buttered toast, and crack open a new book. What are YOU reading this fine morning? More importantly, for all you fathers out there, what are you reading to your children?

PIC NOTE
Today's pic is of the Old Town Library in Fort Collins, Colorado. I used to live there when I was a kid. I have many fond memories of my parents taking me to the library. There were no drag queen story hours in those days. It was a far more innocent time. The library has been renovated and updated over the years, so I'm sure it looks completely different on the inside than I remember. It's located in the "old town" section of Fort Collins, so there are numerous historical buildings located nearby, including a few old cabins from frontier times.
BOOKS FOR FUN
Comment: I confess that I read quite a few books in the Choose Your Own Adventure series, many of them checked out from the Old Town Library in Fort Collins, CO. I also enjoyed the TSR Endless Quest series based on Dungeons and Dragons.
+++++
Comment: I remember seeing the Lone Wolf books, but I never read any of them. It's a shame, too, because I probably would have enjoyed them when I was younger. They are basically a solo role-playing game module in paperback form. Ah, what we had to do to keep ourselves entertained before computer role-playing games really took off!
+++++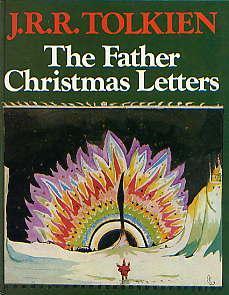 J.R.R. Tolkien seems to have been a pretty cool dad. Many kids write to Santa Claus (or "Father Christmas") every year asking for presents. How many kids receive handwritten letters from Father Christmas? With illustrations? Tolkien built a whole world up there at the North Pole with interesting characters like Polar Bear, who is well-meaning but constantly getting into trouble. He also describes an ongoing war between the Elves who just want to make toys and Goblins that want to steal them. Because this is Tolkien, he invented not one but TWO languages (an "Arctic" language similar to Elvish and a Goblin alphabet).
++++++++++


++++++++++
BOOKS BY MORONS
Hey Perfessor,

My short story "The Kingman Deal" has been recently published in the horror anthology, The Devil You Know Better, currently available on Amazon "The Kingman Deal" takes place in the early 60's at a resort in the Catskills (commonly known as the Borscht Belt). The story's about a private eye--a fixer--hired by a famous television comedian to seek out a mysterious stranger with whom the zany, madcap TV star has made a shady deal. I spent weeks prior to writing the piece reading the likes of Chandler, Hammett, and Spillane to pick up the rhythms of the hard-boiled style, and think it's paid off.

I also have a Halloween-themed horror story, "Pick Trick," coming out later this summer in Cirsova magazine. Cirsova has also just bought yet another story, "Starring Hedy Lemarr", which relates how Stanley Kubrick, Andy Warhol, and Hedy Lemarr save the world from a murderous, mind-controlling alien invader. What can I say? My head goes to some strange places.

I'm on a roll and couldn't be happier.

Thanks,

Troy. (horde nic: troyriser)

Comment: This sounds like an anthology I would very much enjoy reading. Stories about meetings with the Devil have a very long history. Christopher Marlowe's Doctor Faustus (1592) is one of the more famous examples. "The Devil and Daniel Webster" (1936) by Stephen Vincent Benét is another classic American tale. We, as a species, have a fascination with evil. Lucifer is often portrayed as "cool" or "sexy," as that is how he seduces mortals from the path of righteousness.

+++++
I wanted to let you and the Moron Horde know that we're running a big summer book sale.

Check out the Super Summer Book Sale running now through Tuesday June 21. Indie and small-press authors have banded together to offer over 160 ebooks priced at $0.99 with many titles free. The sale includes over sixty works new to the sale, and Terror House Press has joined in offering their entire catalog of ebooks for $0.99. Science fiction, fantasy, and adventure from established and emerging talents--there's something for everyone.

Author Larry Correia recently explained, "There's a lot of really good stuff out there that isn't woke garbage. There's a lot of amazing art from brilliant people that's more focused on entertaining that shoving message down your throat... [T]here are lots of great authors out there who get zilch attention, in an industry that actively black balls them for wrongthink." [https://threadreaderapp.com/thread/1533838153747865601.html].

So support non-woke creators and get yourself some great summer reading books for authors who don't hate you, today!

Oregon Muse left some big shoes to fill, and I'm glad to see you carrying on the Sunday Morning Book Thread.

--Hans G. Schantz aetherczar.com
++++++++++
MORON RECOMMENDATIONS
Although Frank Herbert is best known for his Dune books, there are 2 others that I'd recommend: Whipping Star and The Dosadi Experiment are two novels about his Bureau of Sabotage.

Herbert was a huge critic of government and government over reach. Wonder what he would say today if he were still alive.

-SLV
Posted by: Shy Lurking Voter at June 12, 2022 09:16 AM (SEa82)

Comment: Probably a better question for Frank Herbert would be what he thinks of the additional stories set in the Dune universe that his son Brian Herbert has co-written with Kevin J. Anderson. By all accounts, they are of somewhat mixed quality. Though from what I hear, the last three Dune books written by Frank Herbert are also not quite as good as his original trilogy. Herbert was a fairly prolific author, writing both numerous novels and plenty of short stories.
+++++
I finally finished From Emperor to Citizen, the memoirs of Aisin-Gioro Pu Yi, China's last emperor.

The first part of the book is the best, and I really enjoyed the pace at which it moves and the conversational writing style. It's like you're sitting there having a chat with the guy. He's telling the story as it unfolds, but digresses to explain this thing or that thing and then moves on.

After he is captured by the Communists, the style of writing shifts as the heavy hand of censorship and propaganda takes over. The last third in particular was a dull slog as Pu Yi explains how he learned everything he did was terrible and Communism made him a New Man who was better in every way.

There's also a bunch of stories about how he's seeing nothing but healthy, happy children, everyone has plenty to eat, industry is thriving, etc. Note that the years he's describing were those of the Great Leap Forward and incredible suffering in China.

Particularly amusing were the accounts of the freed Japanese prisoners who finally got to go home in the 1950s only to write back about how the evil Americans are driving their tanks all over Japan, ruining it.

Their sons are gangsters and their daughters are whores to the US G.I.s and all of the traditional ways are gone!

By the way, there is no small amount of tension between Pu Yi talking about tradition and then whipsawing about how bad it was. Obviously this is still a problem in China today.

All in all, I highly recommend it. The shortcomings of the conclusion don't take away from the fascinating portrait of life in the Forbidden City. Pu Yi himself is a tragic figure, even pathetic. He's proud, arrogant, cruel and cowardly - in large part because that was how he was raised. The window into Imperial government is fascinating. I picked up my copy used, but if you can track one down and are interested in the topic, get it.

Posted by: Ace-Endorsed Author A.H. Lloyd at June 12, 2022 09:28 AM (llXky)

Comment: I don't know that I have much to add to A.H. Lloyd's analysis. First hand accounts of what life is like in Communist countries are fascinating, in a horrifying way. The Chinese way of thinking really is foreign to most Westerners. We just don't understand them. Nor do they fully understand us.
+++++
I just started reading Weird West author Joe R. Lansdale's short novel Zeppelins West, about Buffalo Bill Cody's Wild West Show on its world tour via their airship named "Old Paint". The historical figures are familiar, if steampuncked: f'rinstance Cody's still-living head is preserved in a jar of whiskey and placed atop a Steam Man body for mobility (see: https://tinyurl.com/4kz2zuwd ).

The book is illustrated. Why aren't more books illustrated these days?

Posted by: All Hail Eris, She-Wolf of the 'Ettes 'Ettes at June 12, 2022 09:06 AM (Dc2NZ)

Comment: The "weird west" genre is an interesting mash-up of steampunk, cosmic horror, western, and anything else you want to throw in the mix. I enjoy a good weird west story and I have an anthology by Joe R. Lansdale around someplace. All Hail Eris makes a good point about illustrations. More books should be illustrated these days. Yes, it makes books more expensive, but you can really enhance the story with good illustrations. The Stormlight Archive, for instance, has some phenomenal artwork included as part of the story (supposedly drawn by one of the characters).
+++++
One of the best non-fiction books I've read is The Prize. A history of the oil industry, it doubles as an insightful history of the 20th Century. Oil affects everything.

Posted by: Ignoramus at June 14, 2022 07:43 AM (i0slg)

Comment: Ignoramus posted this on an evening thread the other day, but I snatched it up for the Sunday Morning Book Thread. As we are seeing on a daily basis right now, OIL IS LIFE! Without oil, our current way of life simply isn't possible. Yet, the ignoramuses in government think they know better. Idiots.
More Moron-recommended reading material can be found HERE! (224 Moron-recommended books so far!)
+-----+-----+-----+-----+
WHAT I'VE BEEN READING THIS PAST WEEK:
The Evolutionary Void by Peter F. Hamilton -- Book 3 in The Void Trilogy.
Complete Calvin and Hobbes (Boxed Set) -- A classic comic and very enjoyable.
The Devil You Know Better edited by R. J. Carter
Ungrading: Why Rating Students Undermines Learning (and What to Do Instead) edited by Susan D. Blum -- This is for my day job. We're hosting a summer book reading program with several of our faculty. We will be discussing this book, which looks at alternative forms of assessing students instead of assigning them a grade.
That's about all I have for this week. Thank you for all of your kind words regarding my Sunday Morning Book Thread. This is a very special place. You are very special people (in all the best ways!). The kindness, generosity, and wisdom of the Moron Horde knows no bounds. Let's keep reading!
If you have any suggestions for improvement, reading recommendations, or writing projects that you'd like to see on the Sunday Morning Book Thread, you can send them to perfessor dot squirrel at-sign gmail dot com. Your feedback is always appreciated! You can also take a virtual tour of OUR library at libib.com/u/perfessorsquirrel. Since I added sections for AoSHQ, I now consider it OUR library, rather than my own personal fiefdom...
PREVIOUS SUNDAY MORNING BOOK THREAD - 06-12-22 (hat tip: vmom stabby stabby stabamillion) (NOTE: Do NOT comment on old threads!)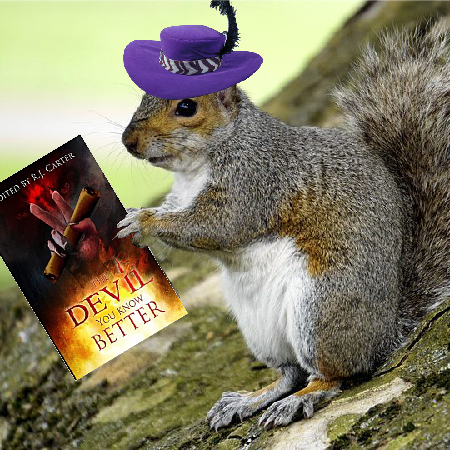 posted by Open Blogger at
09:00 AM
|
Access Comments