« The Morning Rant
|
Main
|
Censoring and Deplatforming Fox Isn't Really Censorship or Deplatforming, Insists Obese Gay Vampire Brian Stelter »
February 01, 2021
Lincoln Project, NeverTrump as a Whole in Scandal as One of Their Founding Members Is Outed as a Notorious Pedophile
They're all claiming they didn't know.
Bullshit. Karl Rove was talking this up in 2004.
Did these DC insiders and professional rumor-spreaders never hear?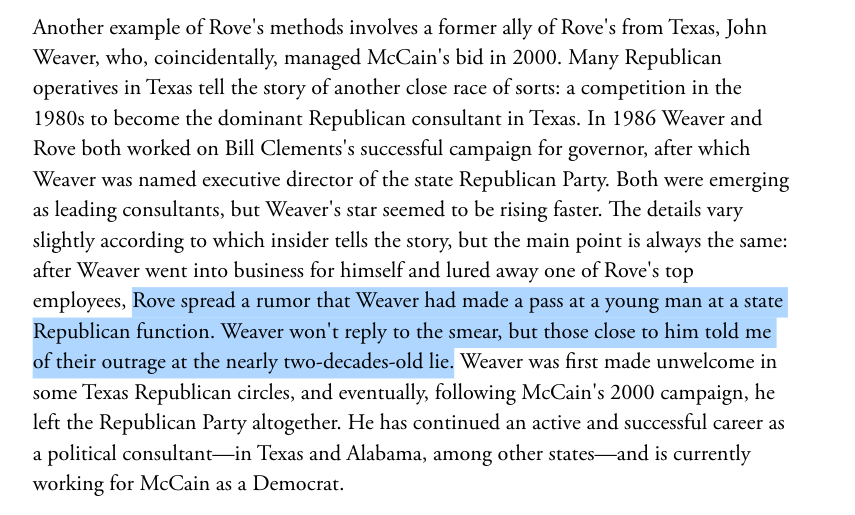 Just a few months ago, reporters on the right were writing the story.
The Lincoln Project -- or, as El Kabong called it, "The North American Man Boy Lincoln Association" -- continued to spin.
Now that their media allies at the New York Times have put the final nail in their spin, the Lincoln Project announces that founding member John Weaver is a "predator" but that they never knew the open secret that he was DMing young men -- and boys -- for sex.
John Weaver, a co-founder of the Lincoln Project, has been accused of sending explicit messages to nearly a dozen young men, offering them career advice and jobs in exchange for sexual favors.

Weaver, who formerly worked with the late Sen. John McCain (R-AZ) and former Ohio Gov. John Kasich (R), was accused by 21 men of sending unwarranted messages, one who stated that he began receiving messages when he was 14 years old, according to the New York Times.

According to the Times, Weaver told one young man that he would "spoil you when we see each other" and "help you other times. Give advice, counsel, help with bills. You help me ... sensually."

The Lincoln Project, an anti-Trump Republican group, insists it was unaware of the allegations until it started circulating in the news.

"There was no awareness or insinuations of any type of inappropriate behavior when we became aware of the chatter at the time," co-founder Steve Schmidt told the Times.
Reporter Ryan James Girdusky flatly rejects the National Man Boy Lincoln Association's claim that they didn't know what everyone in Insider DC knew:
This statement by the @ProjectLincoln is an absolute lie.

Members did know. Young men approached them about the accusations. Members knew I was writing the story and warned John Weaver pic.twitter.com/BZms5iLgpL
--
Ryan James Girdusky (@RyanGirdusky) January 31, 2021
I tweet the accusation: @ProjectLincoln silence Victims tweet: more silence I write my article: even more silence Axios article: John weaver is gay, that's all NY Times article: [Lincoln project declares:] he's a predator

What a joke https://t.co/lb6AULV2TR

— Ryan James Girdusky (@RyanGirdusky) January 31, 2021
Breitbart also claims that Molly-Jong Fast -- a fellow traveler of the Lincoln Project's bloated neoconfederate tick Rick Wilson, and a writer at the Daily Beast-- also knew.
Daily Beast editor-at-large Molly Jong-Fast allegedly knew about the sexually explicit messages that John Weaver -- a co-founder of the anti-Trump super PAC Lincoln Project -- had been sending to nearly a dozen young men, in which he offered them career advice and jobs in exchange for sexual favors.

:According to several mutual friends, [Molly Jong-Fast] heard I had this story back in the early summer. And that it was circulating several outlets," tweeted political consultant Ryan Girdusky -- the conservative activist who first broke the story -- of the scandal involving Weaver.

"Molly Jong-Fast kept her mouth shut after she learned that one of her Lincoln Project sexual predator pals was targeting young boys," commented GOP strategist Arthur Schwartz on the matter.

"No one wants to hear from her (besides law enforcement)," he added.
Mike Cernovich says that Weaver's youngest victim was 14. He also says:
@Cernovich 23h Replying to @ProjectLincoln

When did you first learn about these allegations? I leaned about them over a year ago. It was an open secret.

How much was Weaver paid?

Was Weaver given an operating budget? Where did the money go?
Good questions: How much Lincoln Project money went to pay young men for gay sex, or to hush them up about his propositions?
@stephenkruiser The Lincoln Project is a prison shower of dropped soap iniquity. A press release won't change that.
Deb Heine of American Greatness makes a good point: Weaver officially dropped out of the Republican Party in 2004, presumably in protest of the GOP's adherence to the "no money for underaged boy-sex" plank.
Yet the New York Times insists on calling him now, 17 years later, a Republican.
Why?
"I founded my primary business with someone I don't know"
right
lol
Thanks to Tami for that last tip.
Good to see Tami again.

posted by Ace at
12:11 PM
|
Access Comments