« Food Thread: [insert title here]
|
Main
|
Sunday Overnight Open Thread (11/19/23) »
November 19, 2023
Gun Thread: November 19th Pre-Thanksgiving Edition!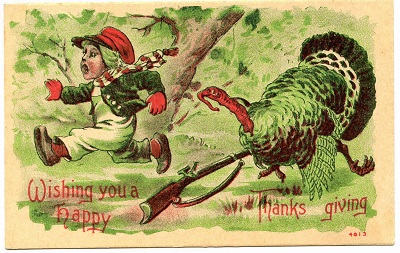 Howdy, Y'all! Welcome to the wondrously fabulous Gun Thread! As always, I want to thank all of our regulars for being here week in and week out, and also offer a bigly Gun Thread welcome to any newcomers who may be joining us tonight. Howdy and thank you for stopping by! I hope you find our wacky conversation on the subject of guns 'n shooting both enjoyable and informative. You are always welcome to lurk in the shadows of shame, but I'd like to invite you to jump into the conversation, say howdy, and tell us what kind of shooting you like to do!
Holy November Shitballs! How in the ever-loving Hell did it get to be November 19th? Seriously! Why, it seems just the other day it was the day after Veterans Day!
With that, step into the dojo and let's get to the gun stuff below, shall we?
******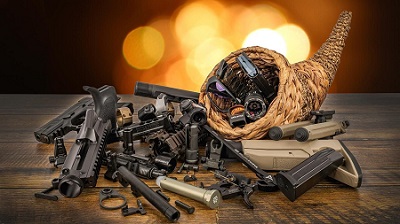 So with November comes Thanksgiving, the uniquely American holiday where we celebrate the warmth, joy and brotherhood of capitalism by standing in line all night for a chance to buy a $9 flat-screen TV. I don't know about all y'all, but this time of year my email inbox positively resonates with offers from every single online entity I have ever done business with, and many I haven't, trying to get their share of my dinero.
Having said that, this does present an opportunity for those who plan ahead and like to save a few bucks. Do you have a guns 'n shootin' shopping list for items you want? How about for gifts? Why not share the details in the comments tonight to help the other shoppers out there looking for ideas. Here is a shooter's handy holiday shopping gift guide from our pals at Midsouth Shooters Supply
This is a busy time of year for your ol' pal Weasel, mostly having to do with work, which has the annoying consequence of interfering with my organic tree farming activities. Since the John C. Garand Rifle Range is located at WeaselAcres, it also interferes with my shooting time, too. How do all y'all manage your range time? Is it a priority - something to be done no matter what - or is it something you consider only after all your other stuff is done? When I was competing, shooting and match preparedness was job numbero one-o. Shooting came first and everything else was secondary. That's a bigly part of the reason I am no longer shooting competitively, as it represented a ridiculous time commitment. Shooting recreationally is a bit different though. Depending on travel, it can take as little as an hour of your time to squeeze in a practice session. How often are you going to the range, and what sort of things keep you from going as often as you like?
******
Guns of the Weasel
I needed some quick content so here are a couple of
Gun Thread
S&W re-runs. I bet no one will notice!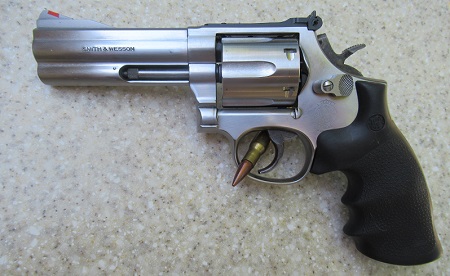 This is a gun I inherited from my father, a Smith and Wesson Model 686-4 purchased in 1995. We were able to take it shooting a couple of times and I very fondly recall those trips. My dad wasn't a big shooter, and this handgun was a "spite" purchase in response to a politician who annoyed him by, among other things, pushing gun control back in the day. Gotta love my dad! Spite purchases can be some of the best and most rewarding, don't you think?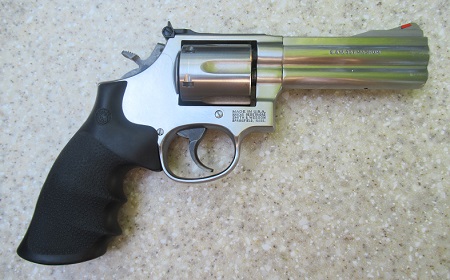 Please tell us about your dad and any shooting you might have done together. Did he teach you how to shoot? More importantly, are you teaching your son or daughter how to shoot?
***
Smith & Wesson Model 64
Back to Smith & Wesson revolvers this week, we have a nice example of the Model 64 snubby from the WeaselCollection. This is pretty much a baby with a manufacture date in the 1980s and is the gun I have in mind when thinking of a revolver for concealed carry.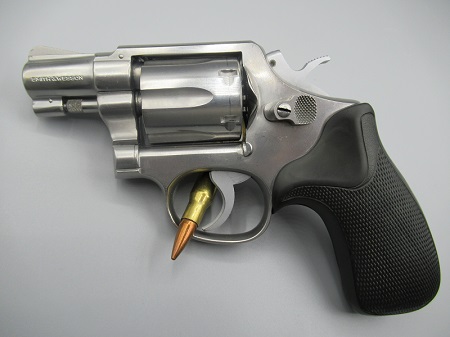 Even with the short 1 7/8th inch barrel, I think it's plenty accurate as long as I'm on my game.
It's hard to tell from the video, but I'm about 7 yards from the target. Obviously, I'm concentrating on creating a small group and not in some sort of high stress self-defense situation, but I think it shows what the snubby revolver is capable of.
What about you all? Anyone carry a concealed revolver? If so, what made you decide to do so?
******
Stop the Presses!!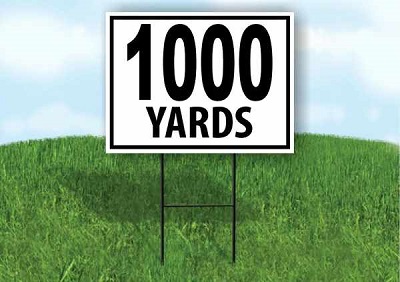 Our pal Blake has attended his very first 1,000-yard match! Congratulations Blake!
Saturday was the day of my first 1,000-yard match. I took my trusty Savage Axis II, complete with Magpul bipod and Vortex scope to the firing line to shoot a distance I really have no experience with. What could possibly go wrong? However, I was up front about being new to this and the people involved with the match were patient enough to work with me so I could compete. I was shooting Hornady Match 168 grain ELD loads. I plan to load my own ammo for this match next year.

I started off working the rifle pit, which felt a bit like home, as I'd worked the rifle pit before in High Power matches. This match, however, was much more relaxed, because it was not a timed event. Which meant no pressure on the shooter or the people running the target in the pit.

After the pit, I headed back to the firing line to observe people setting up and going through their various routines before shooting. They all put 3 rounds downrange as sighters then shot 10 rounds for score. It was unreal how many of the shooters were inside the 10 and X ring at 1,000 yards.

I was in the last group to shoot and one of the guys was nice enough to spot for me as I tried to get my elevation set. Finally, after 5 shots, I was on paper and properly lined up. Naturally, because that's the way things go at our range, by the time it was our turn, a breeze had come up, and, worse, it was so variable shots were being moved all over the place. In fact, one amusing round of shots, the three of us on the line all put shots pretty much in identical spots on our target, way right. You could almost have put a level on our shots, as they were that close to being the same height.

After everything was said and done, the scores were read out, with most of the people shooting in the nineties. One shooter shot an 88, but this was only his third match.

I came in dead last, which was expected, with a 79. I was told I did well for a first match. Obviously, I have no reference point still, though, I had a great time.

As I told everyone, never have I shot so little yet had so much fun.

Blake - semi lurker in marginal standing

p.s. One of the guys in the pit gave me some grief about giving him a gravel shower during sight in. I told him, "Had I know it was you, I'd have done it again!" He laughed, along with everyone else. Great day at the range.
Excellent, Excellent, EXCELLENT! This made my day! People, you just have to do what Blake has done, and go do it! Don't worry about the score (not much, anyway) because this is practice. There is a ton of stuff to learn besides the trigger pulling business, and participating in a match is how you learn it. Do this a bunch more times and then start to worry about scores and winning and medals and range babes.
Man, I hope you keep it up and keep us posted, and please let me know if there is anything I can do to help. Thank you!
******
Special vs. Magnum
Our pal hickok45 explaining the difference between "special" and "magnum" cartridges.
******
Space Shit is Cool
Say what you will about Elon Musk, but he puts a whole lot of his money where his mouth is and he gets shit done. Yesterday, his Starship rocket blasted off and made it into
freaking space
before encountering technical difficulties in the form of blowing up. I think this is completely badass and my hat is off to him! Go SpaceX!
******
What Are Bullets Made From?
Why, they're made from copper! Yes, our old pal copper. Let's have a look at how the ore is mined and processed!
******
Kwestion Korner
Q: Weasel, how does and AR15 work?
A: See below.
******
Musical Interlude
Here is Eddie Van Halen and
Ain't Talkin Bout Love
.
******
Gun Basics 101
New video from the She Equips Herself gal! This week's video is on matching home defense and concealed carry weapons.
******
Cigar of the Week
This week we look at straight and punch cigar cutters. What, no love for the "V" cutter?
******
Here are some different online cigar vendors. You will find they not only carry different brands and different lines from those brands, but also varying selections of vitolas (sizes/shapes) of given lines. It's good to have options, especially if you're looking for a specific cigar.
Cigarsinternational.com
Cigarpage.com
Famous-smoke.com
Cigarsdaily.com
Neptunecigar.com
Smallbatchcigar.com
Bobalu Cigar Company
Cigarbid.com
A note about sources. The brick & mortar/online divide exists with cigars, as with guns, and most consumer products, with respect to price. As with guns - since both are "persecuted industries", basically - I make a conscious effort to source at least some of my cigars from my local store(s). It's a small thing, but the brick & mortar segment for both guns and tobacco are precious, and worth supporting where you can. And if you're lucky enough to have a good cigar store/lounge available, they're often a good social event with many dangerous people of the sort who own scary gunz, or read smart military blogs like this one. -rhomboid
Anyone have others to include? Perhaps a small local roller who makes a cigar you like? Send me your recommendation and a link to the site!
******
Ammo Link-O-Rama
I'm really very seriously not kidding around anymore. Buy Ammo
AmmoSeek - online ammo search tool
GunBot - online ammo search tool
SG Ammo
Palmetto State Armory
Georgia Arms
AmmoMan
Target Sports USA
Bud's Gun Shop
American Elite Ammo NEW!
***Mail Bag***
This week's mailbag entry is from our pal Misanthropic Humanitarian. Great one! Thank you!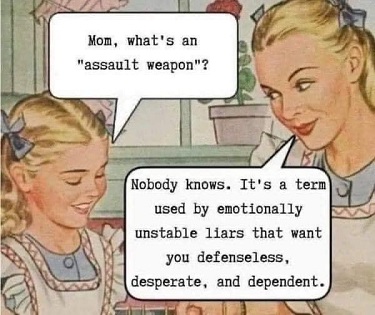 ******
Please note the new and improved protonmail account gunthread at protonmail dot com. An informal Gun Thread archive can be found HERE. Future expansion plans are in the works for the site Weasel Gun Thread. If you have a question you would like to ask Gun Thread Staff offline, just send us a note and we'll do our best to answer. If you care to share the story of your favorite firearm, send a picture with your nic and tell us what you sadly lost in the tragic canoe accident. If you would like to remain completely anonymous, just say so. Lurkers are always welcome!
That's it for this week - have you been to the range?


posted by Weasel at
07:00 PM
|
Access Comments