« Mid-Morning Art Thread
|
Main
|
Surprise! The Very Special Counsel Appointed by Biden to Investigate Biden's Mishandling of Classified Documents Won't Charge His Boss After All »
November 17, 2023
MORNING RANT: The Hottest year Ever? NOAA is Including Fabricated Data from Hundreds of Decommissioned Stations in Its Temperature Database
As is customary every autumn, there is a torrent of news stories coming out about the current year being the Hottest Year Ever! Since these stories start coming out well before the end of the year, that pretty much gives the game away about how fraudulent the data inputs are. Here is a typical apocalyptic headline.
"2023 Shaping Up to Be Warmest Year in NOAA's Global Climate Record" [NOAA – 10/13/2023]
With only 9 months of reporting data, NOAA was already able to announce "Hottest Year Ever." But to be fair, they knew well in advance that their data would show 2023 to be the hottest year ever, not only because NOAA "adjusts" much of the data they gather, but even more shockingly, because they fabricate much of the rest of the data inputs from decommissioned stations!
Meteorologist John Shewchuk has been researching NOAA's hundreds of "ghost stations." These are climate stations that were once in operation, but aren't any longer. They might have been removed, or maybe they just quit operating and were never repaired, but NOAA continues to fabricate estimate temperature data for these formerly operational stations.
In the picture below, John Shewchuk is standing where US Historical Climatology Network ("USHCN") station 080611 once stood in Belle Glade, FL. It was removed in 2005, but that hasn't stopped NOAA from continuing to ascribe temperature data from the Belle Glade station into their climate record. NOAA simply "estimates" the Belle Glade temperature, and then inputs that into their formula that reports "Hottest Year Ever!" They call this "science." It's not. It's fraud.
Here is some background on the USHCN stations:
• At one point in the 1950s there were 1,218 of these stations.
• By 2020 the number of functioning stations had declined to 830.
• NOAA has chosen to keep the number of database inputs at 1,218.
As a result, NOAA simply estimates the temperature data for the other 388 decommissioned stations. In other words, the temperature records for approximately 1/3 of the USHCN stations are fabricated estimated.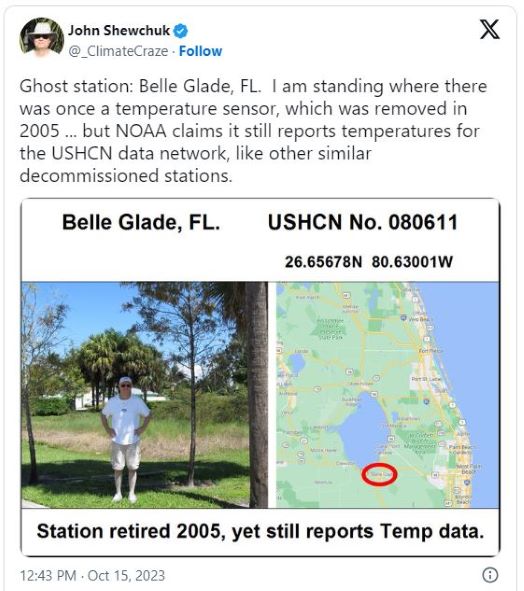 It gets even worse. As I'll show in just a moment, aside from the fabricated reports from the USHCN ghost stations, NOAA adjusts the actual readings from stations that are still functioning, to support the climate hoax.
The table immediately below from the Belle Glade station is much simpler to read than it looks, and it reveals both types of fraud that NOAA is committing: 1) the adjustment of temperature data; and 2) the fabrication of temperature data.
In blue is the actual Raw data produced by the Belle Glade station until it went dark in 2005. Each row represents a year, for instance the first year is 2000. The 12 numbers that follow are the 12 average monthly temperatures for that station, shown as Celsius x 100. Therefore, the average temperature in January 2000 was 25.12° Celsius. In February 2000 the average temperature was 25.50° Celsius. (-9999 means that no reading was recorded.)
Below that table in red is the official NOAA temperature data, where two things stand out.
1) NOAA has adjusted the actual Raw data. That 25.12°C temperature for January 2000 was warmed up to 25.21°C. February 2000 was similarly adjusted from 25.50°C to 25.60°C.
2) Despite Belle Glade going offline in 2005, NOAA continues to report temperature data for that imaginary station. The "E" by the temperature indicates that this is an estimated temperature, however, that estimate is still included in the official temperature record.
Again, this isn't science. It's fraud.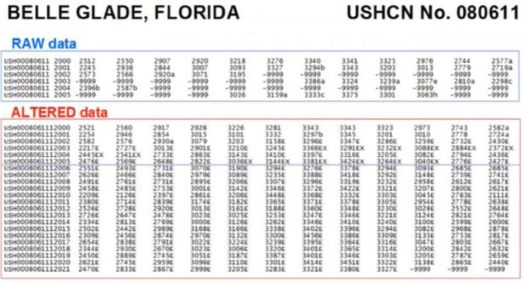 While there is little more to add to how completely fraudulent NOAA's temperature reporting is, it is still worth taking a quick look at the "global" historical temperature database to understand how NOAA's fraud is so historically relevant.
Mr. Shewchuk has provided a map showing the concentration of temperature stations that have been in operation for at least 100 years as of 2020. You'll notice that the historical "global" database is overwhelmingly isolated to the USA, along with some western European stations and some in Australia.
To summarize the obvious, the historical "global" temperature record is primarily the USA's temperature record.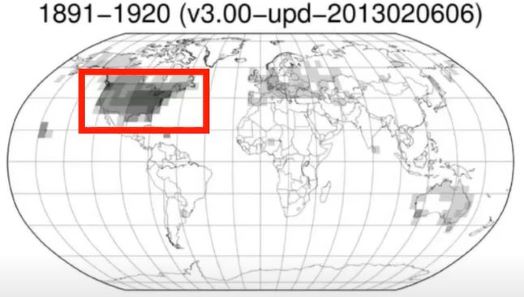 But the USA's historical temperature record has been adjusted by NOAA!
We are fortunate that ethical scientists have saved the historical NOAA climate records, because NOAA's current administrators have altered the official historical temperature records to cool the past and warm the present, so as to create a trend of catastrophic climate warming that can only be saved by eco-communism.
Below (in blue) is actual raw climate data as gathered by NOAA, along with NOAA's fraudulently adjusted data (in red) that supports the climate hoax.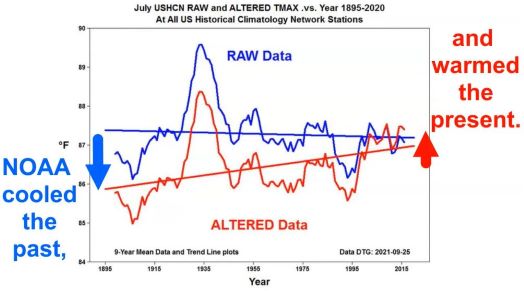 With NOAA's history of anti-scientific fraud, it should be assumed at this point that any data NOAA publishes is a fabrication.
My previous documentation of NOAA's fraud was the progenitor of a commenter's quote that gave birth to Throckmorton's Razor and Minuteman's Corollary:
Throckmorton's Razor: "Assume that any authority which has previously provided false data is always acting dishonestly."
Minuteman's Corollary: "Discount everything a liar says in his argument, even if it may support your position."
NOAA has so thoroughly compromised its integrity with its pattern of politically motivated fraud, that not only do I not believe its reporting of temperatures or tropical storm wind speeds any longer, but I don't even trust it to accurately report the dew point. Every piece of weather data produced by NOAA should be assumed to be fraudulent.
Mr. Shewchuk has a helpful video, that is worth a viewing.
Cap Allon at Electroverse also has a good write-up here about the ghost station fraud.
I'll finish up by highlighting a few more ghost stations that are dutifully reporting the climate apocalypse, even though they are technically not reporting any data at all.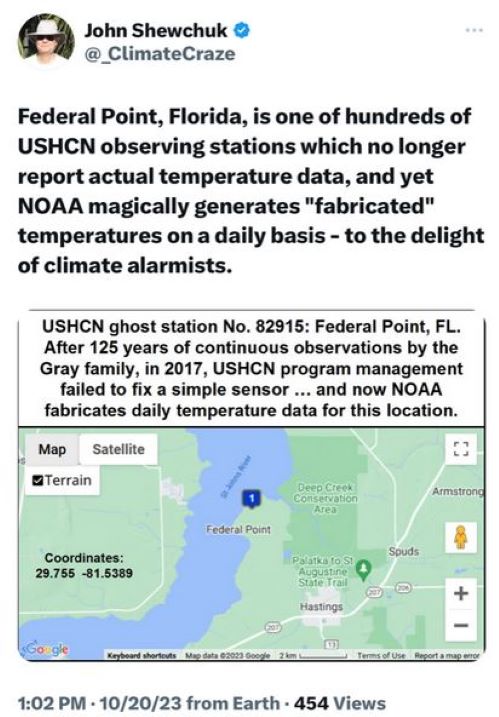 ------------------------------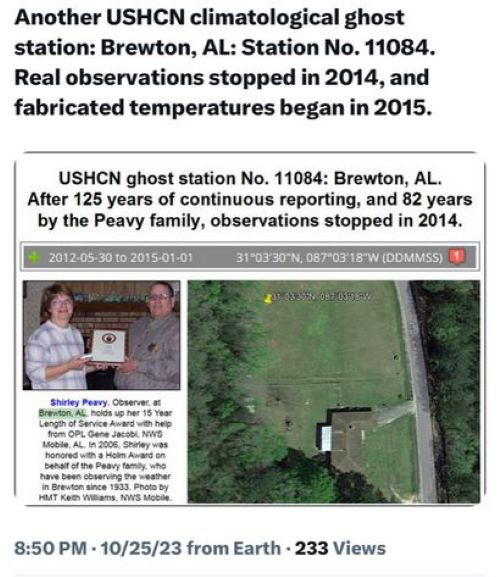 ------------------------------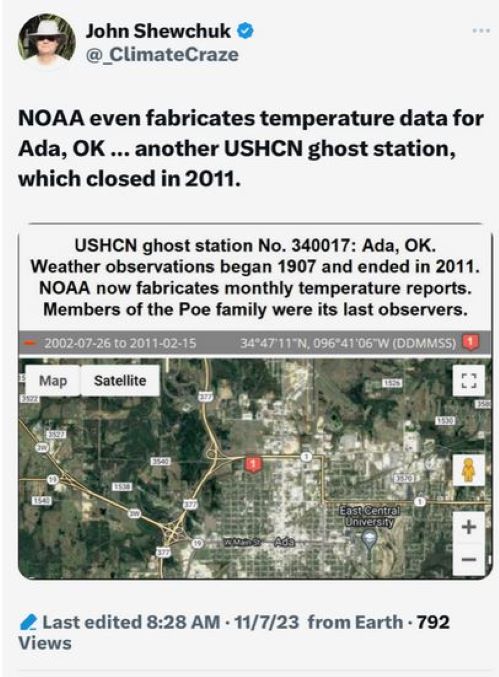 ------------------------------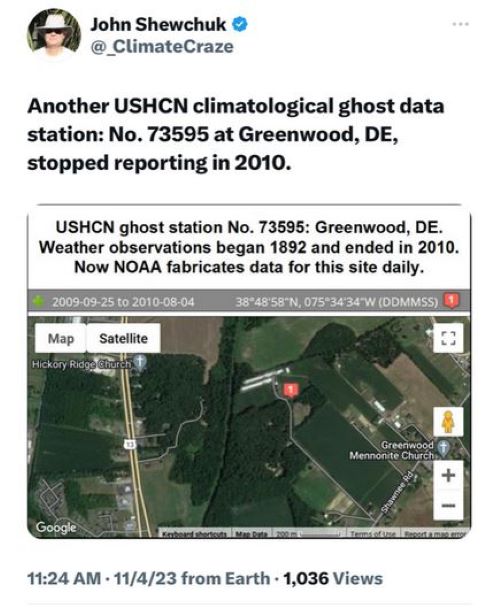 Your government is lying to you about an impending climate apocalypse so it can impose global eco-communism on you.
But aside from that, have a nice weekend.
[buck.throckmorton at protonmail dot com]


posted by Buck Throckmorton at
11:00 AM
|
Access Comments