« Mid-Morning Art Thread
|
Main
|
Tentative Deal Struck in Writers Strike »
September 25, 2023
THE MORNING RANT: Buck Shots - 9/25/2023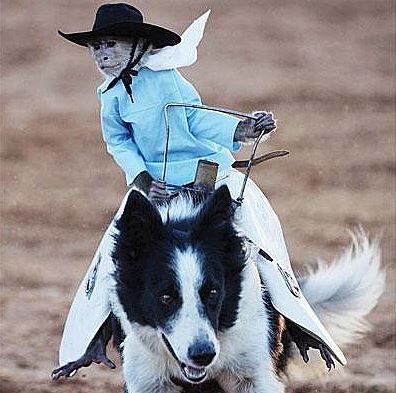 Since the left seeks to ban everything in life that makes living enjoyable, it was inevitable that they'd come for our pets too.
"The case against pets: is it time to give up our cats and dogs?" [Guardian – 9/13/2023]
A person described as an "environmental historian" is quoted as likening pet ownership to buying love, and that's problematic of course.
We are asking animals to fill a very human need, says Vettese: "People are looking for unconditional love." But that love "is predicated on this absolute domination of the pet's life – what they eat, their sexuality, their love, their activity – and you can't disentangle these two things". If pets had more autonomy, he says, "they would not necessarily have this unconditional love".
Naturally, according to these people, pet ownership is also helping to accelerate the climate apocalypse.
Then there is their carbon footprint. While we are increasingly aware of how our diets affect the planet, Winters argues that we view our pets separately.
But to answer the question posed in the Guardian headline, "Is it time to give up our cats and dogs?" I will never surrender my pets, of course, but for the zealots who won't leave me alone about their climate religion, yes it is time. They should be forced to surrender their pets, just like they want me to surrender my gas-powered SUV. If they won't euthanize Fluffy and Scruffy to save the planet from imminent doom, then I don't need to hear another word from them about my carbon footprint.
*****
Speaking of killing cats to save the planet…
"Brazil's Big Cats Under Threat from Wind Farms; Jaguars and pumas face extinction in Brazil's northeast as the fast-growing wind power industry frightens them off their land" [WSJ – 7/12/2023]
Particularly sensitive to changes to their habitat, the jaguars and pumas abandon their lairs as soon as construction work on the wind farms begins, said Claudia Bueno de Campos, a biologist who helped found the group Friends of the Jaguars and has tracked the region's vanishing feline population. They then roam vast distances across the dusty plains in search of new streams and rivers.

The weakest perish along the way. Others venture closer to villages, where locals have started laying traps to protect their small herds of goats and sheep, often their only form of survival in this impoverished region.
The wind energy hustlers are willing to entirely eradicate populations of whales, eagles, and big cats to produce exactly zero kw of incremental reliable energy. But the greater the number of these majestic creatures they kill, the more "green" money they rake in, and the more the eco-religionists will excuse these senseless killings as justifiable offerings to their angry climate God.
*****
The propaganda regarding the climate hoax is unrelenting. Jim Lakely at the Heartland Institute had some thoughts about this this color-coded temperature map from The Weather Channel on September 19.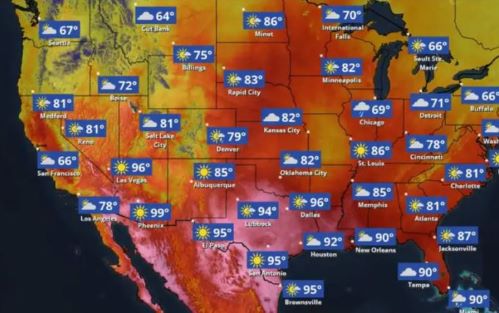 The Weather Channel is absolutely ridiculous.

Chicago, for instance, was displayed as red to deep orange. Warm, right? I can tell you from personal experience: It was "freezing" on Tuesday, September 19 in Northern Illinois for a day that is still technically summer. It rained all day and barely got over 60 all afternoon. I regretted not wearing a jacket to the office.
Take a look at Oklahoma City. A high of 82 degrees in mid-September is delightful there for that time of year, but The Weather Channel shows it as deep-red extreme heat.
*****
It is confusing trying to keep up with which eco-sins of the left are prohibited, and when.
Burning coal, as we've been told repeatedly, is very bad. Well, apparently it's not bad if it allows for the production of electric vehicle batteries. A new EV battery plant (Panasonic) in Kansas is going to require so much electricity that the local utility is going to extend the life of a coal-burning power plant in Lawrence to provide the needed energy.
"Panasonic plant will require so much power, Evergy will seek rate hike in Kansas" [The Kansas City Star -7/20/2023]
In addition to a possible rate increase, Evergy will also keep part of a coal-fired power plant near Lawrence operational longer than originally scheduled, at least partially because of Panasonic.
The Lawrence coal burning plant had been scheduled to shut down no later than early 2024.
Evergy is also citing the Panasonic plant, which will produce batteries for electric vehicles, in saying it will continue to burn coal at a Lawrence power plant until at least 2028.
The irony.
And guess what, consumer electric rates will also increase because of the EV battery plant.
Evergy plans to ask for a rate increase in Kansas next year to help pay for the additional infrastructure required to meet the Panasonic battery plant's massive anticipated demand for electricity…
Of course, once those EV batteries are being used to power electric cars, the energy they store will also be generated by good old-fashioned carbon and nuclear power plants.
Nothing is being saved and nothing is being gained, except that wealth is being re-allocated from common folks to the hustlers pushing the anti-carbon/climate scam.
*****
Enough about the climate hoax for today, let's take a look at business and economics…
It is not possible to mock the propaganda media sufficiently. Remember how the legacy media was promoting "funemployment" during the Obama administration?
They are trying the same approach now with the inflation that is wrecking households and driving up credit card debt. [Warning – the link below is to the Washington Post]
"Credit Card Debt at $1 Trillion Is a Sign of Consumer Strength" [Bloomberg / Washington Post - 8/31/2023]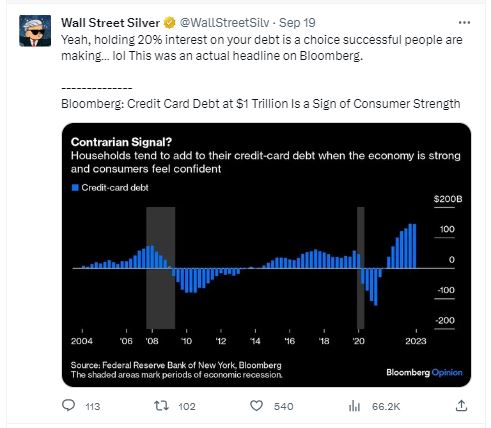 Yep, if consumers are maxing out their credit cards and paying 20%+ interest rates, that is surely a sign of consumer strength.
*****
The (former) top-selling beer in the United States seems to have permanently lost 30% of its sales after insulting its loyal customers and then making a cross-dressing man the face of its product.
"Bud Light sales still down 30% six months after Dylan Mulvaney disaster, drinkers 'lost forever'"[NY Post – 9/09/2023]
This is a major conservative victory in the culture wars.
But did we violate any of our sacred principles by pushing back against the corporate left? Specifically, did we sully our own selves by engaging in "cancel culture"?
No we didn't. And don't let anyone persuade you otherwise. Seth Dillon of The Babylon Bee succinctly explains: "I didn't see conservatives calling on stores and venues to stop carrying Bud Light. They just stopped buying it. They applied market pressure, but they didn't cancel anything. It's like the difference between changing the channel when a show you don't like comes on and calling the advertisers/network to try and get the show taken off the air entirely."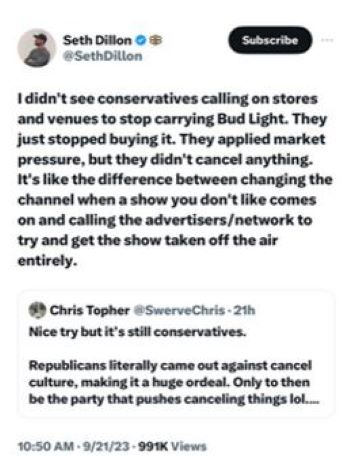 *****
Along those same lines, Target is in a world of hurt. As I wrote last month, the backlash that resulted from the retailer targeting children for its trans collection didn't start until mid-May, which was halfway through Q2. (The quarter ran from April 1 to June 30.) During the actual "Pride Month" of June, the boycott gained intensity.
Target's Q3 results (July through September) are likely going to be catastrophic, and the stock market has gotten wind of it. Having taken an initial hit when the boycott started, Target's stock is in free fall again.
Its stock was at $169 per share in mid-April, before it plunged to about $130 per share in late-May when the backlash started. The stock hung around $130 to $135 for the next couple months, before starting a new free fall. It's now trading at $113 per share, and pointed further south.
Target's stock has lost 30% of its value in those four months. In dollar terms, the market capitalization (e.g. market value) of Target stock has declined by about $22 billion.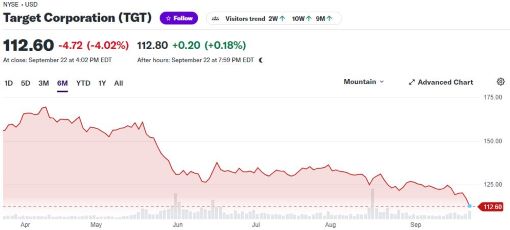 Well done, woke Target executives! You went woke and are going broke.
Target CEO Brian Cornell received $17.7 million in compensation in 2022. I wonder if Mr. Cornell's bonuses for 2023 will be negatively impacted by his flushing away $22 billion of shareholder value (so far.)
I jest. Of course, it won't affect Mr. Cornell's compensation. An 8-figure bonus for leading Target through these turbulent times awaits him, dutifully rubber stamped by the Board of Directors.
*****
Speaking of CEO compensation, which I've been covering a lot recently due to the UAW strike…
George Will, of all people, had an excellent comment about the CEO compensation of auto manufacturers. He made the point that US auto companies have effectively (and willingly) become arms of the US government, therefore it is legitimate for the UAW to rail against the $20+ million compensation packages of CEOs who are effectively government employees.
[Double warning: The following link is to both the Washington Post and to George Will.]
"The UAW can strike, but it's running out of gas" [Washington Post – 9/20/2023]
The UAW should propose that each CEO be paid $152,771, the highest base pay for GS-15 federal civil servants. This is what the CEOs should be considered, because their companies have become appendages of government, implementing its policies.
The executives of the auto companies are employing the "socialized risk / privatized gain" compensation strategy of too-big-to-fail financial institutions. The only difference is that auto company executives don't even have to turn a profit to award themselves $20 million dollar compensation packages.
*****
Throckmorton's First Law of Live Music: "If there's an upright bass in the band, it's probably going to be good."
It's now officially autumn, and certain songs always seem to have more poignancy when the days are once again getting shorter, while reminiscence pulls ever stronger. This song is one of them.
Here's the High Kings performing "The Parting Glass."
h/t tip to "Shelby Foote Appreciator" (@NoJesuitTricks) who posted this video on Twitter with the line, "Out here feelin some typa way." I get it. This song certainly captures a certain typa feelin'.
[buck.throckmorton at protonmail dot com]


posted by Buck Throckmorton at
11:00 AM
|
Access Comments