« Gardening, Puttering and Adventure Thread, Sept. 23
|
Main
|
The Weekend Hobby Thread »
September 23, 2023
Ace of Spades Pet Thread, September 23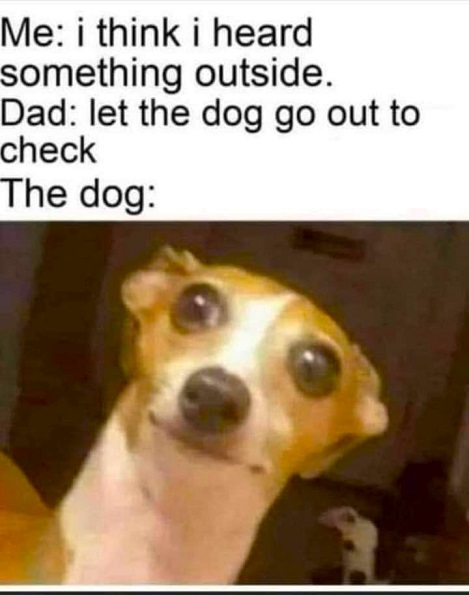 * * *
Good afternoon and welcome to the almost world famous Ace of Spades Pet Thread. Thanks for stopping by. Kick back and enjoy the world of animals.
Would you like a treat?
Let's relax a little with the animals and leave the world of politics and current events outside today.
* * *
* * *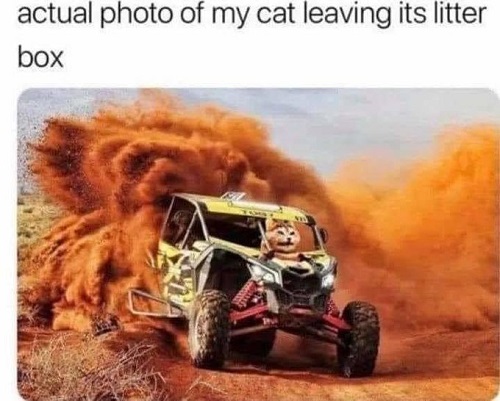 Courtesy Our Country is Screwed
* * *
Old Names for Dogs
Which do you like? There are several photos of dogs for whom these names would fit in the thread. "Nosewise" seems to be gaining on "Norman".
A little poem, adjusted for poetic rhythm: >
The Grand Old Duke of York

He had one thousand names

For pups he met from day to day

But none of them was James
And the entire list of names, mostly alphabetical until the end, is also found in the thread.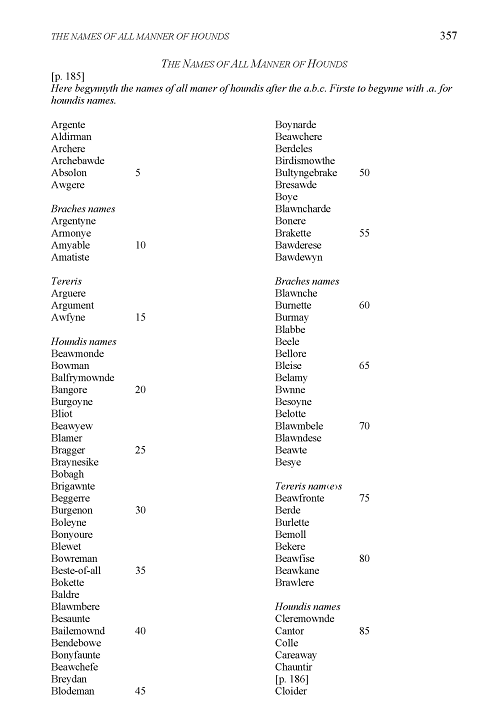 Lmao our cat is named Salmon. That's a ridiculous name for a dog
How do you pick a pet name?
Meet The PetMorons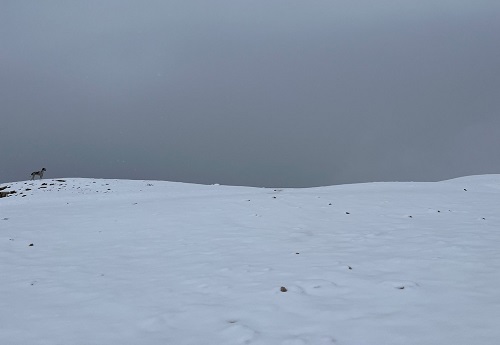 This is our 3 year old rescue dog Baby. We were on the top of Imogene Pass in Colorado at 13,100 feet in a snow squall when this picture was taken. We didn't even know she was in the frame until we looked at the pic after we got home. Anyway, thought you might enjoy this, God bless.
What an astonishing photo! We know a little about Baby's personality from it. Maybe we'll get to learn a little more someday.
Thanks for sharing this adventure with Baby.
* * *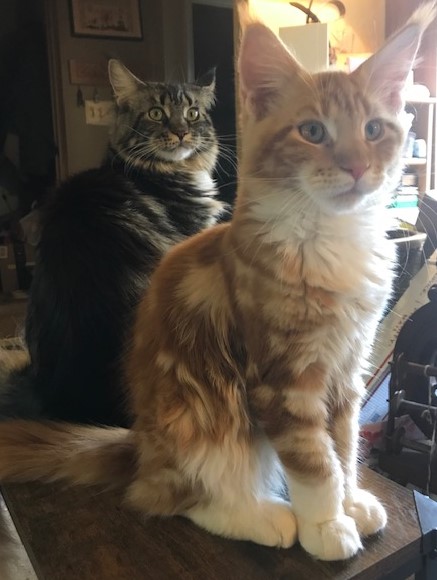 &&&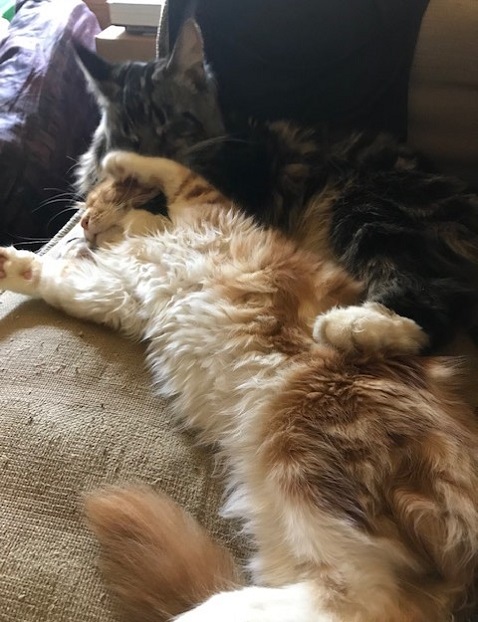 Sangria has been mentioned before but we thought she needed a playmate. They're both Maine Coon cats, Sangria is now 15 months and Rooney (male) is now 4 months. It was a tense few days in early September but they've settled down pretty well.

Lirio100
Beautiful cats. They do look a little tense in that first photo. Glad to hear that they are getting used to each other. Looks like they are making progress!
* * *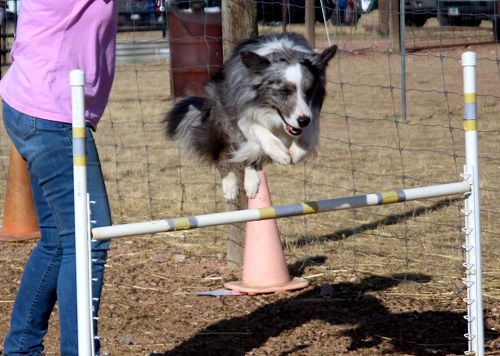 From Thursday:
Had to put my buddy Spenser down today. He was 11, but it was too soon.

Anyway, here he is in better days, Champion Triskle Spenser Diego...

Hawkpilot
Oh, yes, it was too soon. So heart-wrenching to lose such a great dog. Glad you checked in with us.
* * *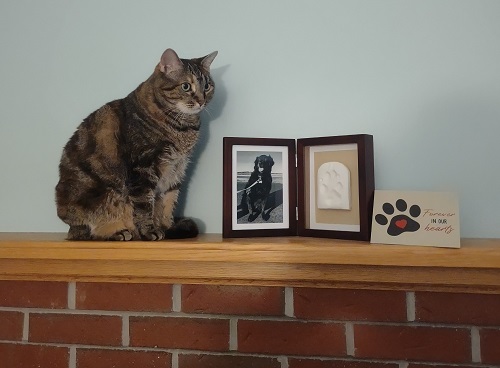 &&&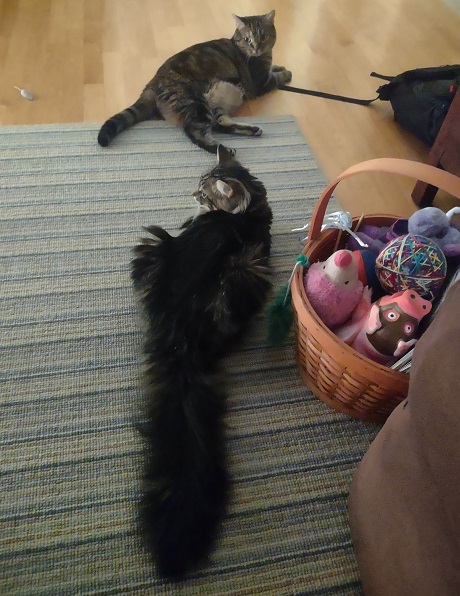 K.T. -

Thanks for all your work on the pet thread. Long time reader of AoSHQ and the Pet Thread.

First, our 4yr old tabby Dini. I came home from work and found her up on the fireplace mantle next to the picture & paw print of our Flatcoated Retriever Fenway that we lost last year. Dini was quite fond of Fenway.

To give Dini a companion after we lost Fenway (and not ready for another dog) we adopted a Maine Coon kitten that has been featured here before as well. She is now a 1yr old and has brought a whole new level of activity in the OCiS household. The last pic has Dini at the top of the frame, with Smudge stretched out. They are taking a quick breather before they begin the next round of kitty crazies.

Our Country is Screwed
The photo of Dini next to her friend's memorial is wonderful. Smudge certainly has an impressive tail! Those two make a nice pair.
* * *

Thank you for sharing your pets and pet stories with us.
If you would like to send pet and/or animal stories, links, etc. for the Ace of Spades Pet Thread, the address is:

petmorons at protonmail dot com

Remember to include the nic or name by which you wish to be known when you comment at AoSHQ, or let us know if you want to remain a lurker.
Until next Saturday, have a great week!
* * *

If you start feeling nostalgic, here a link to last week's Pet Thread, the Ace of Spades Pet Thread, September 16. Some special PetMoron stories and photos there.
I closed the comments on this post so you wouldn't get banned for commenting on a week-old post, but don't try it anyway.

posted by K.T. at
03:21 PM
|
Access Comments