« Thread before the Gardening Thread, Sept. 23
|
Main
|
Ace of Spades Pet Thread, September 23 »
September 23, 2023
Gardening, Puttering and Adventure Thread, Sept. 23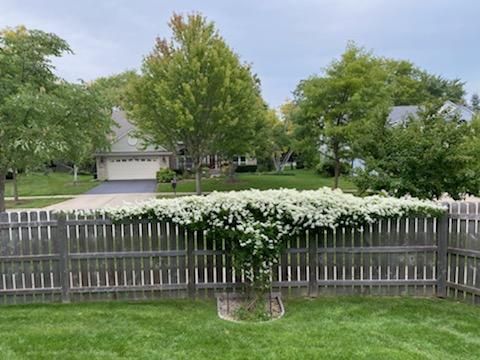 Happy Autumn Equinox, everybody! Are you feeling the change? It really started for us just a few days ago.
In honor of autumn, we have the lovely photo above of Sweet Autumn Clematis from Mr. Jimm:
Hi Katy!

This beautiful Sweet Autumn Clematis was planted somewhere on our property when we moved into our current residence north of Chicago 9 years ago; we've since moved it around a couple of times trying to find a good spot for it.
We finally found the perfect spot last spring, looking for lots of sunlight and, most importantly, plenty of room to spread out. (My standard routine is to dig out a couple of cubic feet of clay and replace it with a mixture of compost, manure & topsoil with some sand mixed in.)

It probably suffered some planting shock last year but still looked impressive enough last autumn to get a few comments from people walking past our house down to the park at the end of our block.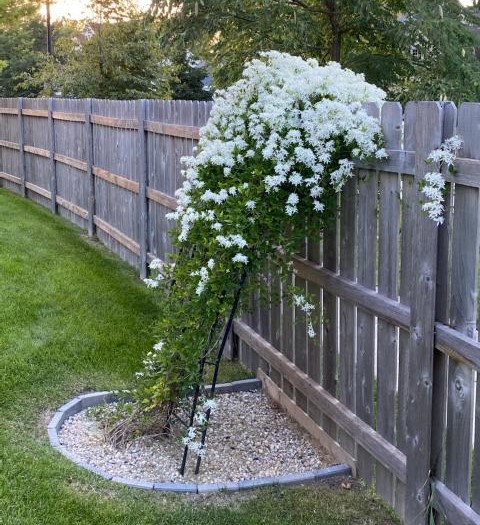 Beautiful for a first-year transplant.
This year, having settled in quite nicely, it got fed during spring & early summer with high nitrogen (24-8-16) fertilizer, and when the flower buds started appearing in early August I gave it 3 doses of high potash (10-50-10) fertilizer 2 weeks apart. Some difference, huh? I had to take some sections of strong wire fencing, roll them into flattened tubes, and attach enough of them to the wooden fence to extend the trellis out 8 feet on either side, and it now measures 18 feet across.

The internet tells me it can actually reach 30 feet across, so look out next year!

On a side note, the elephant ear that you featured last fall survived the winter indoors and was successfully transplanted outdoors again, but instead of growing into a 10-foot monster as I had hoped it put all its energy into growing a couple of rather miserable-looking flowers. It's still an impressive plant; it's not a spectacular plant, though. But the clematis kind of makes up for it, I think.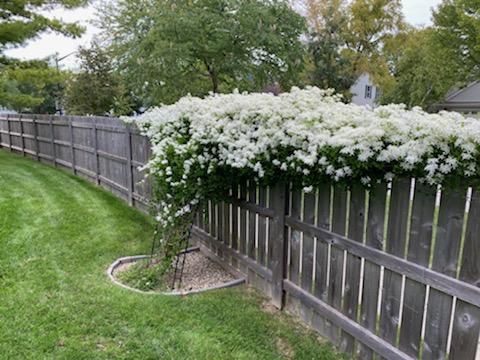 The clematis is gorgeous. Bet it smells nice, too. Make sure the fence can support it.
The elephant ear may get bigger if it decides not to flower next year. Moving that gigantic plant last year was really a project.
*

Edible Gardening/Putting Things By
Rare seeds has a number of heirlooms and other open-pollinated seeds for fall planting, depending on your climate. Here are some colorful choices:
Radish Sichuan Red Beauty (winter radish)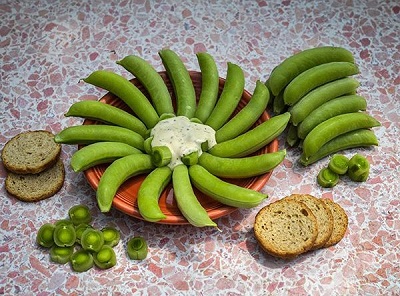 Sugar Bon Snap Pea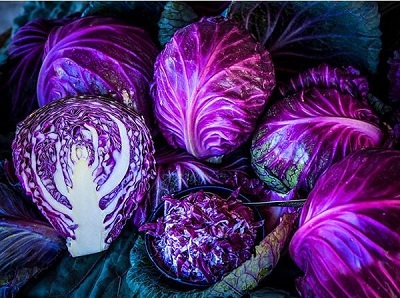 Cabbage Tete Noire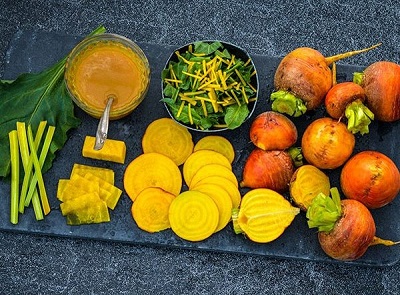 Golden Beet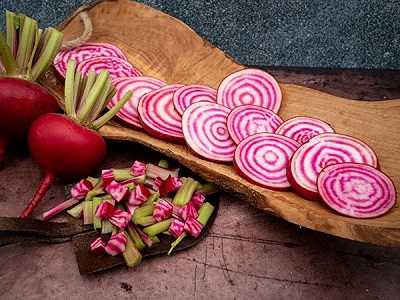 Chioggia Beet
*
Ah, Nature
From MarkY:
We are overloaded with deer, and even with that, this old doe still has triplets.

Usually, it's thought doe will only have triplets when there is a low deer density, or really high level of browse.

She belies that.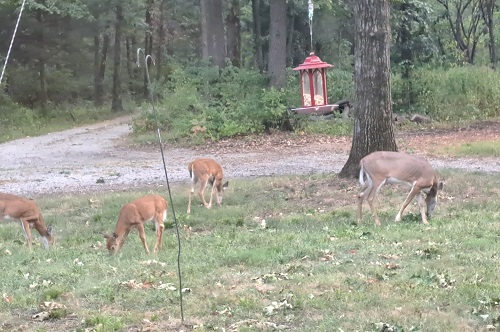 Anybody else have deer or other wildlife to report?
*
Interesting bird - the Acorn Woodpecker:
A Woodpecker preparing for winter. First he finds a dead tree and starts making holes for the acorns. Each hole is made very thoughtfully, because if the hole is large other birds can easily steal the acorn. If the hole is narrow, the nut can break and deteriorate. By the end of summer, the Woodpecker's "jewelry" works ends, by this time the acorns ripen and take their places in the tree. The trunk of a large tree can hold about 50,000 acorns, allowing the bird a satisfying winter.
*
Farming
Harvesting wood:
*
Science, Climate, Food Supply, etc.
*
Our commercial tomatoes are holding some flavor, and we're getting some good avocados. It's getting a little cool for melons. Citrus will be coming on. First tangerines are sour. Gala apples are not storage apples, but are great soon after harvest. Time for Bartlett pears.
*

Gardens of The Horde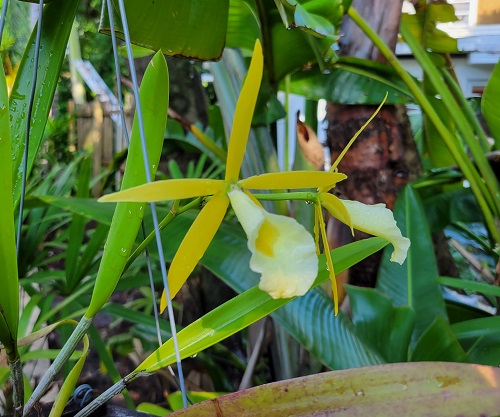 I bought this exotic orchid in HD 2 to 3 years ago. Can't remember the name of the species off the top of my head. If anyone wants to identify it that'd be great. It has bloomed about twice a year for the past two years. I find it beautiful and unique. It has in my eyes a sort of ethereal look to it. Floridachick
Unique. Any clues to what it is from The Horde?
*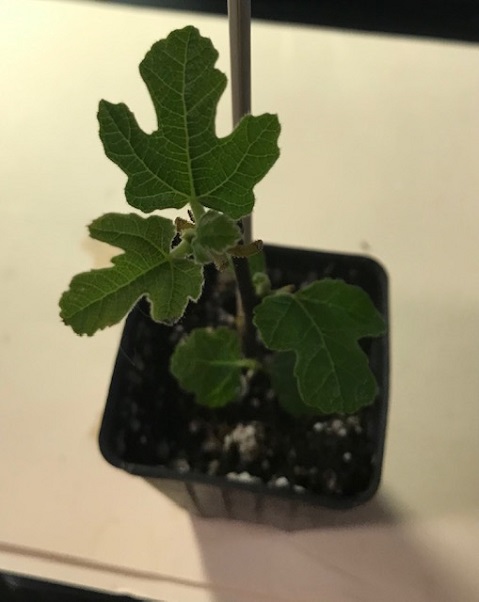 This is a fignomenal fig, a dwarf Ficus carica. It is self-fertile, and is said to grow about 30 inches tall with the same spread. This is a baby plant, in a two by three inch pot so it will be awhile before it gets that big! I have it under lights for the winter. Not sure about planting it outside next summer since some sources say it's zone 7 hardy and others say no.

Lirio100
Interesting find. It will be fun to watch it grow with you.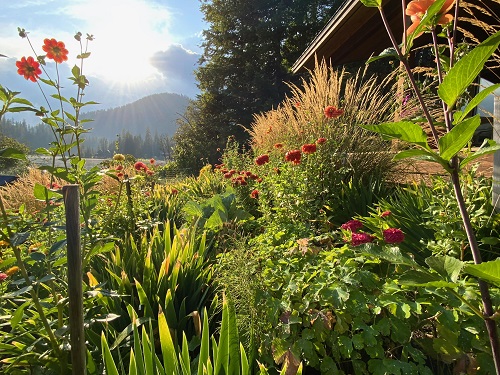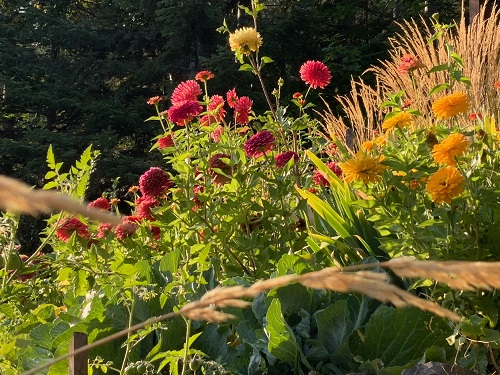 Hi KT.
Glorious Fall day in North Idaho. The iris from spring gave way to late blooms of dahlias, zinnias and feather reed grass in all its gigantic splendor. Inter mixed in this chaos are all sorts of vegetables and herbs.

I'm dreading fall clean up but for now, rejoice! The harvest has been superb, with tomatoes, cabbage ,beans and peppers all yielding volumes. Tomatoes and peppers are notoriously hard to shepherd to fruition around these parts, but we were blessed with a hot summer and late soaking rains that were the perfect climate combo for success!

Thx for all your hard work. Appreciate the thread before the gardening thread too, always so in depth and relevant.

Derak in Idaho.
Thrilling. Love the backlighting.
Hope everyone has a nice weekend.

If you would like to send photos, stories, links, etc. for the Saturday Gardening, Puttering and Adventure Thread, the address is:
ktinthegarden at g mail dot com
Remember to include the nic or name by which you wish to be known at AoSHQ, or let us know if you want to remain a lurker.

Week in Review
What has changed since last week's thread? Saturday Gardening, Puttering and Adventure Thread, Sept. 16

Any thoughts or questions?
I closed the comments on this post so you wouldn't get banned for commenting on a week-old post, but don't try it anyway.

posted by K.T. at
01:24 PM
|
Access Comments