« Saturday Morning Coffee Break & Prayer Revival
|
Main
|
Gardening, Puttering and Adventure Thread, Sept. 23 »
September 23, 2023
Thread before the Gardening Thread, Sept. 23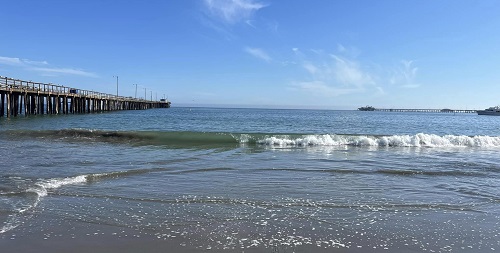 Avila Beach
It's the weekend, and we probably don't need a lot of new stories. But how about we follow up on what happened after an event or two in the news we have already learned about?
Pizza exposes the Washington Post's destructiveness
Ordinarily, this would not be a big national story, but a WaPo reporter got caught in a pernicious lie, and it was caught on video.
Outkick (quoted above):
The Washington Post admitted it slandered Dave Portnoy just to get a response from a sponsor.
NOW, WaPo has published its article (many details above). It appears that the paper was not successful in getting any participants or sponsors to cancel.
This story has also given some of us hope that we could become the conscience of an industry with no prior relevant background of note:
*
As a side note, in his conversation with the WaPo reporter, Portnoy seemed to repeatedly mispronounce the word "misogynistic". But maybe he was using another real word that I didn't know:
misogynic

You can use the adjective misogynic when you're talking about a man who dislikes or distrusts all women.

A state governor who is doubtful about appointing any women to his Cabinet can be described as misogynic, or deeply distrustful of women. This word's meaning is very close to the meaning of misogynistic, or "hating women," but it's tempered a bit. A misogynic person is dubious of women, but he may not feel a full-out hatred toward them. The word, however, is rooted in the Greek miso, or "hatred," and gyne, or "woman."
misogynic in British English . . . or misogynistical

ADJECTIVE
variants of misogynistic
I'm waiting for WaPo to start writing about misandry. Also waiting to see if this word ever pops up in new hate crime enforcement in Scotland.
* * * * *
Newsom vetoes a transgender bill????
This may the biggest surprise follow-up from last week's post on crazy California, but it may be an indication that Newsom has national ambitions:
Gov. Gavin Newsom on Friday vetoed Assembly Bill 957, which lawmakers passed earlier in September. The Assembly approved the measure and sent it to the governor's desk on a party-line vote of 57-16.

In a veto message, Newsom urged caution that the bill's approach could be used "to diminish the civil rights of vulnerable communities."

"Moreover, a court, under existing law, is required to consider a child's health, safety, and welfare when determining the best interests of a child in these proceedings, including the parent's affirmation of the child's gender identity," Newsom's message read. "For these reasons, I cannot sign this bill."
I wonder which "vulnerable communities" he is referring to?
* * * * *
Weekend Musings
Assistant Village Idiot posted a link in the comments on the EMT to this piece on Why Our Generals Can't Think.
Having read Franklin Foer's account in the October issue of The Atlantic describing the disastrous evacuation of Afghanistan, I was struck by what it did not contain. Nowhere in the months leading up to the withdrawal did a senior military leader question the choice of Kabul's Karzai International Airport over the more defensible Bagram military air base.

A misguided attempt to reform professional military education (JPME) in the 1980s led by the late Ike Skelton and other military reformers in Congress mandated that masters-level degrees be granted at all command and staff colleges, as well as a required study in "jointness." This forced all the military midlevel colleges to make room in their courses of study to accommodate the requirements of civilian academia to grant an advanced degree. What got lost in the mix was the serious study of the military profession that was formerly required.

This piece reminds me of the experiences, observations and frustrations of Victor Davis Hanson when he was the visiting Shifrin Chair of Military History at the U.S. Naval Academy (2002 - 2003).
It's not just that they are trying to recruit personnel using drag queens.
* * * * *
What do you think?
Obama probably doesn't mean that they should stay angry at climate activists with huge beachfront properties, private planes, etc.
James Lindsay suggests that advanced preparation to meet the coming attack is necessary:
The way to deal with this is to call out the move ahead of time so it can't gain reflexive energy at the crucial moment . . . They gain ground in reflexive environments ("Current Thing" space) that are primed and then explode after a key moment.

It's fair to expect an event of some kind, probably next spring, that is a "climate crisis" with emergency powers, the absolute need to get activated, etc., etc. Making sure that's widely suspected and even mocked at the moment it occurs is key.

All the fires they set this year are just priming the narrative environment. It's called OPE: Operational Preparation of the Environment.
Thoughts?
* * * * *
We shall never return to social sanity till we begin at the beginning. We must start where all history starts, with a man and a woman, and a child, and with the province of liberty and property which these need for their full humanity.

G.K. Chesterton
* * * * *
Story Time with Music
Today's music comes with a story that starts:
In 1989, Papaw bought a brand new Ford pickup, white with a blue stripe. This was a gift to himself for surviving life for eighty years I suppose. That truck was the first new vehicle he had ever owned, his first ride being a two-horsepower convertible wagon with a split-rail oak seat. After leaving Murphy's Ford dealership, his first stop was at Walmart to buy a cassette tape. He'd never had a tape deck before, or at least not one that worked. His second stop was the school to pick me up.
* * * * *
Hope you have something nice planned for this weekend.
This is the Thread before the Gardening Thread.
Serving your mid-day open thread needs
* * * * *
Last week's thread, September 16, California Is Confused
Comments are closed so you won't ban yourself by trying to comment on a week-old thread. But don't try it anyway.

posted by K.T. at
11:15 AM
|
Access Comments