« First-World Problems...
|
Main
|
Gun Thread: Fifth Anniversary Edition! »
September 17, 2023
Food Thread: Vegetables...And Please Don't Take My Man Card!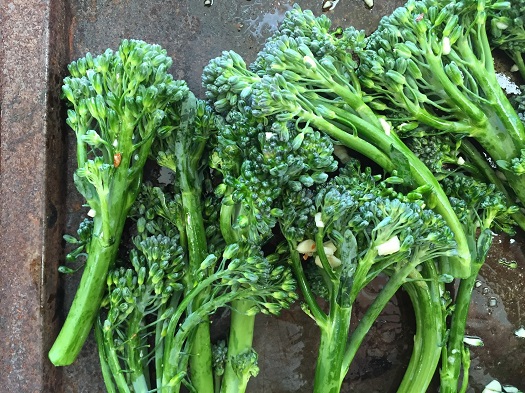 I know, I know. That's a vegetable. It should be a steak or a pork chop or a gorgeous braised lamb shank or even a perfectly seared sea scallop.
It's called "Broccolini, " or "Long-Stemmed Broccoli." And it is delicious. And stupidly expensive. Why? I have no idea. Maybe it's difficult to grow, though I doubt it. Maybe it's difficult to harvest and pack? Maybe it's fragile? Who knows...it tastes good, but at $4 or $5 for a small bunch...a small serving for one, I am not eating it with every meal!
That's just nuts.
Regardless of financial circumstances, I think most people keep at least one eye on the cost of food. It's a part of the human condition, perhaps because we are not perfectly comfortable with unending abundance, and a small, primitive part of our brains is whispering..."winter is coming." Or maybe we just like variety, and a meal of leftovers and whatever is on sale is exactly what we crave the day before we splurge on the prime NY strip or the three-pack of Spaghetti'Os.
No point...I just needed an excuse to complain about the price of broccolini!
******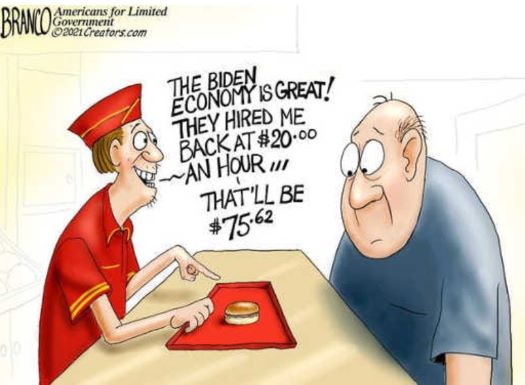 I wrote recently about a price reset, rather than a temporary increase in prices. It's easy to be fooled, because volatile products like fuel bounce around all the time. And with food, the most obvious one is eggs, which tripled for several months, then dropped back down ALMOST all the way. But not quite, and that is the reset!
Food is the most obvious segment because many of us shop for food several times a week, and almost all of us eat, so fluctuations in food costs are literally right in front of us. And that is why the government tries so hard to decouple food costs from their ridiculous, self-serving, and objectively incorrect inflation data and calculations. But energy and labor are huge inputs in food production, so the reality is that food prices are a reasonable indicator of inflation.

******
A winery in Portugal recently had a rather sad accident. Two of their storage tanks failed, and
600,000 gallons of wine rushed into the streets.
What is embarrassing is the freak-out about the environmental effects! They actually diverted the flow onto a field instead of into a local river, which to me makes absolutely no sense. Wine is 90% water and some highly volatile alcohol that will evaporate in short order. What was the worry? That some fish might get drunk?
[R]esidents were worried about the wine contaminating a local Certima river
. Why weren't they outside collecting the runoff? What has happened to society? Have we lost all perspective?
******
I bought a 15 pound brisket from a mail-order place I have used in the past instead of a five pound flat for the same price at a local market. The problem? It's 15 f*cking pounds! My roasting pan barely handled it for the sear, and my stove didn't have properly placed burners, so I did a bit of juggling to get it in halfway decent shape for a very, very long braise. By the way, that's four pounds of onions, two pounds of carrots, one pound of celery, and 12 cloves of garlic (I should have used more).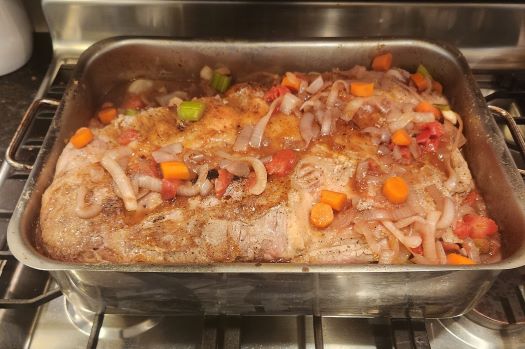 But it was worth it. Nice and tender, with a ton of flavorful sauce that I blended about halfway so it was sort of smooth but with some texture. I chilled everything down, removed the fat from the sauce, and slice the brisket thin before putting it back into the liquid to warm up for dinner.
And I have several pounds of leftovers, which is always a good thing.
But what to do with the fat trimmings? Make cracklins of course!

***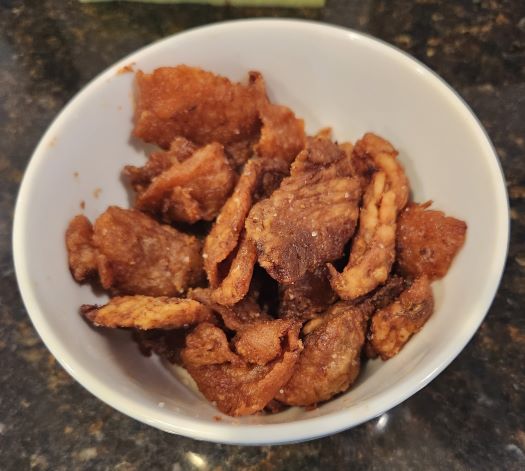 I got about 12 ounces of beautiful beef fat out of them, and ate way too many of those things. Delicious. Just stupidly yummy. And rich. My liver is still angry at me!

******
I made Chicken Piccata this week, and it was successful. But it should have been...it's an easy dish. Yes, the sauce broke because I am an idiot and didn't monitor the temperature, but it was still delicious.
Anyway, when I went to the store to get chicken breasts, I discovered the stupidity of food pricing. The chicken breasts were more expensive than an entire chicken...and a fancy chicken at that! Pasture raised, massaged by buxom farm maidens, and lovingly slaughtered with only the finest and sharpest German steel.
So I bought a whole chicken, and was left with legs, thighs, and wings (I made a stock with the scraps..of course!). What to do...what to do? Well, asking Bluebell is usually a good start, and she directed me to her extraordinarily complicated recipe for chicken in The Deplorable Gourmet. Yup...it took all of 30 seconds to prepare, and 45 minutes in the oven. And it was delicious. And used garlic powder, to which I am constitutionally opposed. My attitude is fresh garlic or bust. But it worked perfectly, and I will be making it again.
There is something to be said for, "Quick, Easy, And Delicious!"

******
[Hat Tip: Weasel]

******
Friends don't let friends eat tilapia
******
The oyster imperative remains in effect, especially now that we are in the summer months. Yup, I'm not afraid of oysters in the summer! (Except that my usual source was sold out, so I am an oysterless Dildo, and you know how bad that is!) And send pork rib roasts from the front end of the pig where all the good and fatty meat lives, carrots that don't taste like stalky chalk, garlic...lots of garlic! (but no basil! My basil is not doing well this year!), well-marbled NY strip steaks and elk backstrap to: cbd dot aoshq at gmail dot com.
And don't think that the rest of you are off the hook with maple syrup and French Toast: I'm still watching you! And I am watching you perverts who shake Manhattans and keeping a list for the Burning Times.
And yes, I used to demand fancy bourbon, but let's face it, $1,200 for a bottle of bourbon is just stupid, insulting, and a ghastly affront to most people's palates and wallets. I think the sweet spot is $40-$60 for excellent and interesting bottles, and bumping that to $100 gets you an incremental improvement in quality, but nothing mind-blowing. More than that and I think you are paying for hype and rarity, which may look good in your liquor cabinet, but doesn't translate to more quality in the bottle.

posted by CBD at
04:00 PM
|
Access Comments