« Daily Tech News 9 June 2023
|
Main
|
Mid-Morning Art Thread »
June 09, 2023
The Morning Report — 6/9/23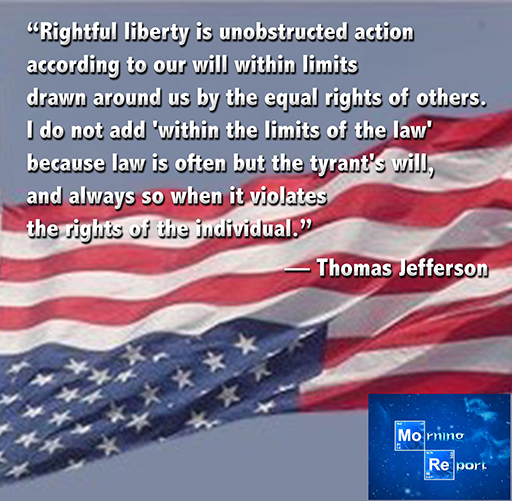 Good morning kids. So they indicted Donald Trump in Miami on some bogus charge. Surprising? Of course not? Disgusting and enraging? You bet your ass. You know, on the one hand I agree with those who say we, mostly meaning he, cannot run solely based on the platform of the stolen 2020 election. On the other hand, what the hell does it mean or how crazy is it to actually run for office within the same context and system that is about as honest and above board as the roulette wheel at Rick's Café Americain?!
Until my dying day, say what you will about his personality, his personal foibles (real or invented) or whatever else which had and have absolutely zero bearing on his policies and his intentions in running for office in the first place. Donald Trump is arguably the most corruption-free individual ever to hold national political office. Every single charge against him criminally and most assuredly in the multiple sham-peachments were either bogus or historically just utterly trivial and/or non-prosecutable from an historical perspective.
And yet, look at Joey Sponge-Brain Shits-Pants, with a half-century career in government, influence peddling every office he ever held to the highest bidder up to and including our biggest geo-political rivals and outright enemies. Were it not for the Clintons, he'd be the most corrupt politician in America's now concluded history. This lying, soulless waste of depraved, venal, rotting flesh should have been laughed off the stage and locked up ages ago. And yet, there he is, skimming millions off the top of financial and military aid to arguably the most corrupt regime on the planet, Ukraine, while he and others are itching to send our fighting men and women – some of whom cross-dress and tuck their junk into government issue Target tranny-panties with the convenient kevlar-lined Eldridge Cleaver cock-sock (look it up) – to prop up the Pelosi, Kerry and Romney stock portfolios.
But what's worse than that is our banana republic laughing stock of a government which even the antecedents of Papa Doc Duvalier are guffawing at is comprised of people who, far from doing their duty are eagerly using their offices and positions to aid and abet in covering up Biden's crimes while silencing or otherwise persecuting anyone who dares expose them or protest. Here's just today's latest example:
New "Twitter Files" Installment Shows the FBI Censoring Journalists for Being Skeptical About Ukraine
Far from FBI obergruppenfuhrer Christopher Wray "caving," it was Rep James Comer who knuckled under and suspended the contempt charge against that traitorous bastard for refusing to hand over the incriminating evidence that proves the Bidens to be criminals. Instead he got the moral equivalent of the illegal alien waved in who promises to show up for his amnesty hearing sometime around 2027 or 2028.
Five flaming skulls yesterday with Ace's headline:
Joe Biden Was Allegedly Paid $5 Million By... The Burisma Board, Document Hidden by FBI Claims
(Warning not to comment on old threads or risk accidental banning)
But Donald Trump said pussy.
Obviously the conventional wisdom is that the announcement of Trump's indictment is meant to blunt whatever actual news comes out about Biden. As if the propagandists even have to do that. Does anybody really believe that Joe Biden is going to suffer any political consequences because of this, let alone face even the possibility of criminal charges, even if they were the barest of bare wrist-slap-level ones? Yeah, the sundowning, stumbling and bumbling is making even his base sit up and take notice, so they can ditch him for perhaps Michelle Obama. More than likely, it's to protect the election theft machinery, because if things stay the same, RFK Jr. is going to continue to surge while Joey continues to sundown and, despite screwing over Bernie twice, I think if they do it to RFK Jr., there will be a reaction.
Meh, what does all this crap mean anyway? What reaction, either from the Loony Left or more crucially from We The People? I'm sick to freaking death of all of this already.
What should be done, and what should have been done was one million people with pitchforks and torches marching on DC and every blue and RINO state capital, not demanding redress, but doing what Thomas Jefferson himself recommended should what actually happened in 2020 happen again in 2024. And as of this writing, there is nothing as far as I can tell that is going to stop the attempt, and nothing that will either prevent the attempt from succeeding and for sure reversing the outcome if/when it succeeds.
And yet, here we are, pulling each other's hair out over Trump v. DeSantis, and laughing our asses off at fools like Krispy Creosote, Haley, Pence, Hutchinson, Crosby, Stills, Nash, Young, Merril, Lynch, Pierce, Sacco & Vanzetti. At least DeSantis has come out and blasted the indictment while Vivek Ramaswamy unequivocally stated he'd pardon Trump on day one, the statement as tacit acknowledgement that the verdict is in in much the same way that the fix was in in 2020.
But a Ramaswamy administration is a non-starter, just as a DeSantis or Trump administration. The machinery and systems that fouled up 2020 are more or less still in place, not only in the six swing states and four cities that stabbed America in the back but mail-in balloting and all sorts of other garbage all across the nation. The entire thing is so corrupt and so beyond redemption that reform to get back to what was is impossible. And what are governmental systems or laws anyway? They are only as legitimate, ethical and moral as the people who are tasked with executing them faithfully and to the letter.
We have the sins of commission, primarily from the Democrat party, the bureaucracy and the leftist movement in general. But we also have the sins of omission from the supposed opposition in the GOP and the elected officials that are charged with doing everything in their power to stop this criminality and hold people accountable. Sure, even if James Comer held Christopher Wray in contempt, would he really send the Sergeant at Arms of the House over to the Hoover Building and have the son of a bitch cuffed and dragged to Capitol Hill while all of the files and evidence, un-redacted or otherwise spoliated, were seized?
It's over, folks. We as a nation and society are done. It's great that Anheuser-Busch, Target and Fox News are circling the drain. But unless we can somehow translate that into something that can be used on the government, we're in a world of shit.
I hate to say it, but nothing short of some kind of a revolution is going to solve the problem. No that does not necessarily mean violence nor should it be inferred. But what cannot go on will not go on and must not go on. And Lord willing if we ever do wrest control of our destiny, there is going to have to be such a de-Nazification/de-programming of millions of people and a rejiggering of the Constitution that prevents the evil that destroyed it in the first place from ever having a chance to rise again.
In essence, a magic bullet against 10,000 years of human nature. Sick to death at this crap and angry beyond my capacity to describe it.
New episode of the podcast will drop a bit later this morning so BOLO in the sidebar because it's a good one.
Have a good weekend. See you on the hobby thread mañana. Be there. Aloha.
ABOVE THE FOLD, BREAKING, NOTEWORTHY
SHAMPEACHMENT 1.0, 2016 CLINTON/OBAMA COUP, CONGRESSIONAL PERSECUTION, SPYGATE, DEEP STATE, MUELLER DECEPTION
NOTE: The opinions expressed in the links may or may not reflect my own. I include them because of their relevance to the discussion of a particular issue.
ALSO: The Morning Report is cross-posted at CutJibNewsletter.com if you want to continue the conversation all day.
Follow us on Twitter: @CutJibNews
Follow us on Instagram: @Cutjibnewsletter
TIP JAR : Your support helps keep the lights on and is truly appreciated. Note: We are on Stripe, not PayPal.


posted by J.J. Sefton at
07:48 AM
|
Access Comments