« Gardening, Puttering and Adventure Thread, June 10
|
Main
|
Weekend Hobby, Craft, Puttering and Bodging Thread »
June 10, 2023
Ace of Spades Pet Thread, June 10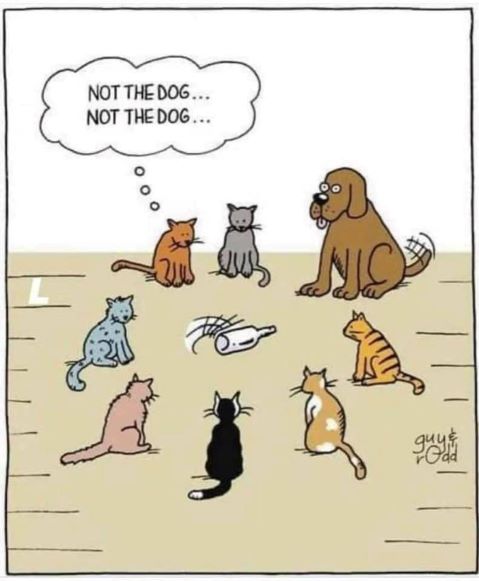 * * *
Good afternoon and welcome to the almost world famous Ace of Spades Pet Thread. Thanks for stopping by. Kick back and enjoy the world of animals.
Would you like a treat?
Let's relax a little with the animals and leave the world of politics and current events outside today.
* * *
A devoted mama:
* * *
Have you ever heard this? Do you think it's true?
* * *
Really Short Story Time
Do you ever find that it is easier to notice the people around you if you are in the company of a dog?
* * *
Big idea of the day:
Few people would mistake a wolf for a dog. But if you saw the ancestor of the domestic cat in your backyard, your first thought would likely be "What a cool-looking housecat!" rather than "What's an African wildcat doing in Manchester?" That's how little they've changed, earning them the tag "barely" or "semi-domesticated". There have been some minor anatomical shifts - domestic cats have longer intestines and smaller brains, for example - but very few genetic ones (and certainly many fewer than separate dogs from their wild ancestors). What about behaviour, then? Which of the traits we commonly associate with our furry friends are the result of domestication, and which do they share with their wild relatives?
What do you think?
* * *
Meet The PetMorons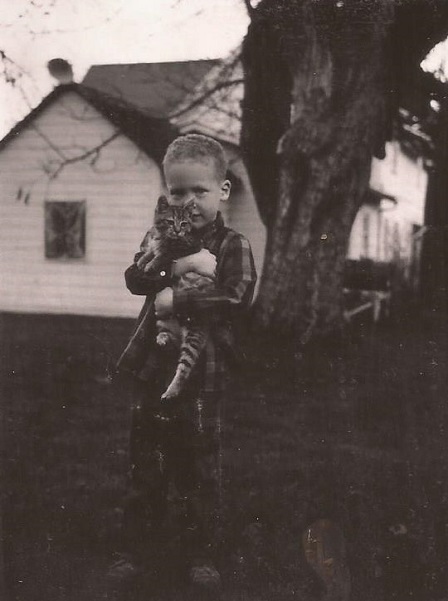 &&&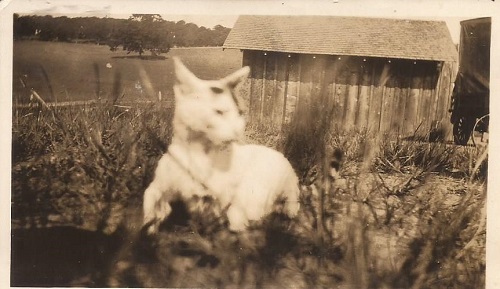 I am going through some old pictures, and it reminded me of other pictures which I dug out and scanned.

The first one is a picture of me in 1970 with my cat Joe as a just-arrived kitten (Joe turned into a giant tabby),

and the second is what I suspect is my grandfather's picture of a cat on the family farm, probably his. This would have been prior to WWI but I am guessing here. It is tucked into a picture album of whom the youngest people were my Grandfather's generation.

Kindltot
What great kitty family history! And a cute childhood photo of you with your friend Joe.
* * *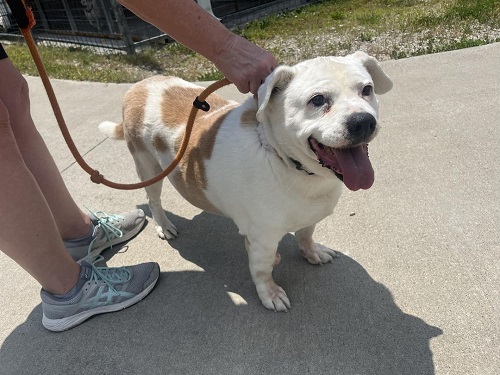 From Jewells:
This is Audrey. We got her from a shelter in Ft. Scott, Kansas. She's some kind of beagle mix. Not sure if she was a stray but if she was she must have been VERY well fed before she bolted from home. She is very overweight but a real cuddle bug.
Awwww, Audrey!
Great to see you back, Jewells!
* * *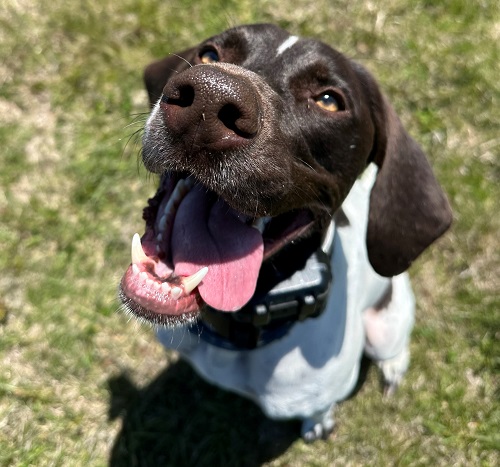 My daughter's German Shorthair Pointer, Mel. Quite possible the best dog I've ever met. I tease my kid that she named it for Melania Trump.

Cheers!

Yawrate
How wonderful it is to find a great dog!
* * *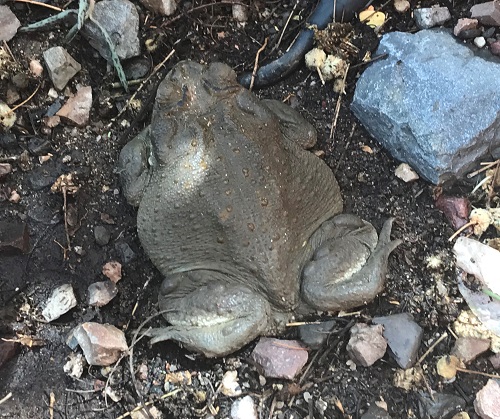 &&&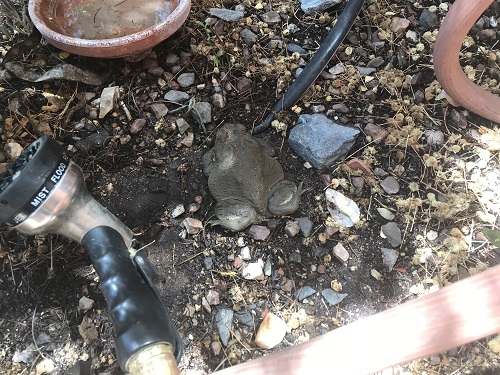 Hey KT,

Not sure whether this should go in the garden thread or the pet thread. This is my friend Mr. Toad. About a week ago he started showing up in my front garden. It is shaded from afternoon sun and has some trees and established bushes which give him a lot of shade even in the morning. He likes to hang out underneath the sprinkler on the end of the hose, I think it drips water on him from time to time. He has scared the crap out of me a number of times, as I go to grab the hose and he is RIGHT there. But for the most part he just hangs out and hopefully eats some bugs for me.

For everyone who is worried about the dogs getting Mr. Toad, there are no worries there. The dogs never go in the front garden so they are safe from his toxic slime.

WeeKreekFarmGirl
I think there are some toads in Arizona that are more toxic than the ones around here that like to hope around with the garden kitties and swim in one of their water bowls. The dogs don't seem too interested.
That toad is impressive!
* * *

I'm glad to see some variety in our pet stories today. Thank you for sharing your pets with us.
If you would like to send pet and/or animal stories, links, etc. for the Ace of Spades Pet Thread, the address is:

petmorons at protonmail dot com

Remember to include the nic or name by which you wish to be known when you comment at AoSHQ, or let us know if you want to remain a lurker.
Until next Saturday, have a great week!
* * *

If you start feeling nostalgic, here a link to last week's Pet Thread, the Ace of Spades Pet Thread, June 3 Some special PetMoron stories and photos there.
I closed the comments on this post so you wouldn't get banned for commenting on a week-old post, but don't try it anyway.

posted by K.T. at
03:21 PM
|
Access Comments