« Ace of Spades Pet Thread, June 3
|
Main
|
Saturday Evening Movie Thread 06/03/2023 [TheJamesMadison] »
June 03, 2023
The Weekend Hobby Thread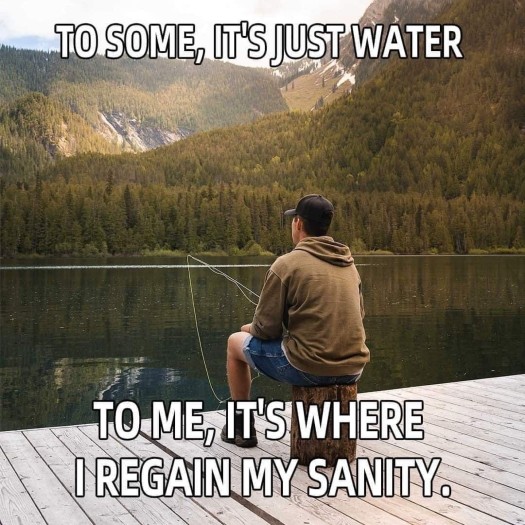 ***

Good afternoon and welcome to The Weekend Hobby Thread. Perhaps you have noticed that your humble Cob hasn't been around since Thursday May 25th. I don't try to make my threads about me, but.......
I went on my annual fishing trip leaving on Saturday May 27th. Our group went to the lovely state of North Dakota. I turned off my phone starting the day before. I was completely oblivious to current events, politics. It was fishing, fishing and more fishing.
I realize fishing is not everyone's cup of tea. But there is a lesson here. Whatever you love to do outside of your job, do it. Do it often and turn off the phone, the TV, the radio and your pesky friends and family. You'll come away refreshed and ready to take on the world or at least put up with it.
Now onto the In-Box........

***
The first hobby submission comes from Clay. He has previously submitted interesting musical instruments. Today is no different. Thanks Clay. PS: I'm quite envious.
In my previous post to the hobby thread, I showed photos of two 3-string guitars that I made using cigar boxes for the body. As I was finishing up another project recently, I used the last of a gallon can of mineral spirits to clean the brushes. As I looked at the empty can, I thought… guitar!

Guitars made out of gallon cans are a close relative to cigar box guitars. My sons refer to these guitars I make as my "hobo guitars." I think that name is so cool, I decided to lean into the concept. I made no effort to make this one pretty. Except for the strings and the tuners, everything I used was recycled/up-cycled stuff laying around the shop.

The body is an F-style (rectangular) one gallon can. The neck is a 1x2 board. The nut and bridge are quarter inch bolts. The string retainer on the headstock is a nail and some screw eyes. The frets are 6 penny nails with the heads and points cut off and the ends filed smooth. The fret markers are wood screws countersunk into the fretboard until they are flush. The tail piece is a strike plate for a door latch.

It has a warm, bright resonator guitar sound due (I think) to the thin metal walls of the can. Such cans really aren't made for the stresses of a guitar, so they flex a lot and pop when I play it. I could brace the walls, but I'm afraid it would dull the warm tone. So I accept that as part of the personality of the instrument. It is a total blast to play.

I've included a link to a video so you can hear it's voice.
So he starts with this.........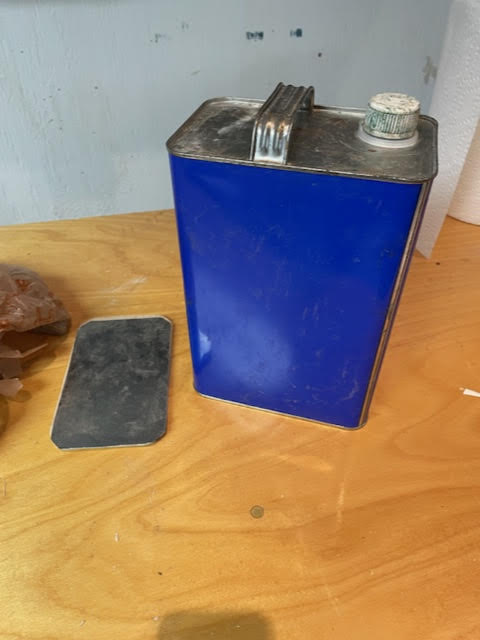 And ends up with this........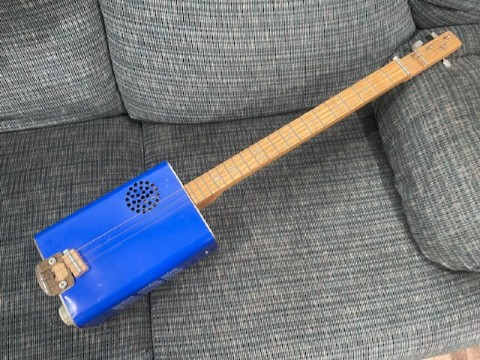 ***
It is amazing what the human hand can do. From production of music to craft work using cloth and thread.
These are two cross stitch samplers I did in the late 1990's. Reproductions of historical samplers were popular then (still are done, actually) and I did several. I gave most of them away but did keep some. I bought the kit for the large sampler in Colonial Williamsburg, the chart was done from a sampler in their collection. It uses silk thread on linen, with 18 stitches per inch. It's mostly cross stitch with some satin stitch. It measures 13 by 17.5 inches. The saying (a lot of samplers had uplifting messages stitched in!) reads:

"A sampler resembles an elegant mind,
Whose passions by reason subdued and refined.
Move only in lines of affection and duty,
Reflection a picture of order and beauty."

I outsmarted myself on the second smaller one. The original was done about 14 stitches per inch on linen, and the black background was also stitched, it was done on natural color linen. The original was done by an eleven year old! But--when I did it I thought I'd save time by stitching it on black fabric and then decided to do it at a finer count, at 22 stitches per inch. With a very strong light and sometimes a magnifier I managed it. I would never try such a thing again! - Lirio100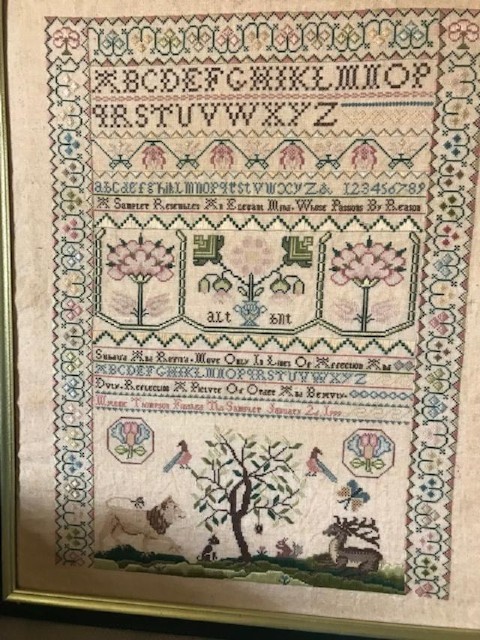 &&&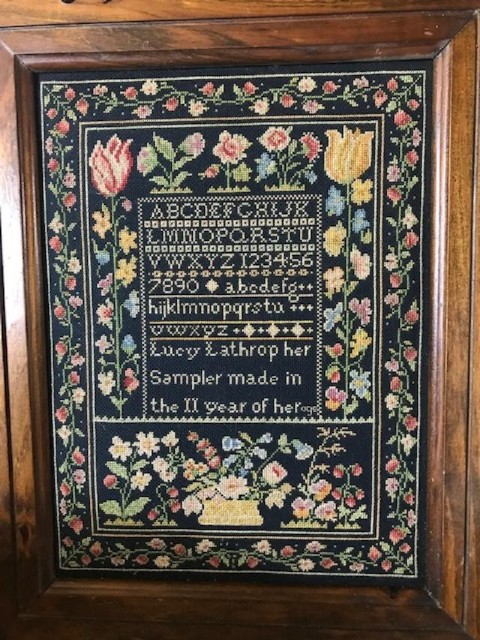 What intricate work. I wished my fingers worked that well. Thanks Lirio.
***
Our last submission comes from Carl. He has previously submitted hobby photos and a brief explanation. Today he shares again. Thank you Carl.
This week I have some more brush pictures.

As most who live in the US know, we are dealing with an infestation of the Emerald Ash Borer beetle that was accidentally introduced into the US when it hitched a ride in some cargo from Asia in 2002.

The results are devastating. Millions of Ash trees have died in that short time period including here in the Midwest. I have so many dead ash trees at Chez carluchi that I cannot burn it fast enough. It's really sad to look out and see hundreds of dead Ash trees in various stages of decay.

In keeping with the theme of trash to treasure, I have made some brushes out of the firewood from the carnage. I look specifically for wood that is spalted which you can tell once you split it.

Recall that spalting is the term used to describe the staining of the wood fibers by fungus that grows when the wood stays wet for long periods of time (like when a tree falls over and sits on the forest floor for a few months).

However, once the wood dries out, the fungus dies but the staining remains and creates some pretty interesting grain patterns that you can see in the pictures below.

The last picture is the same brush just turned 180 so you can see the effect the spalting has - almost like it's two different pieces of wood.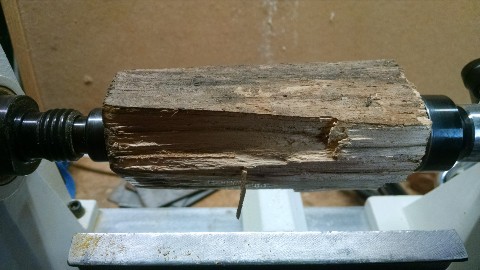 &&&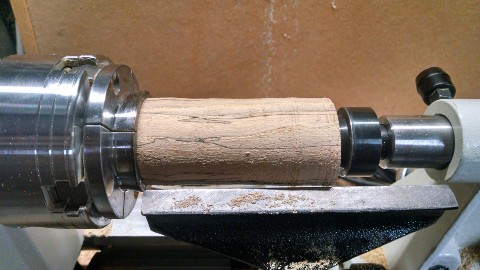 &&&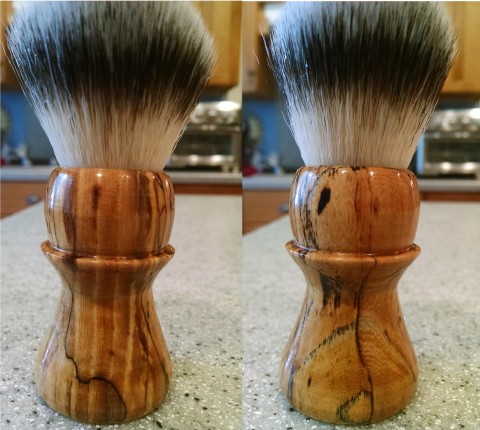 ***
Do you have a hobby? C'mon, I'm sure you do. So send your hobby stories, photos, tips, techniques and 20/0 fan brushes, Jenkins Green acrylic paint and birch logs to petmorons at gmail dot com. Until the next time, hobby away.

posted by Misanthropic Humanitarian at
05:30 PM
|
Access Comments