« Daily Tech News 1 June 2023
|
Main
|
Mid-Morning Art Thread »
June 01, 2023
The Morning Report — 6/1/23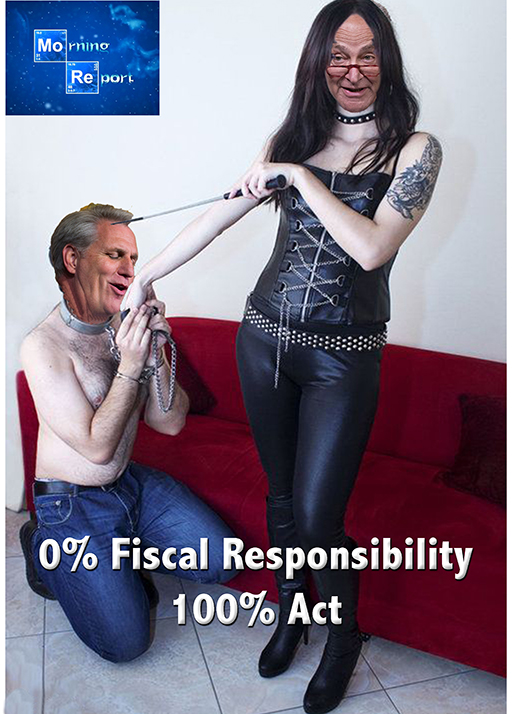 Good morning kids. So the revoltingly Orwellian and in-your-face insultingly labeled "Fiscal Responsibility Act" passed the House late last night. As we all know, there is zero in the way of "fiscal responsibility," but you can rest assured that it's 100% an "act." So, now it goes to the Senate where supposedly, per this shriveled testicle-looking Brad Sherman commie stooge, it could face trouble.
On Wednesday's broadcast of Bloomberg's "Sound On," Rep. Brad Sherman (D-CA) reacted to Sen. Tim Kaine's (D-VA) plan to try to strip the approval of the Mountain Valley pipeline from the debt ceiling bill by stating that doing so risks a global recession over one pipeline.

Co-host Joe Mathieu asked, [relevant exchange begins around 53:50] "Are you concerned at all about the Senate, or if this gets through the House, we're pretty much done?"

Sherman answered, "I could imagine the Senate somehow pushing this to June 6 instead of June 5. But I have little doubt that it's going to pass the Senate."

Mathieu then asked, "I ask you that because there is an effort by Sen. Tim Kaine to strip this pipeline, the [Mountain Valley pipeline] that Sen. Manchin (D-WV) got inside the bill that crosses West Virginia. The White House seemed to think this was a good chip to play here. They said it was 95% approved. But Tim Kaine says he wants to kill the pipeline. Would you consider that a good idea or a dangerous one with so little time?"

Sherman responded, "You're talking about the risk of a worldwide recession with increased debts in every poor country and hungry Americans on the streets of the United States, the one pipeline seems less significant then."
Emphasis mine, and a few things to note. First, if the debt ceiling is not raised, you can be certain that nothing from that pre-digested propaganda Sherman just vomited out is going to happen as a direct result. For sure at some point, our economy is going to collapse from the out of control borrowing, spending and impossible to pay off interest.
Secondly, you can bet the farm that Chuck Schemer and McYertle together are going to lard the living shit out of whatever Luntz's cabana boy allegedly saved and with the Schemer running the show and not permitting any amendments, and everyone desperate to "prevent the world from economic disaster!!!" that will be that.
Lastly, Joe Manchin will fold like a wet taco on this because, despite his schtick as the "sane," "moderate" Democrat, he's a total fraud interested in only one thing: his access to the trough. He'll kill the pipeline as he will kill the lifeblood of his state's economy, coal. He'll just do it in a way that keeps his hands clean to the extent that he can. Finally, West Virginians seemingly have had enough of this bloated tick. Sure, they kept on voting for ol' Sheets Byrd time and time again. He was a Democrat through and through but even he would be sickened by the Commies, trannies, homos and most of all the Black Lives Matter crowd. And he certainly would not have glommed onto the whole global warming madness; not if it meant destroying the coal mining industry. Joe Manchin? Total sell-out fraud.
(UPDATE: I actually misread this. It's Tim Kaine that's trying to strip the pipeline out of the bill, but the Dems left it in to give Manchin political cover at the expense of temporarily pissing off the Maoist greenies. The pipeline will stay. For now anyway until the EPA nixes it and Manchin can put on a dog and pony show feigning outrage. Still, the rest of my statements are valid)
Hence the rise of the state's governor Jim Justice as the man to finally take out Manchin. Which of course means the State is primed to prevent that and take him out.
Justice, who is also a GOP Senate candidate hoping to unseat Democrat Sen. Joe Manchin (D-WV), is the latest to experience political targeting from Biden's DOJ, as it has filed a civil complaint against his family's coal empire — over a dozen coal businesses ran or owned by his son Jay Justice — citing "repeated violations of the law" in hopes of recovering what the assistant attorney general of the DOJ's Environment and Natural Resources Division Todd Kim described as "penalties they owe as a result of those violations."

"Our environmental laws serve to protect communities against adverse effects of industrial activities including surface coal mining operations," Kim said in a statement. "Through this suit, the Justice Department seeks to deliver accountability for defendants' repeated violations of the law and to recover the penalties they owe as a result of those violations."

U.S. Attorney Christopher R. Kavanaugh for the Western District of Virginia claimed defendants have "engaged in over 130 violations of federal law, thereby posing health and safety risks to the public and the environment" over the past five years, concluding the Justice family businesses "failed to remedy those violations and were ordered over 50 times to cease mining activities until their violations were abated."

. . . "Joe Biden's Department of Justice has gone totally rogue. Democrats weaponizing the federal government to attack the family of a Republican Senate candidate is a complete abuse of power," NRSC spokesman Tate Mitchell stated.

"Did anyone really think that Biden's weaponization of the DOJ to target his political opponents was going to stop with Trump?" Donald Trump Jr. asked.
No Justice, no peace. Indeed. If he survives this hit job and then goes on to actually remove the Manchin abscess, will he become a McConnell/Thune flunky or be in the MAGA camp? You WV commenters will have to weigh in and put me some knowledge. The salient point here is of course Don Jr.s rhetorical question. Meh, too many pixels devoted to this garbage. Meanwhile, in another part of the forest, I see that the natives are getting restless.


Black Chicago residents criticized city officials for funding migrants over their community, they said during a city council meeting Wednesday.

The statements from angry residents came before the city council voted to allocate $51 million to support migrants in Chicago, according to a livestream of the meeting. The residents shamed the city council for considering the funding as the city faces homeless and mental health crises within its own populations. . .

. . . "I understand that $51 million are gonna be voted on today and I encourage the alderman to please vote it down because number one, we have not opened up the schools for our homeless, we see them in the streets everyday, I make sure that the homeless are fed with clothing," Caroline Ruff, Black Lives Matter Women of Faith founder, said during Wednesday's meeting. "We need to take care of our community, we need to take care of our black community, we need to open up these schools for mental health."

"We have not gotten anything for our community and we are sick and tired … enough is enough," Ruff said.

Another resident, Andre Smith, said he and another individual stopped a migrant bus and were arrested during the situation. Smith advocated that the city put the funds towards reparations.

"How dare this mayor and city council have the guts to give migrants $51 million. I demand you to have the same passion and urgency to pass the City of Chicago Reparations Ordinance and also give us a office for black Americans, just like the new Americans," Smith, the CEO of Chicago Against Violence, said.
L-O-L-G-F and pass the popcorn. First of all, while I honestly feel bad for any decent hardworking person regardless of race, color or creed (what the hell is a creed anyway?), you people have voted for this madness time and time again so you deserve it, good and hard. In this case, it's a dyed-in-the-wool BLM race terrorist pissed off that their payoffs are going to the wetbacks. Maybe she should round up some stormtroopers and stormtrooper out to one of Patrice Cullors' Beverly Hills mansions. If they haven't been seized to pay off their bankruptcy judgments. Reparations. You make me vomit.
And then there's this little "revolting" set of circumstances.


Female residents of Oakland, California, tore into city officials over local crime and recent attacks on women during a crime and violence prevention meeting Tuesday evening.

Hundreds of people showed up at the meeting, where numerous women recounted being robbed and attacked in Oakland, often by teenagers, according to the Berkeley Scanner. One woman drew cheers from the audience for a fiery speech in which she decried city leaders' crime policies and called for the police to crack down on low-level offenses, according to footage shared by independent journalist Leighton Woodhouse.

Oakland has seen a surge in crime over the past year and saw more than 100 robberies in a single week in May, with some ending in assault or gunfire, according to the San Francisco Chronicle. Many of the alleged perpetrators were children.

"Oakland is out of control with the crime. I'm fed up. I'm absolutely fed up. We're all fed up because of you and your policies, and you coddle these criminals. They're coddled," she said as the audience erupted in applause, according to Woodhouse's video. . .

. . . One woman touted her progressive credentials before complaining that women weren't safe in the area due to ongoing violence. "I've had two dozen years of being at the far extreme most progressive community-organizing activism kind of activity you can think of," she said. "I don't think it's as simple as being too progressive here. I think the devil is in the details … It's all kinds of women being targeted. This is systemic violence as well."
L-O-L-G-F!!! Even bigger and bolder than previous. You voted for this, or maybe even rigged elections for this. Your "progressive" credentials are the reason you don't feel safe. Maybe you shouldn't even say that because feeling safe is "white privilege" yo!
Basta cosi. In the interest of always wanting to keep 'em laughing, I'll wrap it up with this. Both Mike Pence and Krispy Kreosote Christie are expected to announce their candidacies.
Maybe even this fiend as well. Yikes.


CIVIL WAR 2.0: J-6 FBI FALSE FLAG "RIOT" & AFTERMATH, LEFTIST PERSECUTIONS, DEMOCRAT PUTSCH, AMERICAN DISSOLUTION
NOTE: The opinions expressed in the links may or may not reflect my own. I include them because of their relevance to the discussion of a particular issue.
ALSO: The Morning Report is cross-posted at CutJibNewsletter.com if you want to continue the conversation all day.
Follow us on Twitter: @CutJibNews
Follow us on Instagram: @Cutjibnewsletter
TIP JAR : Your support helps keep the lights on and is truly appreciated. Note: We are on Stripe, not PayPal.

posted by J.J. Sefton at
07:48 AM
|
Access Comments