« David French Would Like to "Rap" About Masculinity to Smooth, Sexy Young Men
|
Main
|
Hugs Not Drugs Cafe »
May 30, 2023
Quick Hits
At the risk of being too earnest, may I say that DeSantis's boasts that he "will destroy leftism in this country" and "Florida is where woke goes to die" are creepy? I'm neither Left nor woke, but in a free country, individuals and groups do have a right to be Left or woke.

-- Bill Kristol (@BillKristol) May 29, 2023
Stephen L. Miller @redsteeze

You are both left and woke and you depend on Trump to keep your website financially solvent. Happy to answer your questions.

Lolling at the idea that Bill Kristol is guilty of being "too earnest" as he cranks out another paid tweet attacking a conservative, with his paymaster undisclosed.
At the risk of being too earnest, kill yourself.
@BreitbartNews 13m

Los Angeles County has begun distributing pipes used for smoking crack, methamphetamine, and opioids to the homeless population, hoping to discourage them from overdosing by injecting themselves with fentanyl.
Press X to say "You're a stupid ridiculous liar":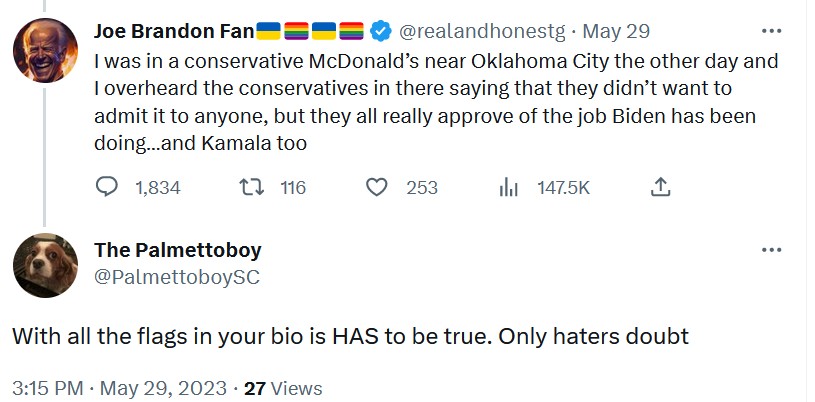 People have a lot of questions, including "What is a 'conservative McDonald's,' and do they have a special sign indicating their political persuasion?"
From David Zweig, a study found that post-covid-jab myocarditis affected 12-17 year old boys only. But the group running the study seems to want to hide that evidence by reporting the vaccine injury rate for all children, of both sexes, from 5 to 17 years old. This therefore has the effect of reducing the apparent incidence of the vaccine injury by something like 400%. In other words, they're including Girls 5-11, Girls 12-17, Boys 5-11, and Boys 12-17. If you excluded the three unaffected groups and just reported the rate of injury for boys 12-17, it would go up by around 400%.
Just like giving the rate of ovarian cancer in all people, not just women, would cut the ovarian cancer rate in half.
But they want to keep the number low so they include all these unaffected cohorts, to drive that injury rate down.
ALWAYS tampons are now advertising their wares to "bodies with female sex organs."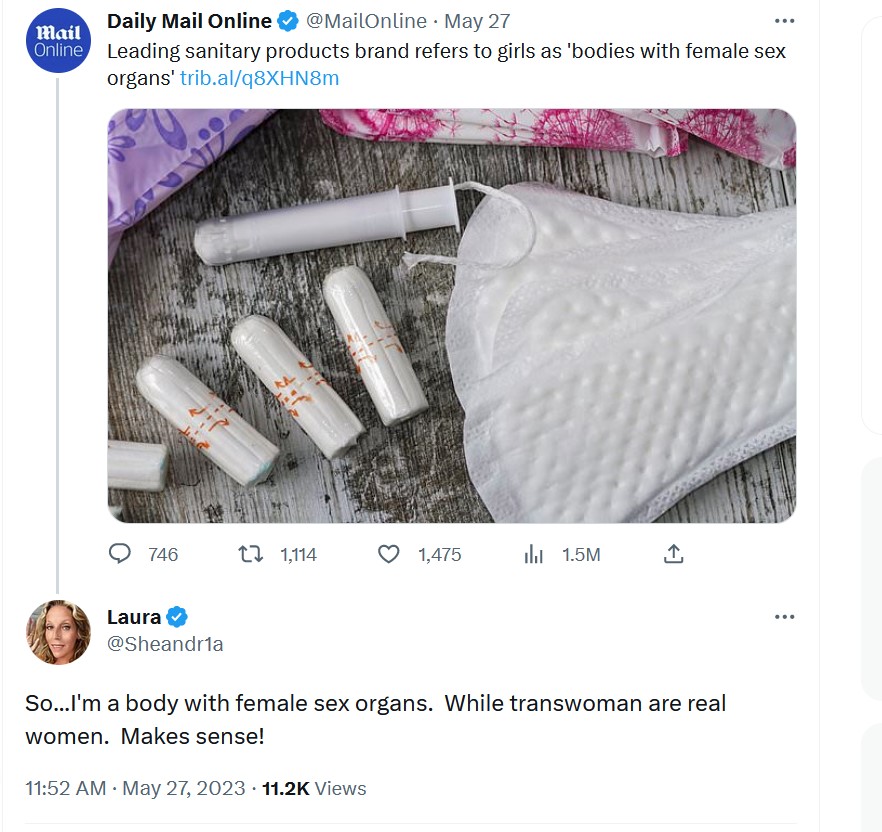 Katy says 'Keep Prisons Single Sex' KPSS @KatyDidKatyDnt

According to Always, girls aren't even "people with" miscellaneous body parts. That was bad enough. Now girls and women are down-graded further. Proctor & Gamble see us as just bodies - like cadavers - not sentient. Well, this "body with" a wallet won't be buying their pads.
She can kill with a smile She can wound with her eyes And she can ruin your faith with her casual lies And she only reveals What she wants you to see She hides like a child But she's always a body with female sex organs to me

Posted by: Billy Joel (updated for modern sensibilities)
LOL, law school teaches you to "speak in threes"? Where are you getting that from, Diversity Hire? I think you're mixing up Law School with School for Trolls Who Lurk Under Bridges Asking Riddles.
Hostin then proved How to Be an Anti-Racist by claiming that white women only vote for Republicans because "They do fall in line with how their husbands are voting." I wonder if it's acceptable to speculate about the reasons for black voting patterns, or nah?

An old clip from Kyle Dunnigan and Kurp: Sly Stallone's favorite superheroes who Changed Their Sexuality.
Which I thought was impossible. But I guess that's why they call them super heroes!
ICYMI: The Boyscast hired Bud Light's and Target's advertising firm to write an ad for their Patreon.

posted by Ace at
06:35 PM
|
Access Comments