« Samurai City Cafe
|
Main
|
Daily Tech News 30 May 2023 »
May 29, 2023
Overnight Thread: Memorial Day – 5/29/2023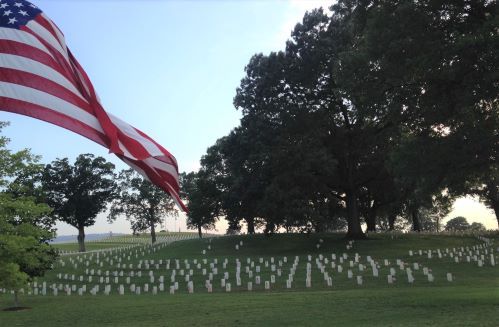 Although my family has been spared the anguish of losing a loved one in war, my childhood best friend ("Buddy") had an uncle killed in Vietnam in 1967. More specifically, Buddy's mother lost her kid brother, Jack, in Vietnam. She was my "emergency backup mother" while I was growing up, and is still a part of my life.
Buddy was too young to remember Jack or his death, but Uncle Jack's pictures were on the wall, and he was held in reverence in that family.
As the 1970s became the 1980s, Jack seemed to now be a person from another era, rarely discussed except on Memorial Day, and far removed from the life of his surviving sister and her family.
But in the early 1990s, by which time Buddy and I were young adults, our families decided to have a multi-family, multi-generational vacation at a beach house on the Gulf Coast.
Joining us from out of state were Buddy's grandparents…Jack's parents.
It was in that beach house that I came to fully understood their pain and loss. 25 years after losing his only son, Grandfather still talked about Jack constantly. He told us about Jack's character, his heart, and his patriotism. He told us what a great father Jack would have been, and how he wished that Buddy had cousins from Uncle Jack here at the beach with us.
When Buddy, my dad, and I headed out fishing one day, Grandfather told us that Jack would have loved to join us.
At grace before supper each night, Grandfather thanked God for the years Jack was in their lives, and prayed that He would hold Jack in his loving embrace until the family eventually reunited in Heaven.
Grandfather talked about the war and the circumstance of Jack's death, striving to find the words to assure himself that Jack's death was not in vain.
Grandmother cried several times during the vacation, still heartbroken about losing her son 25 years prior.
Their pain only ended when they left this earthly realm. I pray that they are now reunited with Jack. Buddy's mother still grieves the brother she lost 56 years ago.
We are so blessed that there are men like Jack who selflessly gave their lives for our country. May God give comfort to their survivors, and provide us guidance to make such heartbreaking deaths less common.
*****
Here is Jimmy Fortune joining Daily & Vincent in More Than A Name On The Wall
I saw her from a distance
As she walked up to the wall
In her hand she held some flowers
As her tears began to fall
And she took out pen and paper
As to trace her memories
And she looked up to heaven
And the words she said were these...

(Chorus)
She said Lord my boy was special,
And he meant so much to me
And Oh I'd love to see him
Just one more time you see
All I have are the memories
And the moments to recall
So Lord could you tell him,
He's more than a name on a wall.

She said he really missed the family
And being home on Christmas day
And he died for God and Country
In a place so far away
I remember just a little boy
Playing war since he was three
But Lord this time I know,
He's not coming home to me

(Chorus)

*****
The Statler Brothers released Silver Medals and Sweet Memories in 1977, 34 years after the subject of this song was widowed in World War II. There are still many WWII widows among us, plus widows from all the wars that followed. Blessings to them all.
Just a picture on a table
Just some letters Mama saved
And a costume broach from England
On the back it has engraved:
"To Eileen, I love you;
London, nineteen forty-three"
And she never heard from him again
And he never heard of me

(Chorus)
And the war still ain't over for Mama
Every night in her dreams she still sees
The young face of someone who left her
Silver medals and sweet memories

In Mama's bedroom closet
To this day on her top shelf
There's a flag folded three-corner
Laying all by itself
And the sergeant would surely be honored
To know how pretty she still is
And that after all these lonely years
His Eileen's still his

(Chorus)

*****
How about one more song honoring loved ones whom we dearly miss after they gave their lives for our country. This is Kathy Mattea singing the Civil War era song The Vacant Chair
We shall meet but we shall miss him.
There will be one vacant chair.
We shall linger to caress him
While we breathe our evening prayer.
When a year ago we gathered,
Joy was in his mild blue eye.
Now the golden cord is severed,
And our hopes in ruin lie.

(Chorus)
We shall meet, but we shall miss him.
There will be one vacant chair.
We shall linger to caress him
When we breathe our evening prayer.

At our fireside, sad and lonely,
Often will the bosom swell
At remembrance of the story
How our noble Willie fell.
How he strove to bear our banner
Through the thickest of the fight
And uphold our country's honor
In the strength of manhood's might.

(Chorus)

*****
Let's end tonight with a flyover in the Missing Man Formation.

buck.throckmorton at protonmail dot com


posted by Buck Throckmorton at
10:00 PM
|
Access Comments