« So what month is this, really?
|
Main
|
Ace of Spades Pet Thread, June 3 »
June 03, 2023
Gardening, Puttering and Adventure Thread, June 3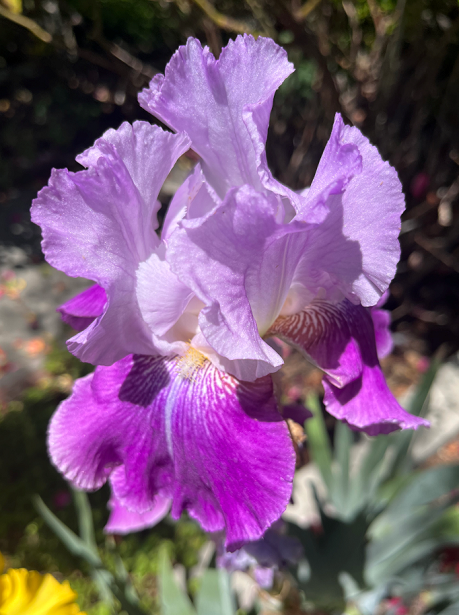 Hi KT!

Here's a couple more from the garden. Yellow and purple Iris. They have a pretty short bloom period. I took these quick photos before they're gone by next week probably.

Halfhand
They're beautiful. Does that purple one smell like grapes?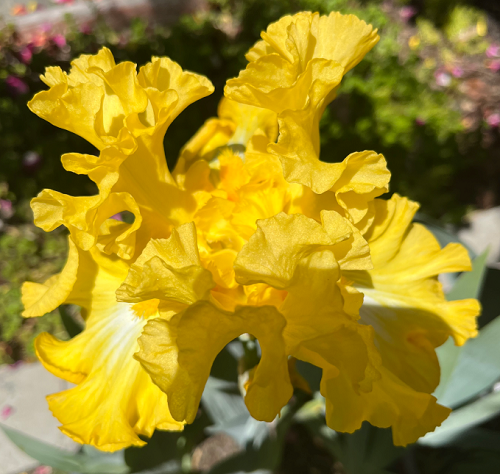 *

Edible Gardening/Putting Things By
Hey KT,

I has gone from Mulberry season here at WeeKreek Holler, to peach, fig, and apple season. We are going to be heavy into fruit eating I think.

Lots of peaches and even though I thinned a lot I got two broken branches when we had some serious wind a few weeks ago. They still have a ton of fruit on the broken limbs that haven't broken all the way through. I am going to wait until after I harvest the fruit to cut the limbs off. It saddened me to have the limbs break but I will just have to be more brutal with thinning next year. Lesson learned.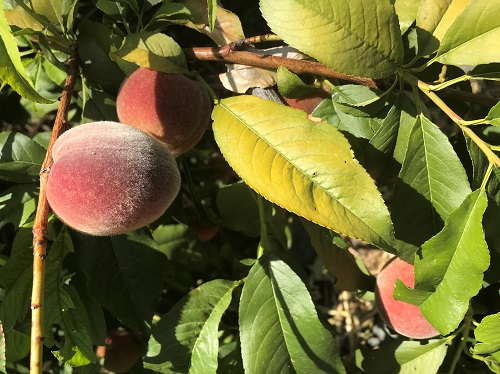 Sorry about the limbs. Remember that with peaches, the branchlets that bore fruit this year will not bear fruit (at the same spots at least) next year. You want to induce some new growth.
Our fig tree is doing amazing this year. Not sure if it is from all the spring rain but we are getting some amazing figs off of it.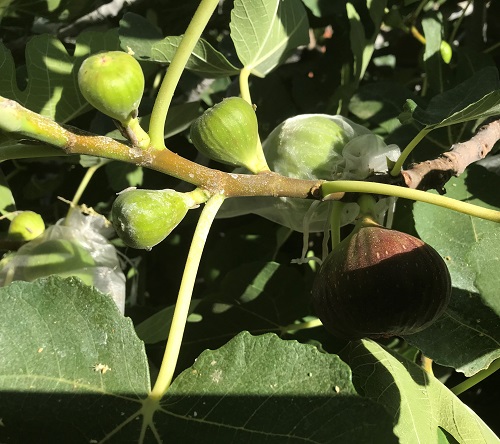 Looks like you have some bird protection on a couple of those figs.
The dragon fruit is flowering. Last year none of the flowers produced fruit so this year I am making like a bee and hand pollinating them. That is my paint brush loaded with pollen. I have 5 flowers and this is the first one open. So I am going to keep the paint brush with pollen until the next flower opens and give it a go. I have had luck hand pollinating our pear tree so hopefully this will work.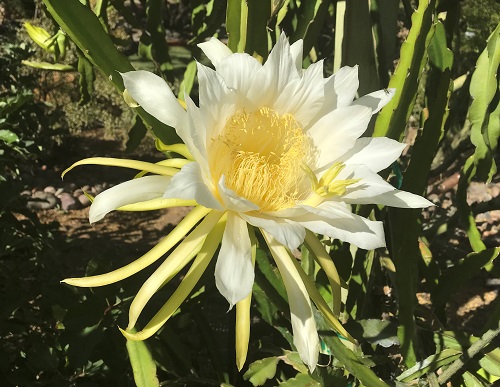 The flower is gorgeous! Hope the pollen stays viable for cross-pollination. Have you considered getting another plant?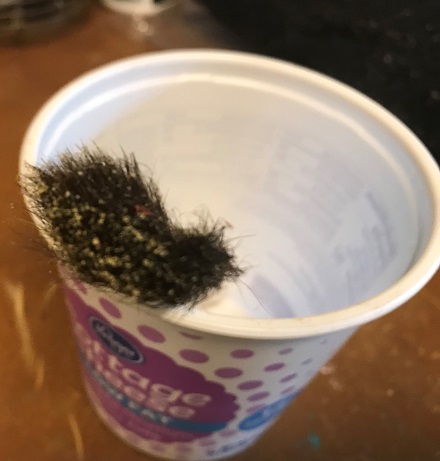 The pepper plants are starting to give peppers again and I am off to make some fermented jalapenos with todays bounty of 30 jalapenos. Hope the rest of the horde is having as much fun in the garden right now as I am.

WeeKreekFarmGirl
Thanks!
*
Our Midnight Snack tomatoes are starting to turn red. This is as of this morning.

- fd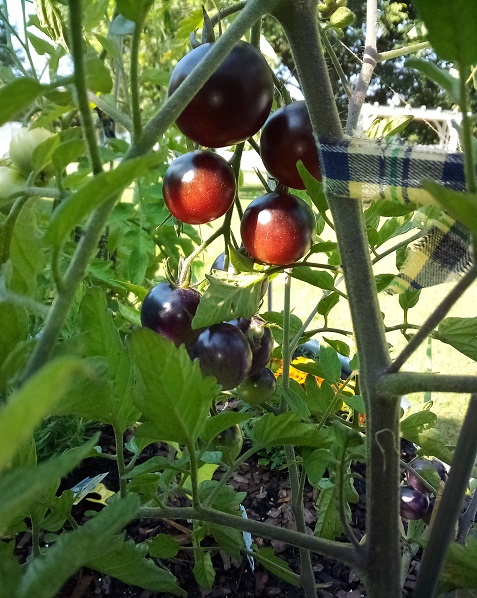 They look great! Waiting for a flavor report.
*
So, from nothing to this big in just a couple days, and 2 in the jar have already pupated in the dirt-there were 7 and now only 5.

Tomorrow morning we have to go get more tomato plants because they mowed them . . .

Nan in AZ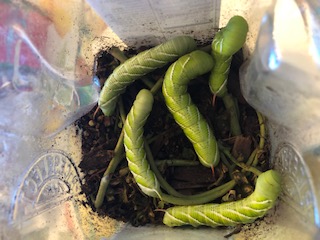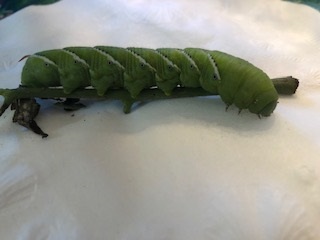 Brave of you to save them. I've done it too . . . Gotta watch those plants carefully, or have a control plan . . .
We let the artichoke bloom, just for fun! The second one is on the Annie apple; nice little spider with a really pretty web - - hope my pictures show it off. Nan in AZ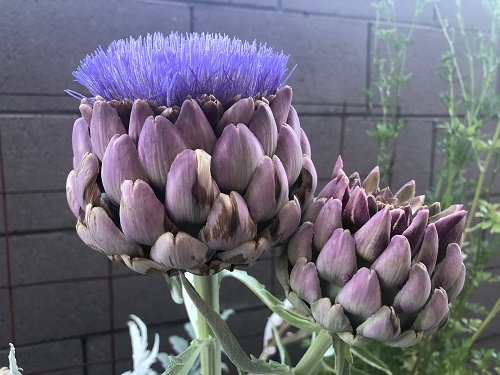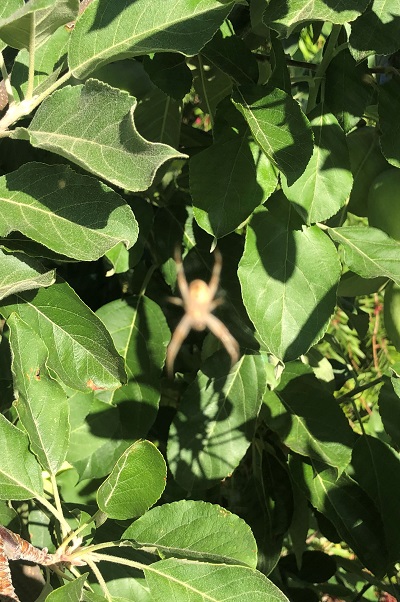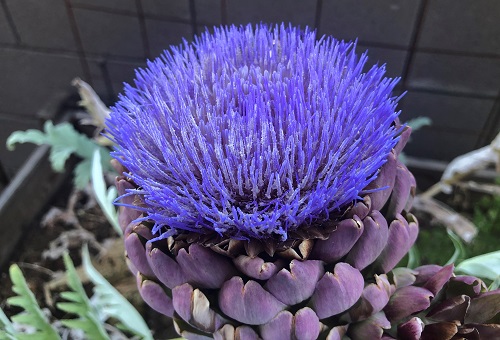 Love the photos! That spider has a shadow! I wonder how many people know what artichokes look like when they bloom?
Gardens of The Horde
From Neal in Israel:
Garden views: I've been thinking for some time that since you publish a gardening thread, I should send photos which show how the garden looks, as opposed to closeups of this or that plant. The closeups can look great, but it's really just the work of genetics/the good Lord, not of the gardiner. Problem is, it's harder to show in a photo what works in the garden.

In any case, here are a couple of shots of our front yard in its Independence Day decorations and a view from the front yard patio (clementine on the left; mini-lemon on the right).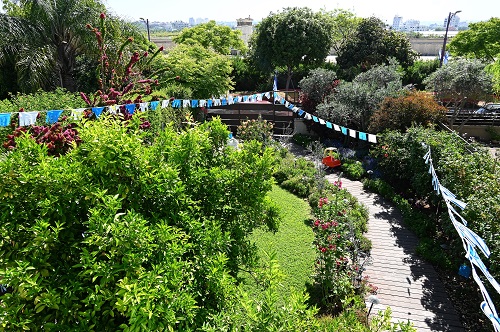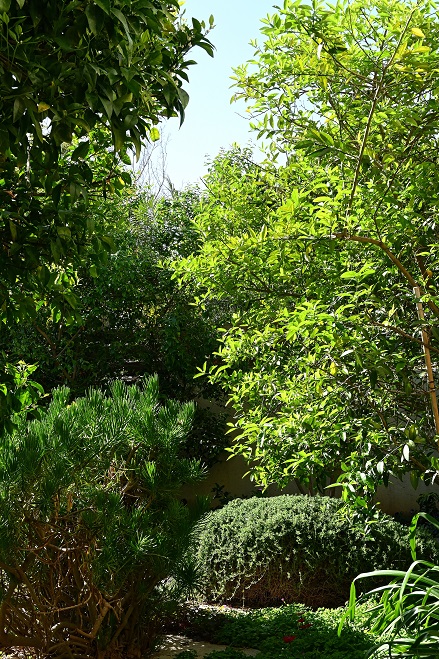 So interesting! Love the layout of the paths. Thanks for sending the Independence Day photo, too!
Bottlebrush: One of the first signs of spring in my garden are the flowers on the bottlebrushes which we planted on the border of our back yard.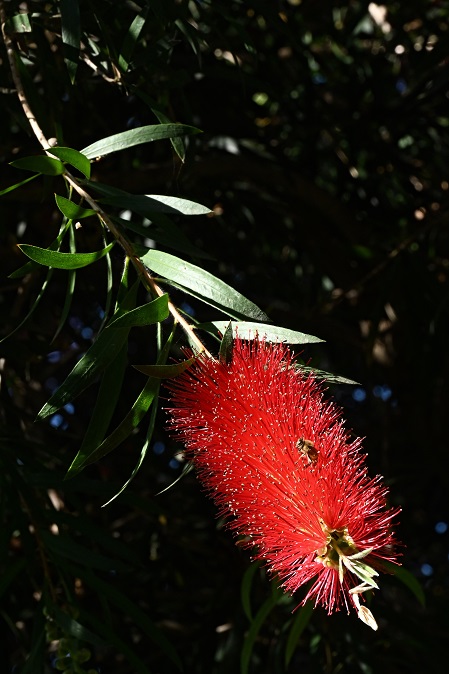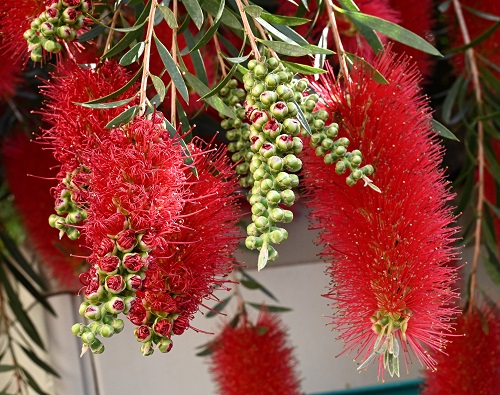 Like the little visitor in the first photo, and the dramatic lighting. I am wondering if removing seed pods would lead to repeated bloom.
Hope everyone has a nice weekend.

If you would like to send photos, stories, links, etc. for the Saturday Gardening, Puttering and Adventure Thread, the address is:
ktinthegarden at g mail dot com
Remember to include the nic or name by which you wish to be known at AoSHQ, or let us know if you want to remain a lurker.

Week in Review
What has changed since last week's thread? Gardening, Puttering and Adventure Thread, Memorial Day Weekend

Any thoughts or questions?
I closed the comments on this post so you wouldn't get banned for commenting on a week-old post, but don't try it anyway.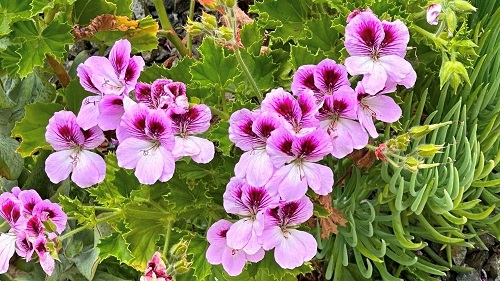 Scented Geraniums, Ensenada

posted by K.T. at
01:17 PM
|
Access Comments