« DeSantis Insiders Say He'll Form Exploratory Committee in Mid-May; Trump Says He Should Drop Out to Show His "Loyalty"
|
Main
|
Fri-Yay Cafe »
April 28, 2023
Quick Hits
Justice Alito: The Supreme Court Dobbs leaker tried to get an assassin to kill me.
Justice Alito says the marshal "did a good job with the resources that were available to her" and agrees that the evidence was insufficient for a public accusation.
"With the resources that were available to her." Roberts made sure those resources were limited.
"I personally have a pretty good idea who is responsible, but that's different from the level of proof that is needed to name somebody," he says. He's certain about the motive: "It was a part of an effort to prevent the Dobbs draft . . . from becoming the decision of the court. And that's how it was used for those six weeks by people on the outside--as part of the campaign to try to intimidate the court."
Regarding the claim that a conservative leaked it so that a conservative justice would get assassinated and "galvanize" the rest to go through with the decision:
A few pundits on the left speculated that the leaker might have been a conservative attempting to lock in the five-justice majority and overturn the constitutional right to abortion. "That's infuriating to me," Justice Alito says of the theory. "Look, this made us targets of assassination. Would I do that to myself? Would the five of us have done that to ourselves? It's quite implausible."
Thanks to Wis.Rich.

Newsmax is again benefiting from Fox's collapse. They've doubled their (small) audience and in some hours, tripled it.
The last time this happened, Fox News wooed its disgusted audience back by giving free reign to Dominion nonsense and "The Kraken" crack, and by tacking to the populist right.
But now Fox News has fired two conservatives precisely because they no longer want to be on the populist right.
So how are they going to get the audience back this time? Put Alex Jones on at 8?
I don't see that happening, of course. But Fox News can only fix its problems by bringing in a big populist conservative to assuage their disgusted former viewers, and of course that's precisely what they do not want to do.
And who could they get, anyway? Who out there has a huge built-in audience ready to tap? Sarah Palin? Pshah. No one cares about Sarah Palin anymore except some die-hards.
So who can they sign?
Are they just going to give the 8pm show to Trey Gowdy? Please tell me they're going to give the 8pm show to Trey Gowdy.
Ooooh, hiring an Establishment corporate Keebler elf with a lesbian bowling league haircut to woo back the populist right is TIGHT!
The left has discovered a new slur for men, and also, a new way to crusade insanely for the extinction of the human race: "petro-masculinity," which is, I guess, just what it sounds like.
No, that's not right. It doesn't sound like anything.
But I think it's the Toxic Masculinity of Evil White Christian Men who do to the environment what Joe Biden did to Tara Reade.
This term comes up recently, to slur male critics of Greta Thunberg. Petro-Masculine men, such as myself, have been ridiculing this Little Retard for having recently deleted a tweet predicting that the world would end in 2023, due to Climate Horribleness.
The Little Retard, like the Big Retard AOC, must never have her stupidity pointed out, so anyone who does point it out must be slurred.
The New Republic debuted the left's newest Fake Word, apparently in making some kind of insane point about "the gender gap" in OK Cupid dating profiles. You know, the "Big Stuff" that the very-serious left fixates on.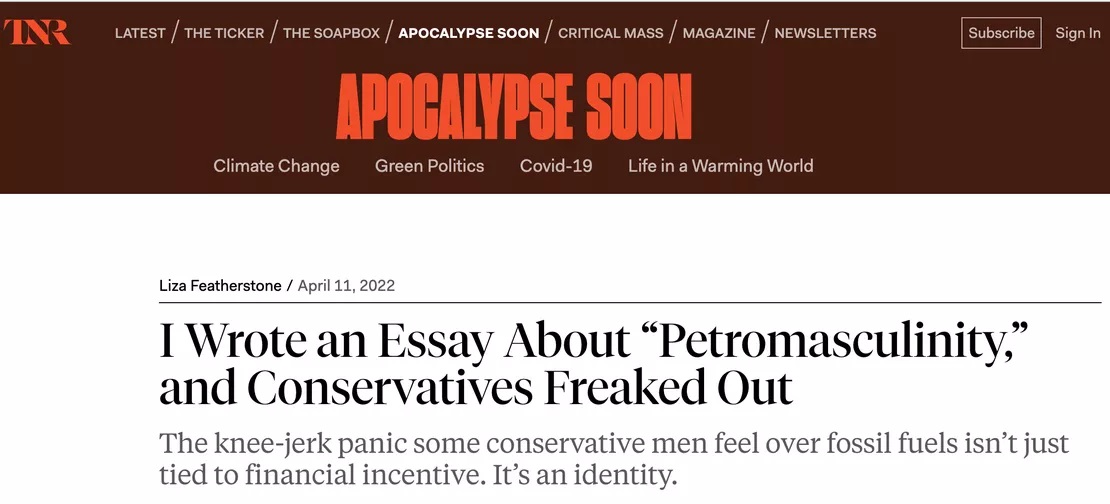 Venture capitalist Marc Andreessen tweeted the column, asking "Can you imagine being single right now? My god." Fox News devoted a whole article to summarizing the column's main points (thanks, guys!). Some commentators in the right-wing media seemed particularly offended by the word "petromasculinity," which has been used by scholars in recent years to describe the well-documented emotional and cultural attachment of many white conservative males to climate denial, fossil fuels, and authoritarianism. Washington Examiner writer Nicholas Clairmont, in response to my article, called the term "one of the most absurd coinages I have ever seen." Other conservative critics willfully (or hysterically?) misread the piece; a writer for The Post Millennial called petromasculinity "the left's latest made-up reason to hate men," although the point of the column was that the gender gap among OK Cupid users wasn't that dramatic, and men seemed nearly as interested in rejecting the toxic politics of climate denial as women.
John Fetterman just got out of the Psych Ward and decided to tell kids to smoke pot: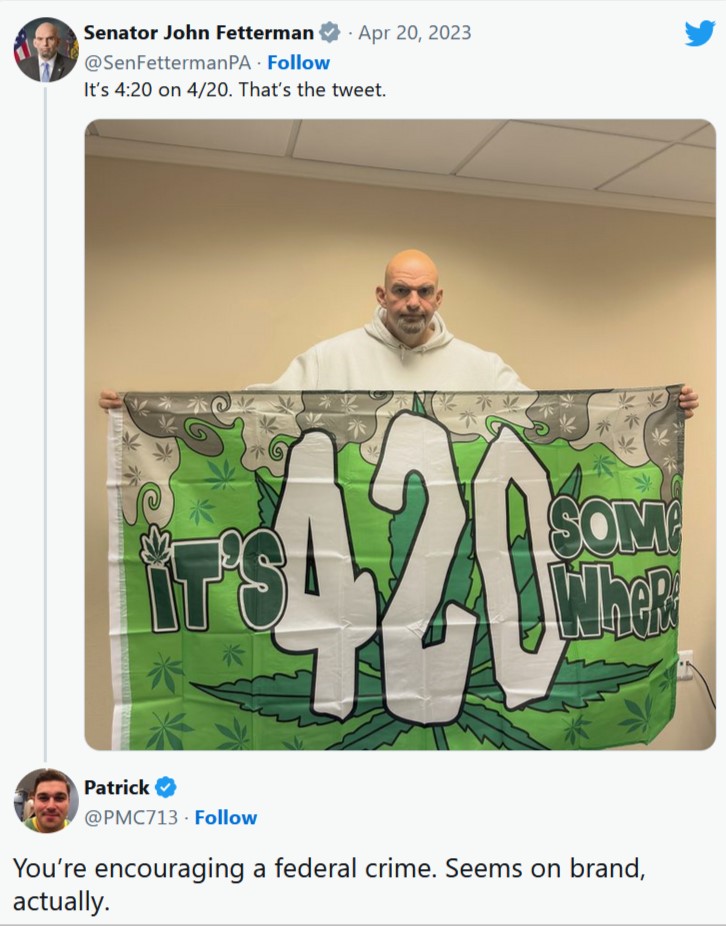 PayPal founder, libertarian, mostly-based tech giant, and billionaire Peter Thiel won't be donating to any candidates this cycle. He's become frustrated by Trump, and apparently he does not like DeSantis' focus on the culture war. Thiel is gay and may share the feelings of many gays that conservatives are "just fighting groomers as a way to attack gays." No, it's a way to stop grooming, and gays would do well to stop taking groomers under their protective wing and wrapping groomers in the LGBT flag.
Literally nothing else is as important as children, so if "libertarians" have decided that protecting children isn't important enough to make a fuss about, than libertarians can go hang.
FREEDOM FROM GOVERNMENT IMPOSITION INCLUDES FREEDOM FROM STATE-SANCTIONED POLITICAL/SEXUAL INDOCTRINATION IN GOVERNMENT SCHOOLS, WHICH PARENTS ARE FORCED AT GUNPOINT TO FUND AND CHILDREN ARE FORCED AT GUNPOINT TO ATTEND.
As usual, "libertarians" only object to the culture war once the right gets up and starts fighting back against the left's culture war offensives. They have no problem with the culture war at all; they just want the left to win it.
The manifest of the Tennessee Trans Terrorist is being reviewed for public release.
Metro Nashville Council Member Courtney Johnston stated that according to her sources, the document was "a blueprint on total destruction," adding that "it was so, so detailed at the level of what [Hale] had planned." Johnston also cautioned against releasing it to the world, noting that while some parts should be made available, the document in its entirety "in the wrong person's hands would be astronomically dangerous."
Of course, of course.
If this member means that some of the plans and tactics the Trans Terrorist wrote about should be suppressed, so that no one carries forward her War on Little Children, that's one thing.
I have a feeling, however, that that's not what she means. I have a feeling she means that she wants the Trans Terrorist's motives concealed, and will probably claim that we have to suppress this to prevent copycats when she really means "we have to suppress this to prevent "backlash" against the trans community.
The Fulton Count, GA, DA leading the grand jury in the sham investigation over whether Trump interfered or whatever in the election is calling for "heightened" security due to possible political unrest, which is obviously a boast meaning, "You bet your ass we're indicting Trump."
Fulton County District Attorney Fani Willis said this summer she will announce whether or not Donald Trump and his allies will be indicted for crimes related to alleged interference in Georgia's 2020 election. She sent a letter to local (Atlanta) law enforcement. She asked them to be ready for "heightened security and preparedness" because she predicted her announcement "may provoke a significant public reaction."
The Washington Post's Eugene Robinson: It's the duty of the Vice President to make the President appear smart and prepared by herself appearing stupid and unprepared, and by that metric, Kamala Harris is doing an immaculate job.
As has been the case with virtually every vice president since the nation's founding, Harris gets a bad rap. The first duty of the job is to avoid upstaging the president, which means surrendering any political autonomy and never being out in front of the West Wing on any issue. Recall the way Mike Pence always stood like a hyperrealist statue, mute and expressionless, while President Donald Trump ranted and raved. Somehow, Pence managed to never even lift an eyebrow.

And when vice presidents are given actual tasks, they tend to be the impossible ones. Biden put Harris in charge of the border -- at a time when there was absolutely no possibility of getting Congress to pass comprehensive immigration reform that might reduce the flow of would-be migrants. It was a classic no-win situation: She could make a show of raising hopes, which then would be dashed; or she could hunker down and keep expectations low. Either way, she was bound to be criticized for having failed.
I vote that we go back to the old system of judging people by their actions and achievements, without the fake praise for dullards just because they have a fashionable skin color, sex, or sexual orientation or "gender expression."
Note the context added by Twitter users:
AFT President Randi Weingarten: "We spent every day from February on trying to get schools open. We knew that remote education was not a substitute for opening schools." Readers added context they thought people might want to know Weingarten is misrepresenting her prior positions. She called attempts to reopen schools in the fall of 2020 "Reckless, callous, cruel"

theguardian.com/us-news/2020/j...

Her union pushed aggressively at the local level
edweek.org/teaching-learn...

Areas with high union influence remained closed much longer
returntolearntracker.net/instructional_...

They continued in 2022
nytimes.com/2022/01/08/us/...

There are emails showing Randi Weingarten pressuring Biden officials to change the criteria for school reopenings, to keep the schools closed -- and those Biden officials changing their position in response to her demands.
Even in the occasional statement where she referenced the possibility of re-opening the schools, that concession was only made on condition that the states pay teachers more money.
If an armed gunman is holding hostages inside a bank and says, "I'll release half the hostages for one million dollars and a helicopter with an unarmed pilot," you would say that he's extorting the public for the release of the hostages, not that he's "working as hard as he can to get those hostages freed."
That's what Randi Weingarten is claiming. She held the nation's children hostage for two years, making grotesque demands for self-enrichment as a precondition of releasing them, and says that for all those months she held a gun to the collective heads of children and parents, she was "really workin' hard to get those kids released from their captor, who was Me, Randi Weingartner."
Pradheep J. Shanker @Neoavatara

Apr 27

Only Democrats are dumb enough to believe this.

A cursory glance at her own words from that time proves she's lying through her teeth.

Don't be useful idiots. Do your own research.


And maybe give a small thought to this: if their policies were so great, why are they now arguing that schools should have opened as soon as possible?

The simple fact is the people most responsible for keeping schools closed longer in the Fall/Winter 2020-Spring 2021 are all now refusing to admit their well documented role in keeping schools closed.

That is telling.
A little draaaamaa on the right. Steven Crowder said that Candace Owens was guilty of "extortion" for referencing his divorce a while back, before it was widely publicly known.
Now she attacks him:
I think Crowder was being a Drama Queen in accusing Owens of "extorting him" just for alluding to his "troubles," but I think that Owens is pretty mean to pounce on this.
But other people think Crowder invited the discussion by announcing the divorce (in the context of making a claim Owens was "extorting" him).

posted by Ace at
06:05 PM
|
Access Comments