« Mid-Morning Art Thread
|
Main
|
Matt Boyle: Fox Is Trying to Keep Tucker Carlson Off The Air Through the 2024 Election »
April 28, 2023
THE MORNING RANT: Periodic Update on the Electric Vehicle Follies; plus "The Trans-Texas IH-10 EV Challenge"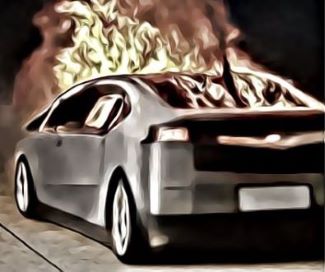 It's been a little while since we last checked in on the "electric vehicle transition," so let's see what's going on.
Let's start off With Georgia Governor Brian Kemp's great taxpayer-subsidized boondoggle - Rivian! It is more likely that Ace will someday become a writer at The Bulwark than it is that a Rivian EV will ever roll off the assembly line in Georgia.
Companies anticipating tremendous growth in industries that are expected to grow rapidly are usually hiring people, not laying them off, right?
EV-Maker Rivian Lays Off 239 Orange County Workers: Additional layoffs at the EV automaker's Palo Alto facilities have boosted the California total to 479 [OC Register – 4/24/2023]
The staffing reductions will impact a variety of positions, including "trail" engineers, geometric design engineers and mechanical engineers, as well as others involved in support services, digital surfacing, security, purchasing, program management, customer service, supply chain service and software engineering.
How's Rivian's stock doing? Very poorly. It's down over 70% (as I write this) from its 52-week high, and down more than 20% in just the last month.
So, is it a good time to go bottom fishing for Rivian stock? Not if the ultimate price is going to be zero.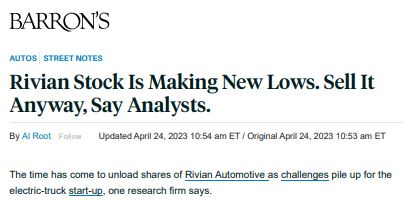 This stock tip sheet cracked me up with its analysis of Rivian this week:
With Rivian on track to spend about $6 billion in 2023—roughly half of the $12 billion in cash on hand it had in 2022—the picture doesn't look good. It's already cut its workforce by around 6%. Normally that would be good news, but Rivian already missed its production goals for 2022, and the job doesn't get done without a workforce.
General Motors is also struggling to gain traction in the EV market. Just this week it announced that it will be suspending production of its slow-selling Bolt EV. Despite being a slow-seller, the Bolt was still GM's best selling EV.
General Motors' CEO Mary Barra cleverly worded the decision to stop selling its unpopular mass-market EV. "We have progressed so far that it's now time to plan to end the Chevrolet Bolt EV and EU production, which will happen at the very end of the year."
GM to End Production of Electric Chevy Bolt, Its First Mass-Market EV, Later This Year [CNBC – 4/25/2023]
But Bolt sales never caught on as well as many executives hoped, as EV sales overall remained minuscule outside of Tesla. The Bolt also suffered a major setback more recently, as GM recalled all of the Bolts ever produced due to a supplier-related battery issue that caused several fires.
The photo below is of Vermont State Representative Tim Briglin's Chevrolet Bolt. To be fair, it looked a lot better before it spontaneously combusted while parked in Rep. Briglin's driveway.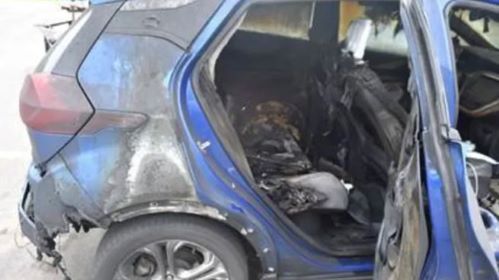 Well how about
Ford
and its electric
E-dsel
vehicles?
It's not good. Sales of its flagship Ford F150 Lightning electric pickup truck are plummeting. Ford 's well publicized goal is to sell 150,000 F150 Lightnings per year. That production is a dream that is slipping away.
Ford's Poor F-150 Lightning Sales [24/7 Wall Street – 3/5/2023]
The Ford F-150 Lightning is supposed to be its EV flagship. It is the electric version of its F-150 pickup, the best-selling vehicle in America for over four decades. That should give the Lightning a built-in advantage. However, Ford has only sold 3,600 in the first two months of 2023. It is a sign of how far Ford has to go as it tries to get Lightning sales into the tens of thousands per month.
Yikes, that's only 1,800 Lightnings per month in January and February. How about in March? Well, it got even worse.
Ford sold only 691 F150 Lightnings in March 2023 [Ford Authority]
I'll do the math for you. Total F150 Lightning sales in Q1 2023 were only 4,291 which annualizes to just 17,164 sales. That is just 11% of the 150,000 that Ford intends to sell. Even worse, sales are trending downward as Ford is running out of suckers early adopters to buy the truck.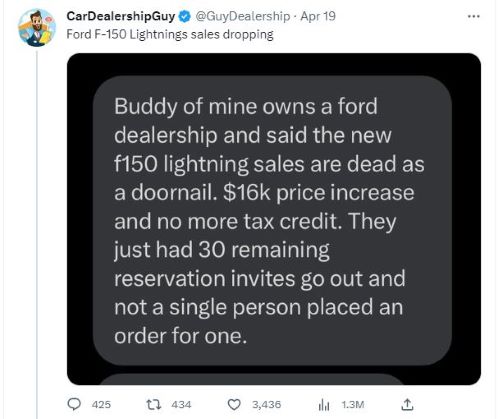 What about Ford's Mach-E Mustang? Its sales are in freefall too. From that same Ford Authority link, Ford sold only 998 Mach-E Mustangs in March 2023, compared to 2,363 electric Mustangs one year earlier in March 2022., a 58% decline.
For full year 2022, Ford sold over 39,000 electric Mustangs, but it is currently on track to sell less than 22,000 in 2023…if sales don't collapse further.
*****
OK, enough about the EV sales debacle. What else is going on with EVs?
This is from Business Insider, a left-wing publication that is usually putting out EV fanboy puff pieces.
A 9-hour Drive in Toyota's New Electric SUV Showed Me How Brutal EV Road Trips Can Be With the Wrong Car [Business Insider – 4/15/2023]
I drove the new Toyota bZ4X electric SUV from New York to Washington DC, and back.

The nine-hour drive involved three hours of charging.

I learned the hard way that sometimes you need to choose between staying warm and maximizing range.
This poor guy learned that there really is no such thing as fast charging, nor obtaining a 100% charge at a charging station.
The Toyota refused to pull more than 35 kW, so just getting to 74% took a full 45 minutes of waiting around — not exactly something you want to do at night when you still have hours of driving ahead of you.
So after waiting 45 minutes to get from 37% charged to 74% charged, how much more range did he get? About 75 miles.
That stint added 95 miles of range, according to the SUV's estimates. But highway speeds sap energy quickly, so in real-world terms, it was probably more like 75.

On the return trip, I stopped at an EVgo station with 6% remaining. This time, the Toyota wouldn't budge past 50 kW, so charging to 80% took an agonizing hour and 15 minutes.
*****
So why does a Toyota EV that says it has 95 miles of range have only 75? The reason is that the range is not calculated using real-world conditions.
Electric Car Ranges 20% Lower Than Advertised; Official Tests Do Not Mimic Real Driving Conditions, Study Finds [The Times – 4/01/2023]
Independent testing of more than 70 electric vehicles shows that their range is nearly 20 percent less on average than the figures put in manufacturers websites. That means an electric car claiming that it can go 240 miles is likely to achieve less than 200 miles before running out of power.
If you are foolish enough to drive an EV for much more than a daily commute, your "range anxiety" might as well start the moment you pull away from home.
*****
Electric vehicles are heavier than regular cars, about 1,000 to 1,500 lbs heavier on average. If the EV transition were to take place, that would place an awful burden on roads...
…and parking garages.
SHOT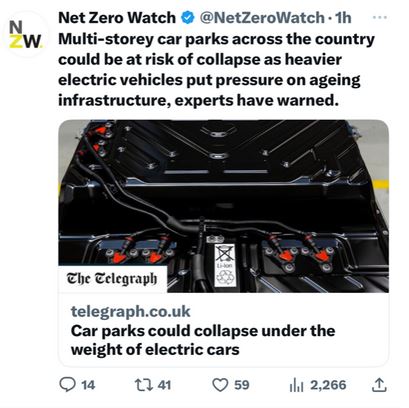 CHASER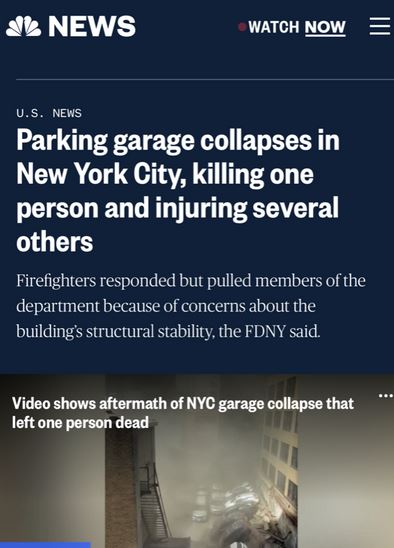 *****
The Trans-Texas IH-10 EV Challenge
Let's finish today with a challenge to the EV fanboys who keep writing and telling me how amazing EVs are; and how they will replace gas-powered cars; and – my favorite - "Buck, you just need to educate yourself about EVs."
OK, educate me.
I'd like to challenge EV enthusiasts to start their morning in Orange, Texas (on the Louisiana border), hop on the interstate, and drive IH-10 all the way to El Paso. Educate me on how that goes.
I can make that trans-Texas drive in about 13 hours in my car, including regular gas and restroom stops, maybe even 12 hours if I pushed myself. Nighttime would find me in Rosa's Cantina. Where would the EV be by nightfall?
"But Buck, who drives 800 miles in one day?" I do. I have driven 600 to 800 miles in one day many times, often across empty expanses of this great land, as have many millions of other Americans.
Seriously, how long would it take to drive an electric vehicle from Orange to El Paso? Is it even possible?
[buck.throckmorton at protonmail dot com]

posted by Buck Throckmorton at
11:00 AM
|
Access Comments