« Daily Tech News 30 April 2023
|
Main
|
Hold Their Feet To The Fire...it's The Only Way To Get What We Want From Our Politicians »
April 30, 2023
Sunday Morning Book Thread - 04-30-2023 ["Perfessor" Squirrel]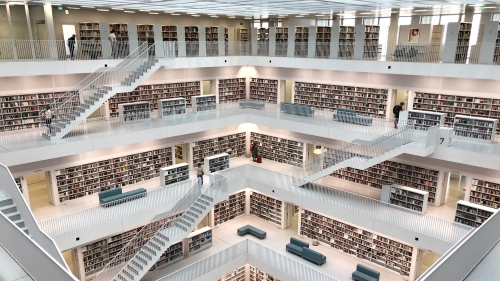 (ht: Anna Puma)
Welcome to the prestigious, internationally acclaimed, stately, and illustrious Sunday Morning Book Thread! The place where all readers are welcome, regardless of whatever guilty pleasure we feel like reading. Here is where we can discuss, argue, bicker, quibble, consider, debate, confabulate, converse, and jaw about our latest fancy in reading material. As always, pants are required, especially if you are wearing these pants...
So relax, find yourself a warm kitty (or warm puppy--I won't judge) to curl up in your lap, laugh at the absurdity of the world around you, and dive into a new book. What are YOU reading this fine morning?
PIC NOTE
Anna Puma left the following comment last week:
Bing's main page today is Stuttgart's public library. I would never want to visit such an eye searing aesthetic blight in real life.

Posted by: Anna Puma at April 23, 2023 10:42 AM (wPlLO)

Naturally, I went looking for such a picture. I have seen this picture turn up on numerous searches for libraries. Didn't even really know this was from Stuttgart, Germany. For me, the best word to describe this library is "sterile." The outside is equally sterile and oddly foreboding. It reminds me of the movie Cube. Or perhaps the Central Bureaucracy from Futurama.
FROM SERIES TO SOAP OPERA
I recently read the Homecoming series of books by R.A. Salvatore, which is part of his long-running Legend of Drizzt series (over 30 books). I suddenly came to the realization that the series was not so much subseries of low fantasy novels about the main character, but it had turned into a soap opera about the main characters from his very first series, the Icewind Dale trilogy. I won't bore you with the details as I know most of you aren't really into fantasy. However, when I look at the overall storylines and characters, it's hard NOT to see the hallmarks of a soap opera contained within the entire series as a whole:
There's a lot of melodrama in the stories -- many characters are so over-the-top as to be almost caricatures of real people (granted, most of them are variations of fantasy archetypes).
Over the decades, Salvatore has created a rather large ensemble cast of characters, expanding his core group of the Companions of the Hall (Drizzt, Bruenor, Wulfgar, Regis, and Cattie-Brie) into more than a dozen important characters, some good, some evil, some in-between, all of whom are interesting in some way.
There's a fair amount of sentimentality with the characters expressing emotion over reason more often than not. Drizzt, in particular, has earned a reputation of being an angst-ridden character because of his race and personality conflicting with each other.
Although each novel is relatively self-contained, there is also clear continuity between stories so that each novel ends by setting up the next novel in the series, if Salvatore chooses to continue the adventures. The series as a whole spans around 200 years of time. Salvatore even had the characters do a "reboot" somewhere in the middle so that his short-lived characters (Wulfgar and Catti-brie, both human, and Regis, a halfling) could still be a part of the later series with the longer-lived characters (dwarves and dark elves, who both live for centuries).
Now that Salvatore has written more than 30 books in the franchise, it really boils down to a conflict between two major factions struggling for domination over geographic territory. One faction (the Dwarves) wants to restore what they believe is their rightful kingdom. The other faction (Dark Elves) wants to seize that kingdom for themselves and become the greatest nation under the earth. Each faction is represented by key characters that embody the principles and goals of their respective faction.
Although the books can be of mixed quality, the series as a whole represents a very interesting experience for the reader, as we are dragged into a low-fantasy soap opera that seems to be somewhat unique. I'm not sure if I've ever read a series that's developed quite like this, though Raymond E. Feist's Riftwar Saga probably comes pretty close, as does Terry Brooks' Shannara series.
Are there series in other genres that started out as one genre (e.g., mystery or western) and then morphed into a soap opera as the story developed? Did this enhance or detract from the overall story?
++++++++++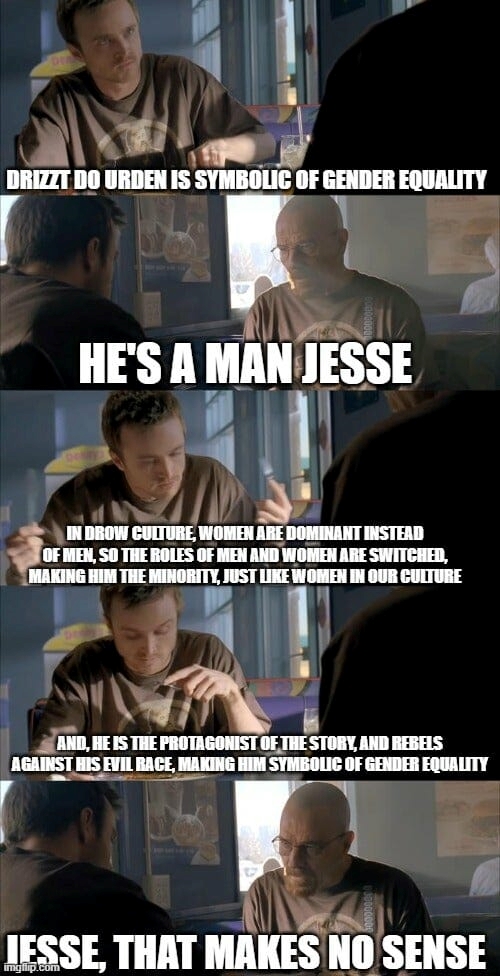 ++++++++++
IT PAYS TO INCREASE YOUR WORD POWER
dolorous - adj. - causing, marked by, or expressing misery or grief
Comment: I have to admit, this is a pretty good word to describe my feelings towards the world and circumstances we now find ourselves. It's hard to keep one's chin up in dolorous times like this.
factotum - n. - a person who has many diverse activities or responsibilities, and especially one whose work involves a wide variety of tasks.
Comment: I just think this is a fun word to say. I have seen it in the context of someone who is ostensibly in charge of running the day-to-day operations of a business while the main character who owns the business is off having adventures. Nowadays, it seems to refer to a general assistant who carries out the tasks while someone else makes decisions.
++++++++++
MORON RECOMMENDATIONS
This week I finished Germinal by Zola. A masterpiece. The descriptions of the lives of the miners is harrowing but the management are portrayed as NOT complete evil. IMO the book only flaw is it's paean to socialism at the end although even that is forgivable since it was written at a time when it was all theory and no practice to judge it.

Posted by: who knew at April 23, 2023 09:51 AM (4I7VG)

Comment: Mining is hard, dirty, dangerous work. Those who choose to engage in it to keep civilization and society running are to be commended for their efforts on our behalf. The ugly truth is there are still plenty places in the world where the workers are given no choice at all, as slavery is still a major component of the mining industry in parts of the world, including child slavery.
+++++
I also read The Final Day by William R. Forstchen. This is the third book in The One Second After series. It continues the story of the small town of Black Mountain, NC, after an EMP attack. It's discovered that some governmental officials knew of the attack ahead of time and moved themselves and their families to a safe location in a hollowed out mountain near Gettysburg, PA, while giving no warning to the rest of the country. The forces from Black Mountain join with others to rectify the situation.

Posted by: Zoltan at April 23, 2023 09:17 AM (sDFJU)

Comment: Somewhere around here I have a series of books by John Barnes where a group of domestic terrorists use a wide variety of attacks to bring America to its knees. The government in response implements "Directive 51" (which is the name of the first book--oh, look, it starts in late 2024!). Now a group of plucky heroes struggle to rebuild a functioning Constitutional republic from the ashes of the United States. I started reading the first book, then gave up because it was too depressing (and frightening), though I may go back and revisit this series again in light of what's currently happening around the country.
+++++
Yes! The Lost King by Philippa Langley book. I have not seen the movie yet. But it's probably good too. But of course you already read it, being the erudite you are...but in case you have not, this is written by a woman who helped find Richard iii's. Well, his grave. It all goes back to the war of the roses, Plantagenet v Tudor and "History is written by the victors".

Posted by: runner at April 21, 2023 06:15 PM (V13WU)

Comment: I remember reading about this story a number of years ago. In fact, I'm pretty sure it was talked about on this very blog, but I'm too lazy to go find the relevant blog posts.
+++++
Last Stand of the Tin Can Sailors - for the equally mind-blowing valor and courage in another battle - is also a should-read for any Pacific theater aficionados. Or anyone who wants to see just what heights were reached in modern military history.

Posted by: rhomboid at April 21, 2023 05:57 PM (OTzUX)

Comment: A heroic last stand is often a captivating tale of valor and blood in defiance of a seemingly overwhelming force. There are many, many such stories sprinkled throughout history (e.g., Battle of Thermopylae, The Alamo, etc.), and more than a few come from World War II. Many of these serve as inspiration for fictional works, as well.
More Moron-recommended reading material can be found HERE! (754 Moron-recommended books so far!)
+-----+-----+-----+-----+
WHAT I'VE BEEN READING THIS PAST WEEK:
Saga of the Forgotten Warrior Book 3 - Destroyer of Worlds by Larry Correia -- Ashok is given the green light to wage proper war against his former society in favor of the casteless, whom he is sworn to protect against the Great Extermination. Meanwhile, his blood brother conspires to become king and the Grand Inquisitor is up to his own evil tricks to take over the world.
Saga of the Forgotten Warrior Book 4 - Tower of Silence by Larry Correia -- Unlike certain other fantasy authors (*cough*Martin and Rothfuss*cough*), I'm supremely confident that Larry Correia will complete his epic fantasy series with a suitably epic climax. While I wait for that, I have plenty of other books that will occupy my time.
The Banned and the Banished Book 3 - Wit'ch War by James Clements -- Elena prepares to invade A'loa Glen to retrieve the mystical Blood Diary. Clemens *loves* his apostrophes, though it's not a bad series at all. Just lots of common and strange words punctuated with apostrophes (e.g. og're or wit'ch or el'vin).
That's about all I have for this week. Thank you for all of your kind words regarding the Sunday Morning Book Thread. This is a very special place. You are very special people (in all the best ways!). The kindness, generosity, and wisdom of the Moron Horde knows no bounds. Let's keep reading!
If you have any suggestions for improvement, reading recommendations, or discussion topics that you'd like to see on the Sunday Morning Book Thread, you can send them to perfessor dot squirrel at-sign gmail dot com. Your feedback is always appreciated! You can also take a virtual tour of OUR library at libib.com/u/perfessorsquirrel. Since I added sections for AoSHQ, I now consider it OUR library, rather than my own personal fiefdom...
PREVIOUS SUNDAY MORNING BOOK THREAD - 04-23-23 (NOTE: Do NOT comment on old threads!)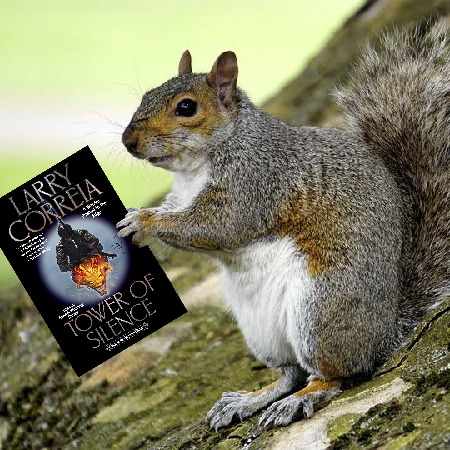 (Now Huggy Squirrel has to wait...and wait...until the last and final book is released...)


posted by Open Blogger at
09:00 AM
|
Access Comments