« THE MORNING RANT: Be Very Afraid of the Left's "Climate Affirming Care"
|
Main
|
Quick Thread to Finish Up Tucker/LeMon Business »
April 24, 2023
FOX ANNOUNCES THE DEPARTURE OF TUCKER CARLSON; LAST SHOW WAS THIS PAST FRIDAY
DON LeMON FIRED AS WELL!!!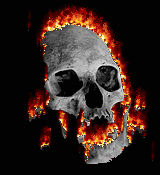 Max Tani @maxwelltani

Fox News' press release announcing Tucker Carlson's departure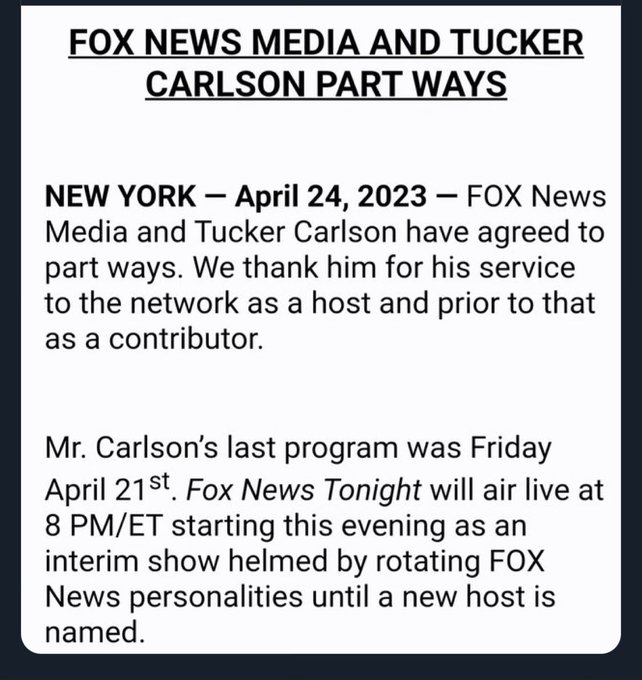 I can only imagine that Tucker Carlson got sick of being censored by Fox. Who I imagine has been really riding their hosts hard given the Dominion lawsuit.
Will Chamberlain @willchamberlain

Reminder that @TuckerCarlson
took Sidney Powell to task over the nonsense that formed the basis of the Dominion lawsuit

He's not the reason Fox had to write the big check

And if Fox tried to impose new controls on him as a result I could see him quitting over it
Dan Bongino just parted ways with Fox last week as well. There were rumors last week that Maria Bartiromo will be let go, too.
Fox is clearing the decks of its actual conservatives.
This works out for me. I don't like Fox and can't get it streaming, except if I pay for a cable-like package, and I don't want to do that. I don't want to pay these people money.
Tucker will now launch his own show and possibly network, which I imagine will be available streaming.
And that will be a total wrap on Fox's corporate Establishment fake news for me.
I can only speak for myself, but I'm one Rube who is tired of being Conned.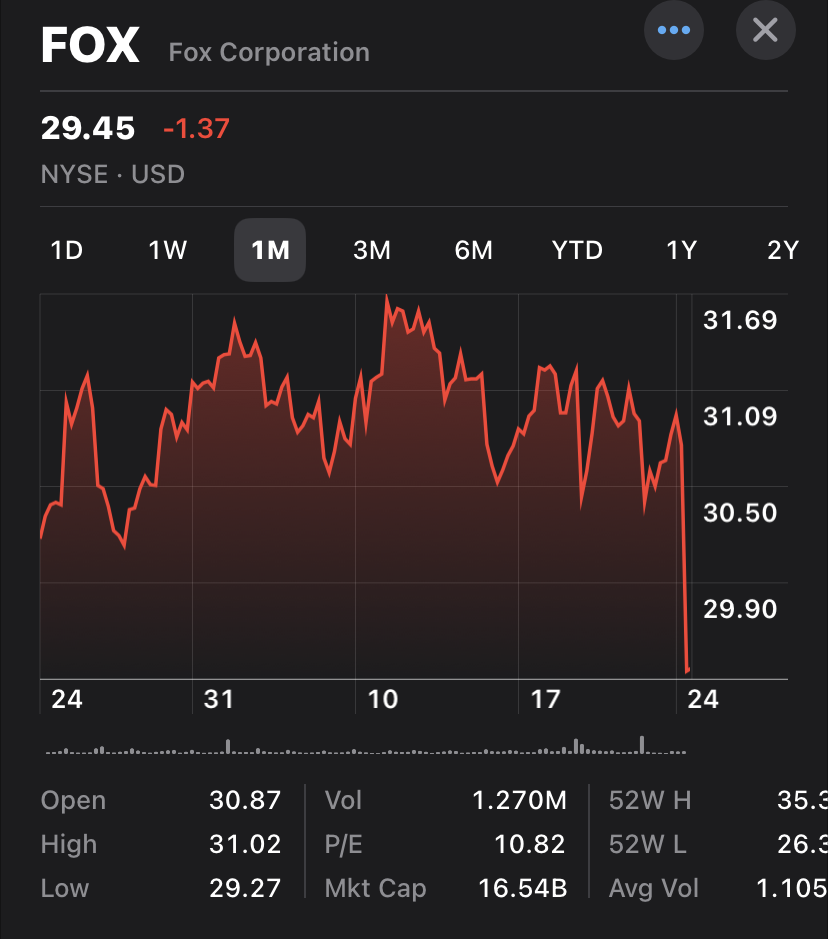 4 I'm tanned, rested, and ready!

Posted by: Dr. Bill Kristol, who would be a great replacement for Tucker
42 Tucker was too fratty and out of touch with the public.


They are going to need a lot of T&A to make up for this.

Posted by: Ripley
The Fat Weird Kid weighs in:
Brian Stelter @brianstelter

Tucker Carlson is out at Fox News, effective immediately. This is an earth-shaking moment in cable news.


I have tried calling and texting Tucker Carlson for comment on his stunning departure from Fox. No response yet.
LOL.
The biggest "tell" in Fox's press release about Tucker Carlson's exit is that he is not getting a final show. No chance to say goodbye on his own terms or point people to his next home. Fox says "Carlson's last program was Friday April 21st."

When CNN ended "Reliable Sources," I was offered a final episode, a chance to sign off on my own terms. I really appreciated that. I think viewers did too. Tucker leaving Fox WITHOUT even saying goodbye? Stunning.

This replacement for Tucker will not rate as well as he did: "Fox News Tonight will air live at 8 PM/ET starting this evening as an interim show helmed by rotating FOX News personalities until a new host is named."

Tucker Carlson became, for a time, BIGGER than Fox News. His disappearance will ripple through Fox, the wider TV world and the GOP. One of the many impacts is $$$: Fox is pushing for higher carriage fees from distributors right now, and without Tucker, Fox has less leverage.
UPDATE: A commenter just wrote, five seconds ago, that Don LeMon remains currently employed.
And just like that -- no he doesn't.
Don Lemon @donlemon