« Mid-Morning Art Thread [Kris]
|
Main
|
FOX ANNOUNCES THE DEPARTURE OF TUCKER CARLSON; LAST SHOW WAS THIS PAST FRIDAY
DON LeMON FIRED AS WELL!!! »
April 24, 2023
THE MORNING RANT: Be Very Afraid of the Left's "Climate Affirming Care"
How was your Earth Day celebration this past Saturday?
Did anyone you know engage in special sacraments to celebrate this highest of holy days of The Sustainable Organic Church of the Carbon Apocalypse?
In my various circles of friends and family, which include plenty of lefties, I don't know a single person who pays attention to Earth Day any longer, whereas a couple decades ago it was like Easter to some of these folks. Maybe that's a little victory in the battle against eco-communism.
Anyhow, if you did some form of ritualistic carbon-fasting on Earth Day, nature belched in your face last week, and more than offset you.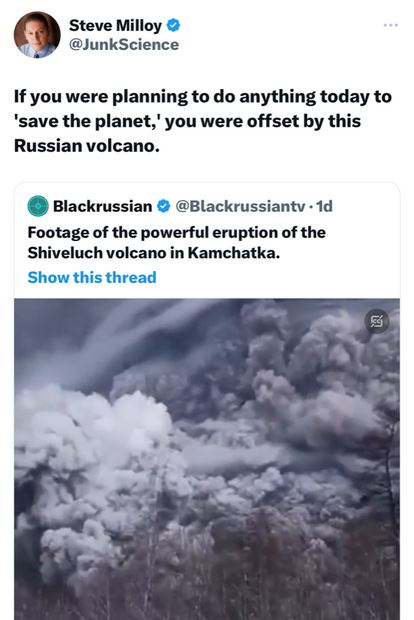 *****
Snowfalls Are A Thing of the Past
Do you remember back when "Global Warming" meant that "snowfalls are now just a thing of the past"?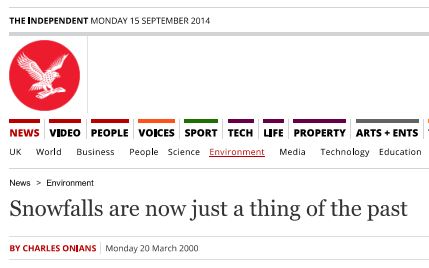 Yeah, "the science" of global warming was a little unscientific with that swing and a miss.
Palisades Tahoe Receives Record Breaking 710 Inches of Snow [NBC Bay Area – 4/19/2023]
It's not just the Mountain West that experienced record snowfalls this winter. The American heartland also got buried.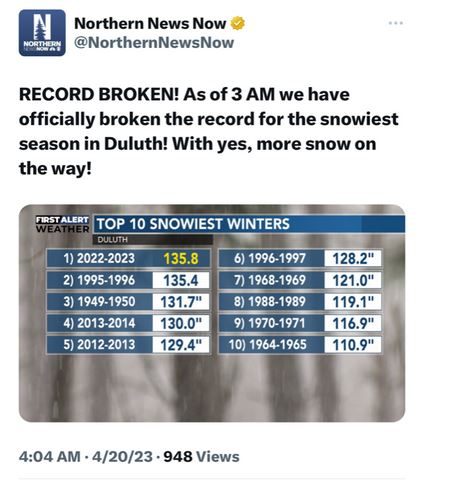 Like with any doomsday cult, the repeated false prophecies of the climate religion don't dissuade the true believers. They just reset their catastrophic judgment day to another point in the future, and continue to hector the rest of us to stop our carbon sinning.
*****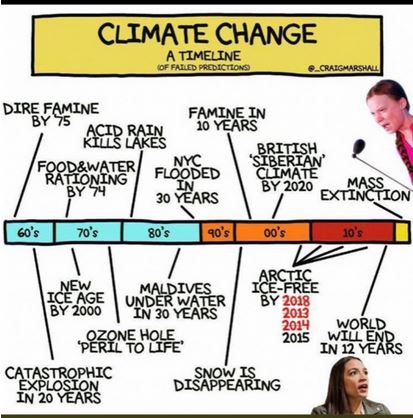 *****
You Are The Carbon They Want to Eliminate
To save the planet, the climate cultists want to take away from you: meat, heat, air conditioning, single family homes, cars, fertilizer, agriculture, cooking fuels, etc. They are unrelenting. So unsurprisingly, they are now openly stating that one of the basic staple foods that keep billions of people alive is problematic.
Those trying to "save" the planet are making their aims explicitly clear, "Some of you will have to die, and that is a sacrifice we are willing to make."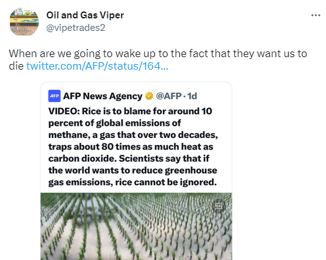 AFP News has now deleted the above tweet, as it is way too obvious about the eco-communists' goal.
Mass extermination of fellow humans is an historically common behavior for our species. It's time to recognize that the climate agenda is more than just a hoax, it is a diabolical plan for starvation and depopulation.
Be very afraid of the eco-communists and all the institutions they have captured. The "climate affirming care" they seek to impose on us will have an incomprehensible body count.
*****
Must We Destroy the Environment to Save the Planet?
As a bird lover, and as a person who despairs about the sacramental killing of any creature in service to religious doctrine, I am missing the days when "environmentalists" were trying to protect birds, rather than advocating for their slaughter to appease their angry climate God.
Diving Seabird Numbers Plunge 90 Percent Near Offshore Wind Farms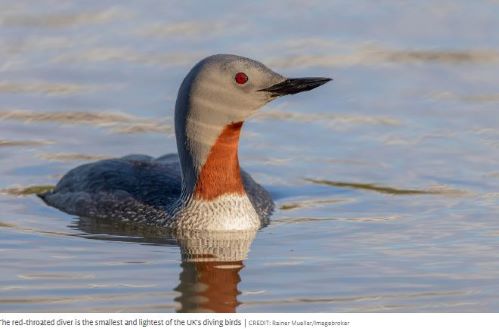 Populations of a diving seabird plummeted by more than 90 percent after offshore wind farms were built, a study has found.

Data from German scientists looked at the number of red-throated loons in the North Sea before and after the installation of five offshore wind farms.

Numbers of the birds were found to be up to 94 percent lower within half a mile of the wind turbines, on average, after they were built.
What is so despicable about the slaughter of birds at the blades of wind turbines is that there must still be 100% backup of traditional energy for when the winds don't blow. The wind turbines provide zero reliable electricity.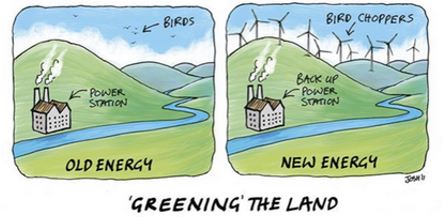 The brilliant Oilfield Rando captured it perfectly with this tweet below, pointing out that liberal media elites are now enthusiastic about killing birds so long as it's in service to the climate agenda, but God forbid the oil industry disturbs one nest.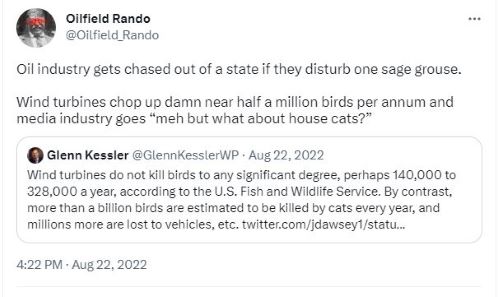 *****
Speaking of Oilfield Rando, he noticed that Bloomberg is trying to coerce tech companies to blacklist energy companies, and presumably to have those tech companies blacklisted too, if they don't suspend business operations with coal and oil companies.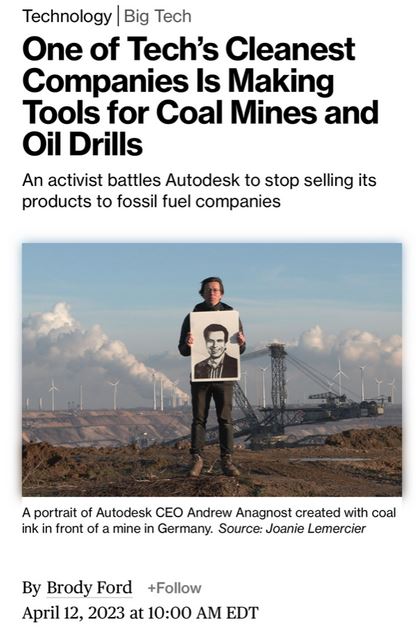 Left wing activists used to hate McCarthyism. Now they see it as an instruction manual. ("Hey tech company: Are you now, or have you ever done business with a carbon energy company?")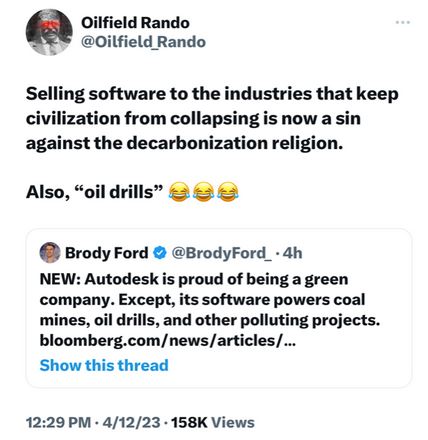 Brody Ford and Bloomberg are not engaged in journalism. They are activists, engaging in coercion, for the purpose of suppressing freedom, all in service to the anti-human "climate" agenda.
*****
Carbon Is Compassionate
Let's end on something that is a little more hopeful. Youthful liberalism often gives way to conservatism as we age. A great many readers of this blog were red-pilled somewhere along the way. In fact, it's funny to hear young leftists denigrate Baby Boomers as intolerant conservatives who sit around watching Fox News all day, since those same Boomers were once the rebellious "younger generation" from which sprang hippies and Woodstock.
We need to start planting the seeds in today's young minds to help them start transitioning to the right regarding the climate debate. It is natural for the young to want be on the "compassionate and caring" side of any political debate. They don't have the life experiences to fully understand the concept of the road to Hell being paved with good intentions. Respectfully helping them see that the climate agenda is the opposite of compassionate is necessary if we are going to turn the tide and prevent climate communism from being imposed upon us.
Our friends at Heartland shared with me this 4 ½ minute video of Linnea Lueken, a 20-something petroleum engineer who is also a research fellow at Heartland. In this brief "Earth Day" video, Ms. Lueken implores others of her generation to understand the consequences of decarbonization and going organic, asking her generational peers to think compassionately about the victims if net zero is enacted.
If you know good young people who are naively sympathetic to the climate scare, it would be good to get this video in front of them.
[buck.throckmorton at protonmail dot com]

posted by Buck Throckmorton at
11:00 AM
|
Access Comments