« FOX ANNOUNCES THE DEPARTURE OF TUCKER CARLSON; LAST SHOW WAS THIS PAST FRIDAY
DON LeMON FIRED AS WELL!!!
|
Main
|
Susan Rice Fired -- or, "Stepping Down" -- from Biden Administration »
April 24, 2023
Quick Thread to Finish Up Tucker/LeMon Business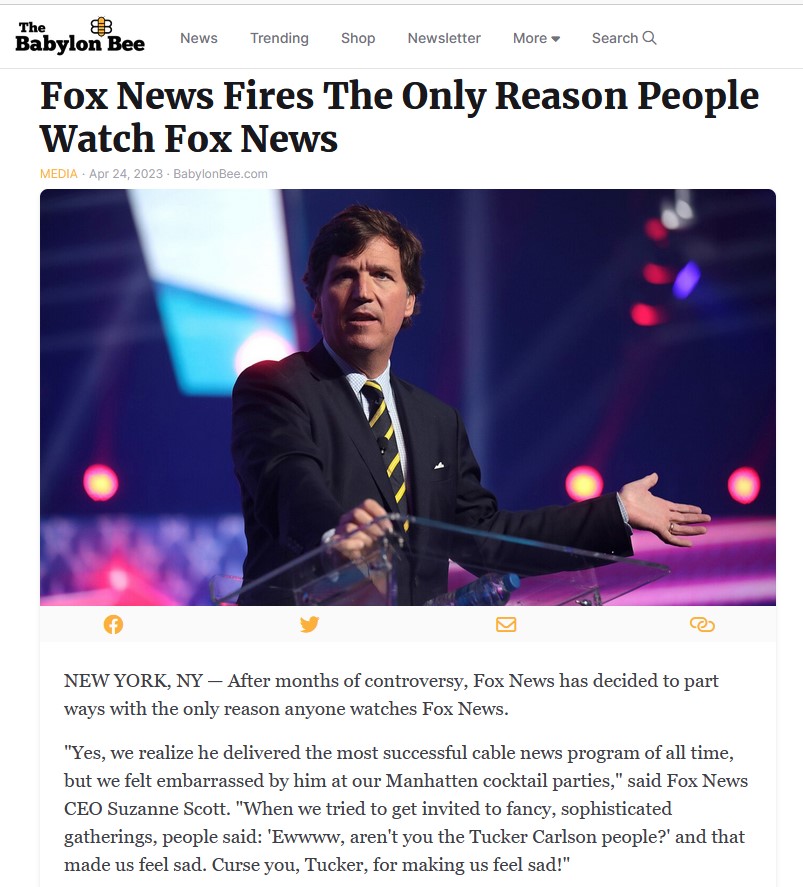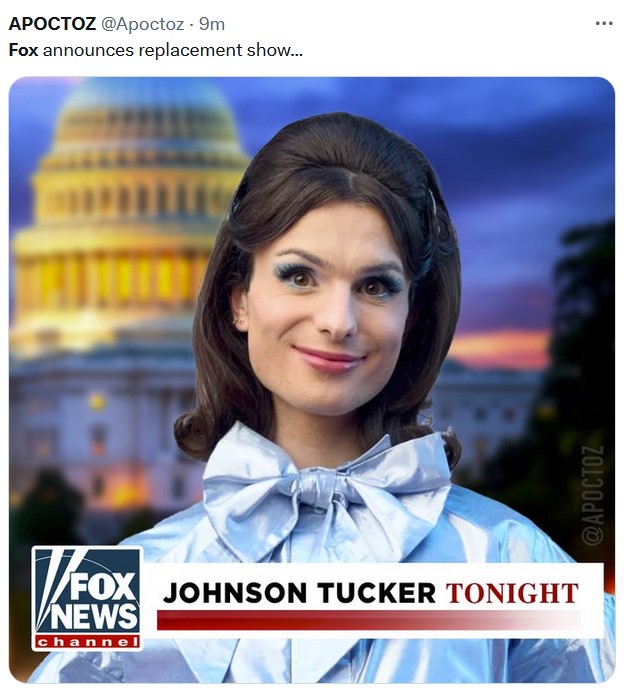 Justin Hart
@justin_hart

My sources are telling me: Tucker was all set to go live tonight. He probably had plans to talk about the lawsuit and clear his name. Producers were prepping guests and slots of Monday's show. Corporate nixed the idea and Tucker up and quit!
"Probably"? Your sources are as confident as saying "probably?"
Dan McLaughlin @baseballcrank

We will see which way Fox wants to go with that time slot, but they could & probably will do a whole lot worse than hiring either @EWErickson or @benshapiro, both of whom are fearless conservatives with the necessary chops at doing a talk show.
Of course Erick Erickson looks "fearless" to a cringing insect like Baseball Cvck.
Darren J. Beattie @DarrenJBeattie

Now it's all going to be smiling chuck chuck boomer slop like the Five and Gutfeld
Yup. Fox News has decide they've permitted the Rabble enough time to spread their populist critique of the Establishment -- and it's time for The Establishment to do what The Establishment does best, champion The Establishment's Right to Rule for eternity.

LeMon wasn't fired -- he flounced. Management wanted to have Rap Sesh with him, and he decided he was too big of a Star to take orders from any Suits.
CNN Communications @CNNPR

Don Lemon's statement about this morning's events is inaccurate. He was offered an opportunity to meet with management but instead released a statement on Twitter.

I can understand that. If he thought he knew what that meeting was going to be - as in, if he thought he was about to fired - going out on his own terms could be preferable.

Posted by: Joe Mannix
They might have wanted to "promote" him to a weekend show airing at 1am.

posted by Ace at
01:07 PM
|
Access Comments