« GAINZZZ
|
Main
|
Baby Lizards Cafe »
April 21, 2023
Quick Hits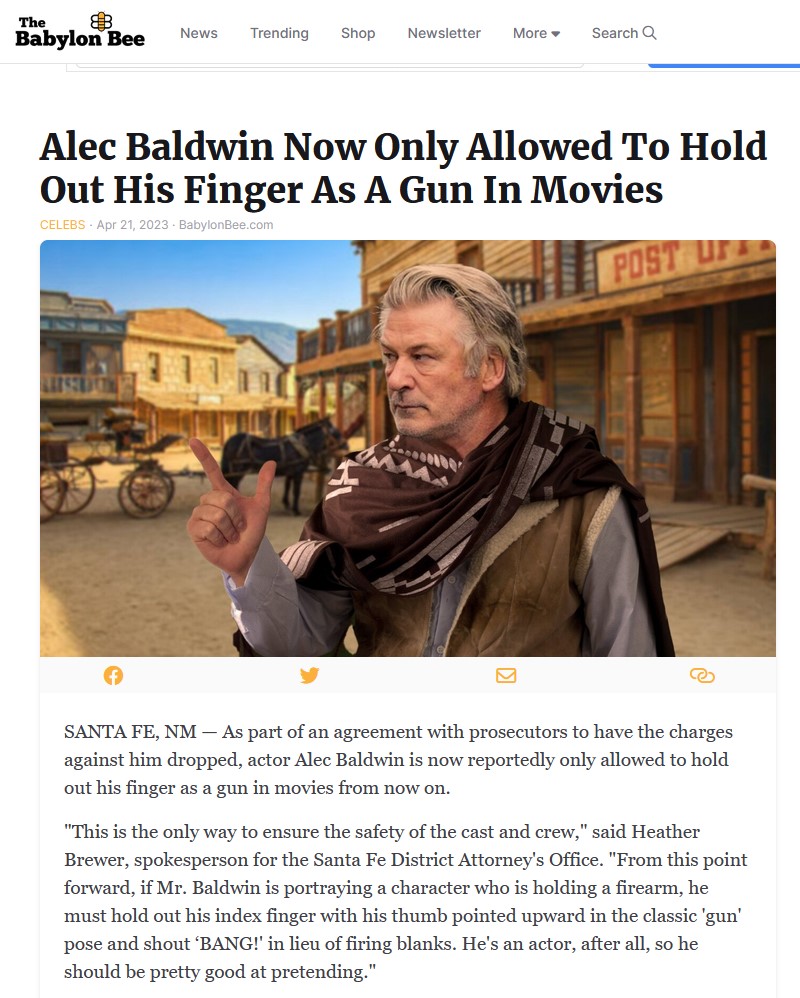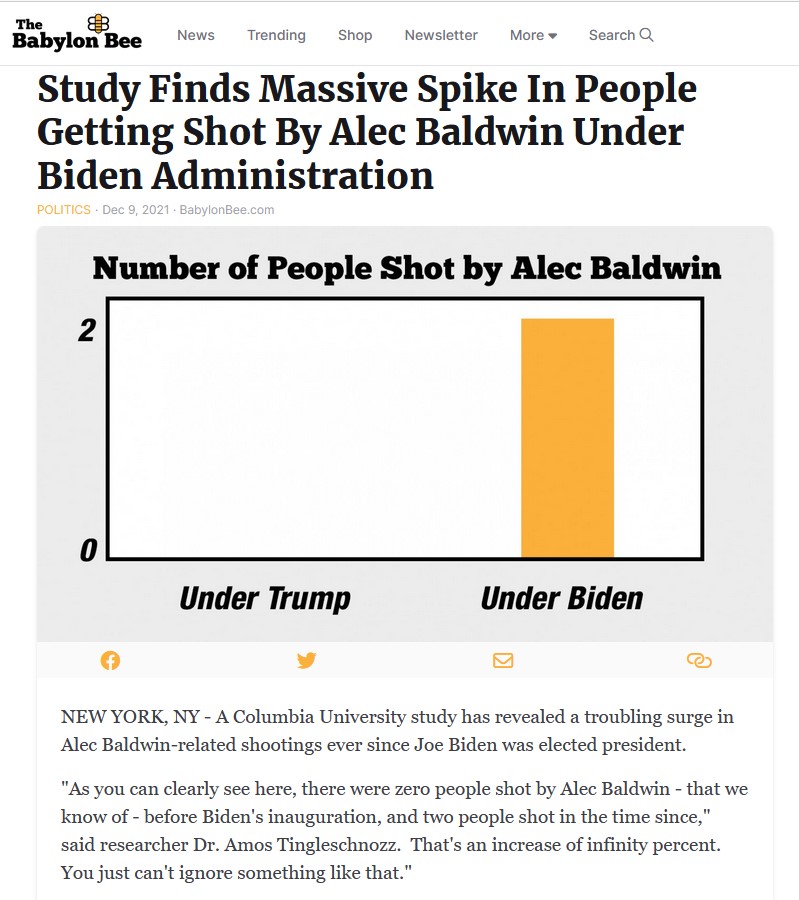 Thank Heavens that John Fettermonster is back in the Senate. What would we do without this Intellect Fortress. (Corrected. I got it wrong, it was Intellect Fortress. It's a mode of psionic defense from 1st Edition D&D.)
Deb Heine has more about that "trans poly lesbian" who threatened to K I L L any women who tried to stop him from using the women's bathroom.
In a "call to arms" posted onto TikTok, a user who goes by the name "Tara" and who identifies as a "poly trans lesbian" threatened Christian conservatives and urged fellow travelers to "arm up" to fight them in a recent rant on the Chinese-owned platform.

"If you back a wild animal into a corner, they will become a dangerous animal," he said. "So if you want to die on that hill of yours of righteousness and moral majority, then you go right ahead."

Tara, who doesn't come close to passing as female, threatened violence against women who object to biological males invading their public restrooms.

"I dare you to try and stop me from going into a women's bathroom," he warned. "It will be the last mistake you ever make."

The transvestite continued: "I dare you to try and stop a transgender woman in my presence from using the bathroom. It will be the last mistake you ever make."

The trans TikToker appears to have Autogynephilia, which is defined as a male's propensity to be sexually aroused by the thought of himself as a female, according to Twitter user Oli London. He also apparently goes by the name "Mylittleputhy18+" on a different forum online. His Twitter account (@tvs_w) is full of obscene, hardcore gay/trans porn.
That tweet contains a series of selfies in which "Tara" uses the infamous Fat Girl Angle to shoot pictures of himself -- from an angle, from above, to hide the double-chin and obscure the body.
He went on to specifically threaten Christians, Evangelicals, and conservatives with murder:
"I do not fear Christians. I do not fear conservatives. I do not fear Evangelicals and I do not fear Republicans. They just talk a big game. That's all they do," he said.

Wagging his finger at the camera, Tara warned ominously, "heaven forbid you do something in my presence. You're going to know what fear actually feels like."
He said that he had "done the right thing" in the past, but now he was going to "war."
I'm done. I am done with this shit. We've done the right thing. We've turned the other cheek. We've shouted at the top of out lungs. We've gone to our state legislatures , we've sent emails, we've signed petitions, we've made phone calls. We've done everything.

This is the war you want, this is the war you're going to get. But I can guarantee you, you're not going to get the outcome you want because there are lots of people like me who aren't afraid to die. I love my girlfriends to death but I would rather die for them to secure their safety, freedom and future than to live and not have anything done. So you go ahead. You 'protect' your kids from me using the bathroom--you've been warned.
Deb Heine has these threatening videos at American Greatness.
You know what's the most disturbing thing about this autogynephiliac's threaten to murder Christians and children just like the Tennessee transgender terrorist did?
That's right: The risk of backlash against the transgender community. That risk I cannot abide!
Breaking news: Bette Midler is mucha unhappy that her BlueCheck(tm) has been removed:

"Elon took my blue check away! I'm unverified! After all these years and thousands of tweets and free content, this worm has the nerve to de-certify me!"
-- bettemidler (@BetteMidler)

Posted by: Duncanthrax at April 21, 2023 01:38 PM (a3Q+t)

Carpe Donktum
@CarpeDonktum

Dear Bette,
I heard the tragic news, and I couldn't stand by and watch you suffer. I have set up a gofundme to raise the $8 for your blue checkmark

Any money raised OVER that amount will go to a charity choosen by @elonmusk

Be the wind beneath her wings
https://gofund.me/1b8051f2

Posted by: Kindltot
Kevin McCarthy has demanded budget cuts -- "sweeping" ones, claims CNN, which views any cut as a "sweeping" cut -- in exchange for a debt ceiling raise, and Biden has vowed he will never, ever stop spending America into a hyperinflation-driven depression.
Some Democrats are getting "squeamish" about the standoff and possibility of a (fake) default.
It should be noted that without a debt ceiling rise, Biden could pay all of our recurring debt interest -- and just make the cuts to other programs on his own, without causing any default.
Meanwhile, Basement Biden refuses to even talk to Kevin McCarthy. Which isn't a negotiating tactic -- Basement Biden's handlers won't let him talk to anyone except the friendliest of interlocutors in a carefully-controlled setting.
The risks and pressures of a coming debt showdown with Republicans are quickly mounting for President Joe Biden, who is expected to announce a reelection bid as soon as next week.

Most attention so far has been on House Speaker Kevin McCarthy's perilous effort to unite his fractious party and preserve his tiny majority. But the White House and top Democrats are insisting that they won't engage with McCarthy's demand for sweeping spending cuts in exchange for the House agreeing to lift the government's borrowing limit to avert a disastrous debt default and a possible financial crisis this summer.

The administration's logic is that if hostage takers get concessions they will just demand more.

But the first signs of skittishness are emerging among some Democrats on Capitol Hill in a worrying sign for the administration ahead of tense weeks that could define Biden's domestic legacy and decide whether McCarthy can keep his slender grip on power.

Several House Democrats on Thursday expressed the hope that the president would negotiate with McCarthy. Their concerns appeared to undermine Biden's position and raised new questions about how long his reluctance to bargain can be sustained.

"I think Joe Biden should be talking to Kevin McCarthy, even if those conversations right now prove nothing productive," Rep. Jared Moskowitz, a freshman Florida Democrat, told CNN's Manu Raju. Michigan Democratic Rep. Debbie Dingell warned: "We have to get this figured out," adding, "The United States cannot default."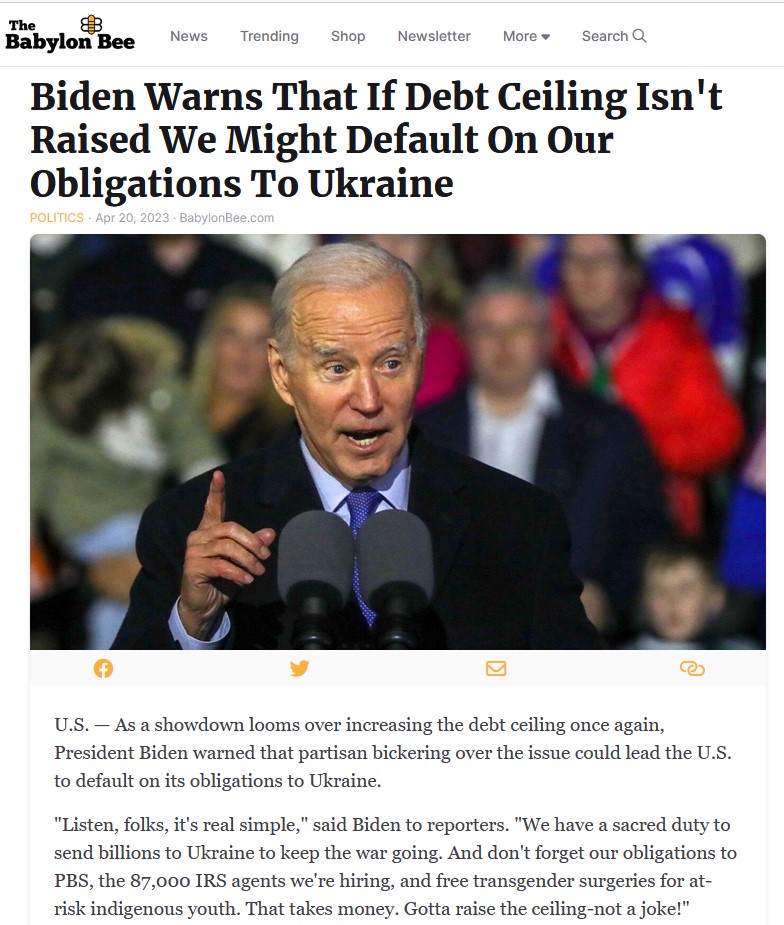 Cruel:
Did you see the guy who gave a Dirty Wedding Vow speech to his wife, right in front of their families, including their two kids from before they were married?
It's something.
Pardon me for linking this particular woman, but at least doesn't interrupt the video to add her own stupid commentary like everyone else does.

posted by Ace at
06:22 PM
|
Access Comments