« The Washington Post's Media "Reporter:" AKSHUALLY We in the Media Have Been Telling Democrats Our Questions In Advance for Years and Years and There's No Problem With That, We've Decided
|
Main
|
DeSantis Insiders Say He'll Form Exploratory Committee in Mid-May; Trump Says He Should Drop Out to Show His "Loyalty" »
April 28, 2023
Life, Liberty, and the Pursuit of the Libs of Tik Tok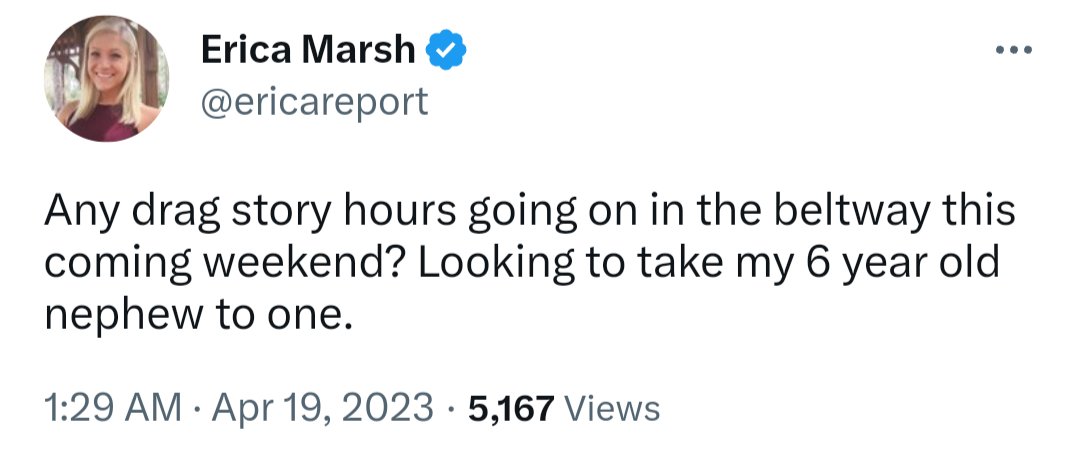 Update: Some commenters are accusing me of being Lamont the Big Dummy, saying "Erica Marsh" or @ericareport is a parody account.
Well, it's not labeled as parody. And if these tweets are meant to be jokes, I don't get it:
Erica Marsh @ericareport

BREAKING: Michigan Attorney General Dana Nessel is reopening an investigation into the fake Trump electors scheme in the 2020 election after new evidence has emerged from the recently released January 6 Committee report.
Erica Marsh @ericareport

Senator Elizabeth Warren says that an investigation into Jared Kushner's $2 billion corrupt deal with the Saudis is necessary. Retweet if you agree with Senator Warren!
Erica Marsh @ericareport

Congresswoman Alexandria Ocasio-Cortez has called on Supreme Court Justice Clarence Thomas to RESIGN.

Reply with a 'Yes' if you agree with AOC!
Erica Marsh @ericareport

Sources close to Donald Trump at Mar-a-Lago say he is cursing up a storm and ranting and raving. He is yelling at staffers and using the "F" word at them. He is completely losing it.

This account labels Erica Marsh a "moron" similar to the known paid Democrat shill and grifter, "Brooklyn Dad."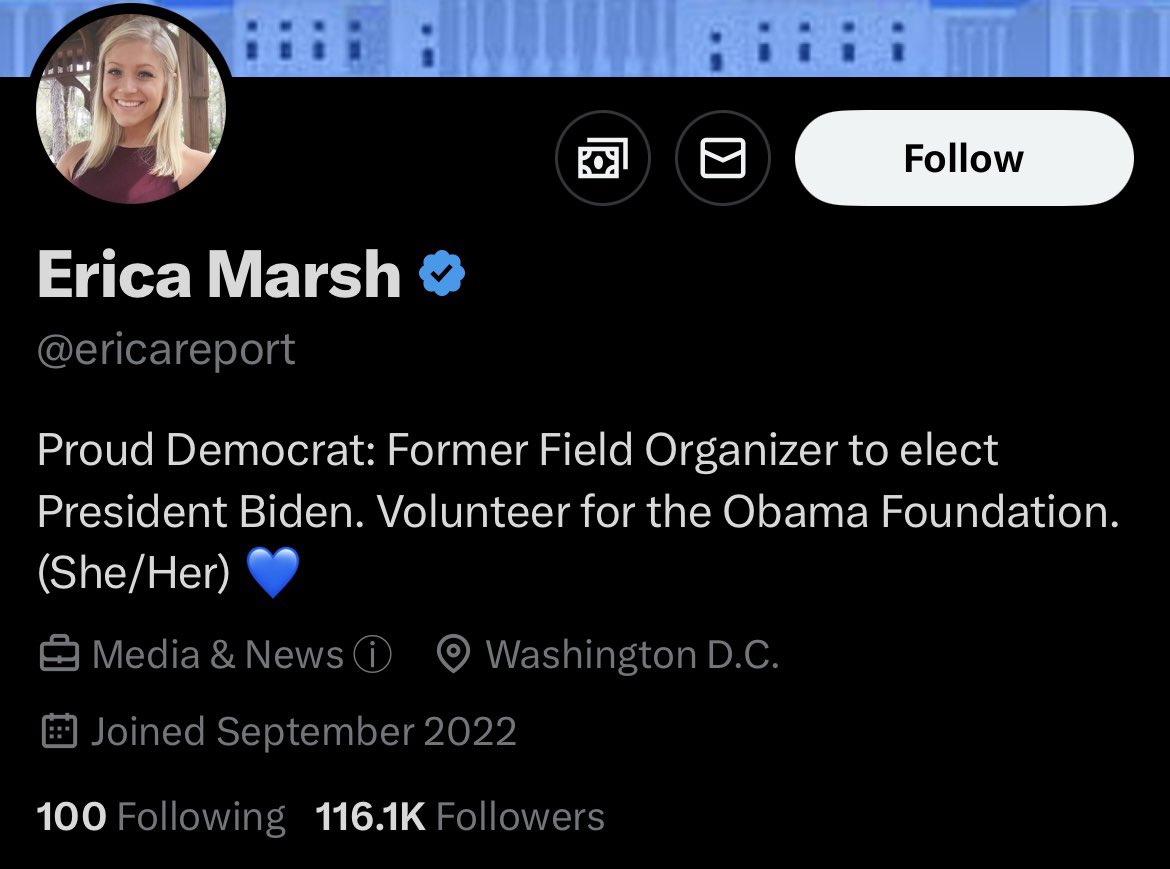 Seems real to me.
Dylan Mulvaney: I don't think it should be legal to misgender me. Dude, I'm correctly gendering you; you're misgendering yourself.

Great, more trans extremism. "Bow to our will or face consequences!"

Woke black "comedian:" Dear White People, when someone calls you "racist," say "Thank you."
"Teacher:" I've set up an "interview" exercise so that my very young students can ask me questions and I can then talk about myself and my sexuality, which is the entire reason I became a teacher. I know that kids are going to ask me if I have a partner, and that means I will have to tell them about my polyamorous polycule and the two partners I have. I considered just not talking about it, but "that feels wrong," and I don't want to have to "pick" one partner to talk about while ignoring the other. So I guess the kids will just have to learn about my polyamorous lifestyle in this "interview" exercise I set up specifically to give me a chance to tell children about my polyamorous lifestyle.
Well, as long as you can talk about Your Authentic Sexually Perverted Self with young children at your government job -- that's all that matters, right?
Trans Supremacist lunatic says that all children are trans, and "cis-ness" is "the lie" that adults "force" their kids into.
This mentally-ill derelict echoes the last one, claiming that denying a child puberty blockers is itself "mutilation."

In the below post, I'm not sure what "ELA" means. Dictionary.com says it can mean one of two things:
English Language Arts: a core course of instruction in an elementary or secondary school where students develop listening, speaking, reading, composition, grammar, and spelling skills in English.

experiential learning activity: a student-centered activity that is designed to foster knowledge acquisition through hands-on activity and reflective observation.
Libs of TikTok @libsoftiktok

Apr 18

A teacher in @SpartDistrict6 allegedly gave this inappropriate sexual themed assignment to students: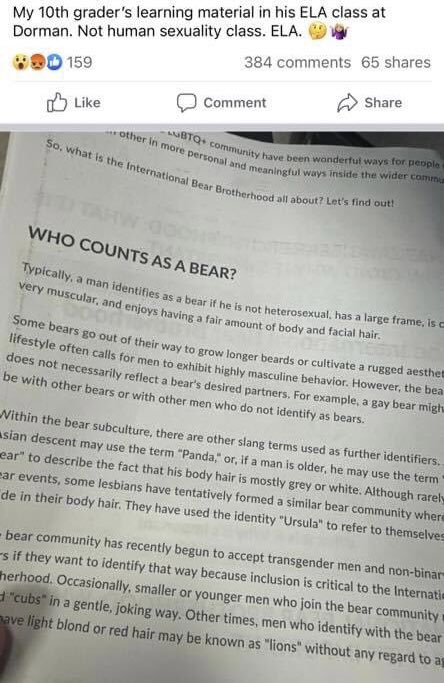 For the innocent among you, "bear" is gay subculture lingo for a larger, hairier man, as opposed to an "otter," who is more athletic and less hairy, or a "twink," who is skinny, boyish in build, and hairless.
Apparently the state now requires children to be au currant in every squalid detail of gay sexual culture.
Don't worry -- children are resilient, all the Teachers Unions Marxists told us during the lockdowns. They can't read or do simple arithmetic, but, By God!, we'll make sure they understand what Otter, Bears, and Twinks are!
A guest on Joe Rogan claims "There is no woke agenda." When Rogan explains to him that yes, there are some people who seem determined to "indoctrinate" children in school, this idiot replies, "But what about the religion their parents taught them before they had a say in it...?" Clearly claiming that a twenty-five year-old-know-nothing with pink hair and a puberty blockers dealer is on equal footing with the actual parent of the child, and who says one should win out over the other?
This isn't some lapse-- this is what they all think.
The State owns your children.
A very disturbing image of naked draq queen, "Queen Lactatia," snuggling up to a five or six year old child.
Eleven-year-old reads a prepared statement about being transgender and the miracle of "transgender care," and the pain of reading proposed legislation to impose age requirements of "transgender care." It totally sounds like an eleven-year-old wrote it!
Below: And you say that you're in "mental health recovery," too? That surprises me. I would never have guessed that.
Bizarre "professor" in queer studies: There is no such thing as biological sex.
I'm so surprised this pyrsyn studies "queer studies"!
Disturbing content warning:
We have chosen, as a society, to mainstream mental illness and malignancy.


posted by Ace at
04:15 PM
|
Access Comments