« AP: "Zooey Zephyr," the Transgender Who Aided and Abetted an Insurrection in the State House, is a Hero For Our Age -- Nay, Any Age
|
Main
|
Life, Liberty, and the Pursuit of the Libs of Tik Tok »
April 28, 2023
The Washington Post's Media "Reporter:" AKSHUALLY We in the Media Have Been Telling Democrats Our Questions In Advance for Years and Years and There's No Problem With That, We've Decided
Remember when I was saying yesterday that the press pre-submitting their questions in advance to Biden so that his handlers could write up answers for him and they press and President could together run a con on the public was a corrupt practice?
Never mind, it turns out I was wrong. The Washington Post says they do that all the time for (Democrat) politicians and officials, and it's good that the press hides this from the American public.

So my bad!!!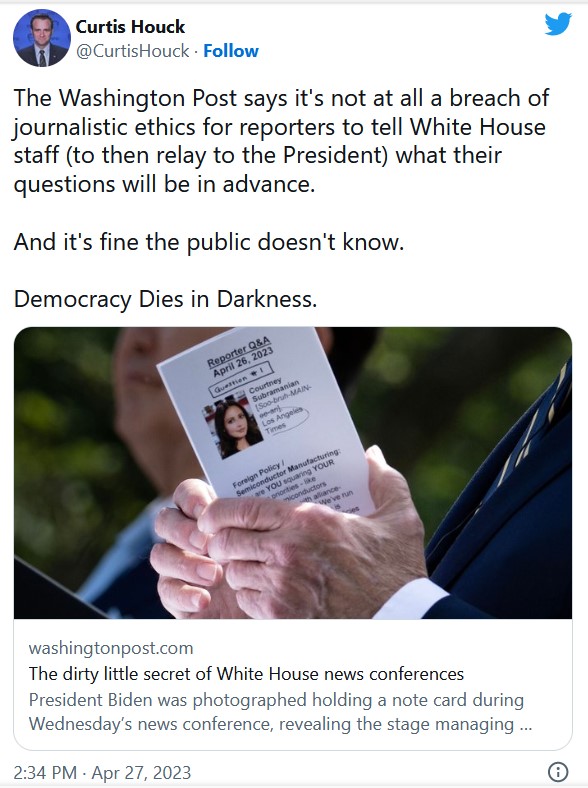 This is Paul Fahri, a truly disgusting partisan who calls himself a media "reporter," here to, unexpectedly, tell you that every dirty little lie the media tells you has been pre-approved by media ethics experts.
President Biden offered such a long and nuanced response to the first question he got at Wednesday's White House news conference that it almost seemed that he knew in advance what the reporter would ask.

As it turns out, he more or less did.

A photo of Biden holding a note card during the presser may have inadvertently revealed one of the dirty little secrets of presidential news conferences: They're less spontaneous and freewheeling than they appear to be, with a fair amount of stage managing behind them.

The card in Biden's hand, titled "Question 1," clearly directs the president to call on a Los Angeles Times reporter, Courtney Subramanian. The card has Subramanian's name (including a how-to-pronounce guide to her last name), her affiliation and even a headshot.

More importantly, photos taken by an Agence France-Presse photographer show what Subramanian was likely to ask about. Under the heading, "Foreign Policy/Semiconductor Manufacturing," the card reads, "How are YOU squaring YOUR domestic priorities -- like reshoring semiconductors manufacturing -- with alliance-based foreign policy?"

Which is generally what Subramanian asked Biden about when he called on her at the joint news conference with South Korean president Yoon Suk Yeol: "Thank you, Mr. President," she began. "Your top economic priority has been to build up U.S. domestic manufacturing in competition with China. But your rules against expanding chip manufacturing in China is hurting South Korean companies that rely heavily on Beijing. Are you damaging a key ally in the competition with China to help your domestic politics ahead of the election?"
That sounds bad, right?
But don't worry -- Paul Fahri, media shyster, I mean media "reporter," is here to tell you that the press has engaged in this corrupt practice for years, and the media has decided You Don't Need to Know.
How did Biden -- or, more accurately, his press handlers -- know that question was incoming, and know to call on Subramanian? The answer is because they asked her.

For many years, White House press employees have routinely polled reporters about their priorities and interests in advance of news meetings to anticipate what their boss might be asked when he or she appears on the podium. The practice is also common in news conferences with cabinet secretaries, such as the Secretary of Defense and Secretary of State.

"Every White House press office will try to go around and take the temperature" of reporters, said a veteran White House reporter, who spoke on the condition of anonymity because his employer had not authorized him to comment. "They want to look smart in preparing their boss for what we'll throw at him."
Yes... and that's what makes this corrupt.
Press staffers as far back as the George W. Bush administration did so, he said. Presidents have tended to call on the reporters his aides have directed him to, he said. President Trump was the most likely to go off script and take questions from anyone, though Trump also made a habit of calling on reporters from outlets he knew were supportive of him.
Oh yeah, sure sure sure, the media was running a con on the American people to make George W. Bush look prepared and knowledgeable. As you well know, The media was heavily invested in making Bush look prepared and knowledgeable and giving him a heads up about difficult questions they planned to ask about Iraq and Abu Ghraib.
...

White House officials declined to speak on the record, and Subramanian didn't respond to a request for comment. A spokesperson for the Los Angeles Times, Hillary Manning, said Subramanian didn't provide White House officials with a specific or even general question in advance of the news conference. However, while covering Biden on a trip abroad, the reporter mentioned to officials that semiconductors was "one of several topics she might want to cover," said Manning.

...

Knowing that a reporter wants to ask about a topic the president wants to emphasize can help cull the list of who'll be called on to ask a question in the first place.
Yeah, we know. That's what makes this corrupt. You're telling the president what you're going to ask so he can call on you if and only if he has a good answer prepared for that question.
Conversely, it can act as an early-warning system, alerting the president to avoid a reporter who might raise an uncomfortable subject -- say, Biden's possession of classified documents or Republican efforts to emphasize the federal investigation of his son, Hunter Biden.
I love how this "news professional" -- by which I mean genius -- is telling us these things as if it wasn't obvious on the face that this system exists so that liberal reporters can make sure they're called on by asking softball questions that they've teed up for Biden in advance.
As a rule, however, reporters say their pre-press conference responses to these inquiries don't preclude them from changing the subject and asking anything they want.
EXCEPT FOR THE LITTLE FACT THAT YOU WON'T BE CALLED ON NEXT TIME AND YOUR ACCESS WILL BE CUT OFF. I mean, except for that, there's no rule about asking a different question than the one you pre-submitted.
"Nevertheless," he sniffs -- as if all of this is above-board -- he complains that the RNC is making an issue of rampant press corruption and collusion with the Democrat party.
Nevertheless, the Republican National Committee's research arm aimed to capitalize on the optics of Wednesday's episode. Over a photo of Biden and the note card, the organization tweeted: "Biden used a cheat sheet at today's press conference -- with a reporter's question written on it.
But... that is what happened.
As usual, the media is not here to report the actual news, but suppress reportage of it, and if they cannot fully suppress reportage of the news -- then to lie and tell people that the Unauthorized News that slipped out doesn't matter anyway.
Stephen L. Miller @redsteeze

Wash Post to the rescue.

See this happens all the time. Calm down.
Holden @Holden114

Should be easy to give examples during the Trump administration.
By the way, the LA Times denies it provided Biden with the question its reporter asked of Biden.
That Joe Biden -- who is well known to be a genius of such profundity as to be virtually unfathomable to the ken of mere men -- must have just intuited it, his Godlike Intellect analyzing every atom of data and every quiver in the reality-streams through which we flow like leaves on a ever-mutating river in order to predict the future by simply analyzing all possible outcomes and discarding from that Possibility Space all but the most likely future.
Yeah that's what happened. Obviously. I mean, as Sigmund Freud said: "A-doyyy."
The Los Angeles Times is denying submitting questions to the White House ahead of Wednesday's press conference after a photo of the president's cheat sheet showed a general summary of a question asked by the paper's reporter.

The vice president of communications for the Los Angeles Times, Hillary Manning, provided the following to statement to Fox News Digital: "Our reporter did not submit any questions in advance of the Q&A with President Biden. Courtney Subramanian covers the White House for the Los Angeles Times. As such, she is in regular contact with the White House press office seeking information for her reporting. You would have to ask the White House who prepared the document for the president and why they included that question."

Fox News Digital reached out to the White House for comment but has yet to receive a response.

Dana Perino @DanaPerino

A press conference is not a take home test.

Biden cheat sheet shows he had advance knowledge of journalist's question
Thanks to redridinghood.

posted by Ace at
03:12 PM
|
Access Comments