« Ex-Acting-CIA-Director Michael Morrell Admits That the "51 Intelligence Officers" Letter Was a Lie Intended to Interfere With the 2020 Election, Concocted at the Direct Demand of the Biden Campaign
|
Main
|
Roman Candle Rover Cafe »
April 20, 2023
Quick Hits
Sources say that Basement Biden will announce his candidacy to be elected president (for the first time) next week, on Tuesday.... by video.
Ah, Basement Biden releasing carefully edited, repeatedly rehearsed campaign statements. That's the Basement Biden we all know.
The statement will be made on April 25, which is the four-year-anniversary of the day he first announced his Basement Campaign for the 2020 election. He really wants us to remember him forever hiding in a basement and refusing to do any press conferences and only agreeing to interviews with the friendliest of friendly "news" people.

Some Egyptians started a Change.org petition asking Netflix to change their ahistorical depiction of Cleopatra as a black woman into a historically-accurate one depicting her as Greek/Macedonian.
Change.org removed the petition. The rules of Wokeness are that you're not even allowed to argue with Wokeness.
Change.org Removes Petition Calling On Netflix To Cancel Race-Swapped 'Queen Cleopatra' Docuseries Due To Historical Inaccuracy, Claims It Violated Community Guidelines

Spencer Baculi
April 17, 2023


In the latest proof that denial is not just a river in Egypt, Change.org has removed a campaign calling on Netflix to cancel their recently announced Queen Cleopatra docuseries due to its blatant historical inaccuracy on the grounds that it supposedly violated the public petition platform's community guidelines.
"And you wonder why Walmart's leaving town." Another day in Defund the Police Chicago.
Virginia Democrat Senator (and Hillary Clinton's running mate) Tim Kaine: Of course it's good that the FBI is recruiting informants in our churches, we have to protect ourselves from the insidious threat of Insurrection.
The plan was to recruit spies among the laity as well as making church leaders informants.
Tim Kaine says that's okay. It's just a matter of "communication" between an informant and his handler.
Virginia Democrat Sen. Tim Kaine gave the FBI his approval to investigate Catholic parishes in his own state on Monday.

When asked by a local ABC affiliate about the FBI's Richmond division infiltrating Catholic communities to spy on the church for alleged extremism, Kaine called the revelations a misunderstanding.

"I think the key is communication," Kaine told ABC13. "If the FBI has a concern like that, then go to the church leaders and say, 'Hey look, we have a concern and we don't want your members to get unwittingly caught up in something.'"
Marc Elias -- Hillary Clinton's fixer -- and the DCC hit with FEC complaint alleging $5 million in bogus charges.
Boy, Marc Ellias just loves falsifying records, doesn't he?
The Committee to Defeat the President, an anti-Biden super PAC, has filed a Federal Election Commission complaint against Elias Law Group and the Democratic Congressional Campaign Committee for allegedly misreporting $5.2 million in payments regarding election recounts.

According to FEC filings, the DCCC paid Elias Law Group, a Democrat election law firm led by Marc Elias, a total of $5.2 million in "Recount Legal [Services]" in 2021 and 2022.

The political action committee alleged in its complaint the payments were made despite no pending federal election recounts at the time.

The super PAC has also forwarded its complaint to the Justice Department, claiming that the payments were incorrectly reported and possibly violate campaign finance laws.
...

Dan Backer, counsel for the Committee to Defeat the President, said in a statement, "For years, the infamous Marc Elias and the corrupt Democrats in his orbit have violated federal campaign finance laws, and it's high time to hold them accountable.

"Americans deserve to know the truth about the Democratic Party's shady money laundering schemes, especially when campaign funds are supposed to be spent in one way and they get spent in another."
The state-funded Canadian Broadcasting Company says Twitter is lying by calling it "state-funded," then presents a graph which... proves that it is state-funded.
But it claims the graph shows it's not that state funded.
Check out the graph called out by David Strom.
On the graph, the vertical axis plots how many hundreds of millions of dollars are collected by the CBC. But check out the graph just after the 700 million mark. There's a double tilde, indicating that a chunk of the graph is being omitted, and the next coordinate on that axis is 1700 million dollars. One point seven billion dollars.
This was done to let them shrink the huge size of the state-funding from the government.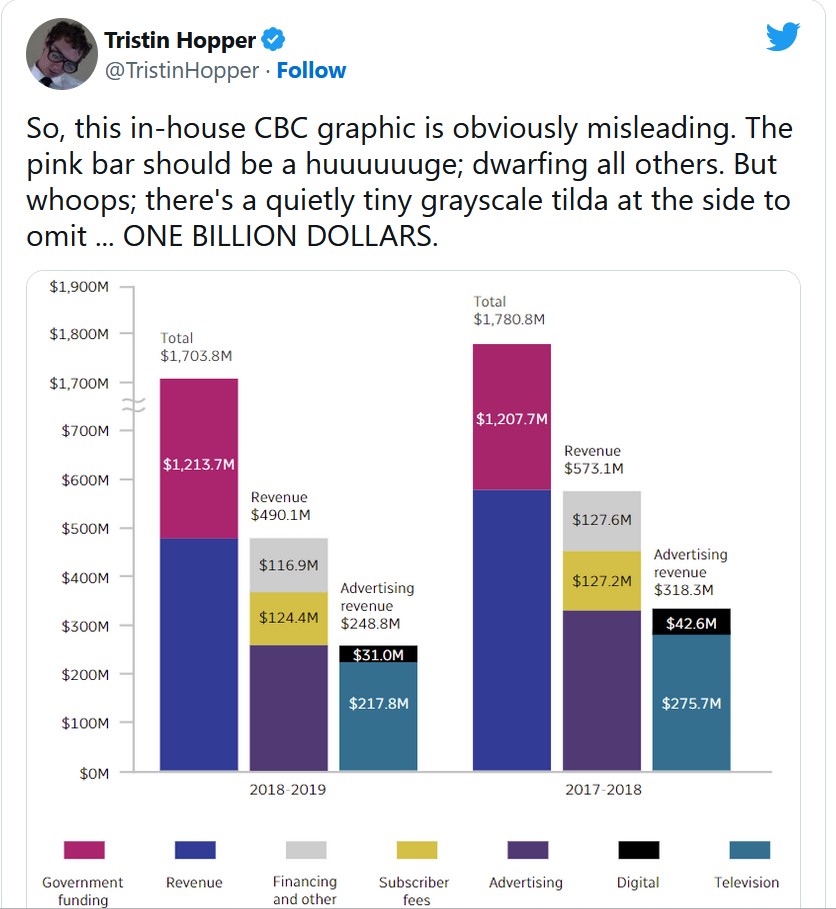 There's a Seinfeld -- I don't know why I reference this show; only like five of you seem to know it; why aren't more of you Jews? They all appreciate Seinfeld references -- where George's new girlfriend yadda yadda yadda's over important, negative information. She says, for example, "I ran into my ex-boyfriend last night, and yadda yadda yadda, anyway, I'm really tired today."
"She wouldn't yadda yadda yadda over sex, would she?" asks George.
"I've yadda yadda'd sex," Elaine answers.
The CBC -- a media organization which attempts to quash the free speech rights of citizens by claiming they're engaging in "disinformation" -- just yadda yadda yadda'd a billion f***ing dollars.
"Here's 700 million, and then, yadda yadda yadda, here's more government funding at the one point seven billion dollar mark..."
In fairness, it's Canadian money so it's worth its weight in garbage, but still, you can put the coins in a campfire and then use them to heat a poutine, so it's got some use I guess.

posted by Ace at
06:38 PM
|
Access Comments