« Fox News Settles Dominion Defamation Lawsuit for... $787.5 Million
|
Main
|
Brandy Distribution Unit Cafe »
April 18, 2023
Quick Hits
The UN okays sex with minors.
International legal "experts" -- backed by the United Nations -- have released a report stating sex with minors is perfectly acceptable.

"Sexual conduct involving persons below the domestically prescribed minimum age of consent to sex may be consensual in fact, if not in law," according to the International Commission of Jurists (ICJ). You can read that part for yourself on page 12.

The shocking legal "recommendations" were released purposely last month on March 8, which is International Women's Day.

Like most global tyranny, this pedo-riffic report comes disguised as a virtue:

Today, on International Women's Day, the International Commission of Jurists (ICJ) launched a new set of legal principles elaborated by jurists for a human rights-based approach to criminal laws proscribing conduct associated with sex, reproduction, drug use, HIV, homelessness and poverty.

Some of the groups involved in this five-year endeavor of evil include the usual suspects of global Marxism: the Office of the High Commissioner for Human Rights (OHCHR), the Joint UN Programme on HIV/AIDS (UNAIDS), the UN Development Programme (UNDP), and of course, no global nod to legal pederasty would be complete without the World Health Organization (WHO).

For those of us paying attention, watching the global commies try to normalize sex with children comes as no surprise.

The report does not call for decriminalizing sex with kids -- yet -- nor does it recommend an age at which kids can consent to sex. However, it does suggest children have the legal "right" and the mental capacity to agree to sex.
Pedophiles always couch their "reforms" as undertaken for the benefit of children -- we wouldn't want to take away their Right to Choose (to Have Sex with an Adult Pedophile), now would we ? I mean, that would be Just Like Nazi Germany!
Always remember your leftist doublethink motto: This Isn't Happening, and also, It's Good That This Is Happening.
Speaking of: The New York Times claims that conservatives started the culture war over trans "women" in women's sports.. by reacting to the left pushing trans "women" in women's sports.
You see? It was conservatives who "started" this controversy, by reacting to the left's going all-in on trans "inclusivity" and "visiblity."
We started this by... moving second.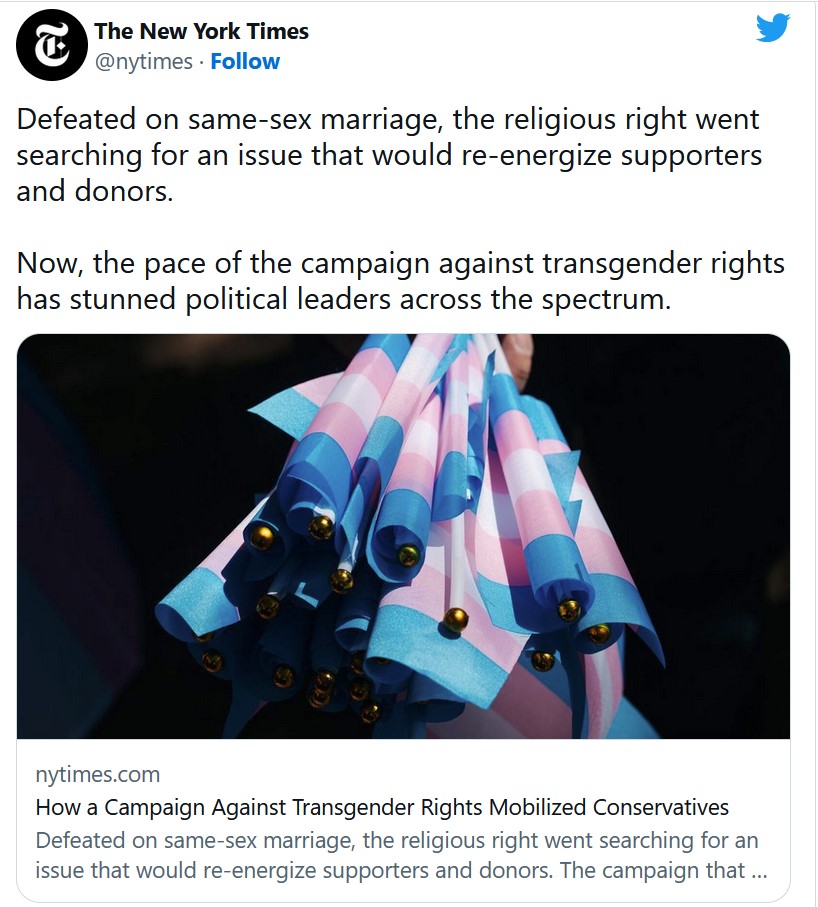 For decades I have been struck by the magic act that the Left gets away with. They push for some outrageous and unpopular goal with 100% of their resources, and when the opposition mobilizes it gets tarred as starting a "culture war."

The Left, everywhere and always, is the aggressor in the culture wars. Every single issue arises due to their full-court press to radically change the culture. EVERY. SINGLE. TIME.

Yet the group that gets tagged as the aggressor is the "Right," who are defending the status quo, not engaging in a full-scale war against anything.

It's like blaming the Romans for defending themselves against Atilla the Hun.

If only Rome and Constantinople had surrendered to the Huns there would have been no battles! See! It is the Romans' fault!
The left is fond of blaming everything on the right -- including blaming people who impose experimental "gender affirming" surgery on children for one of their brainwashed lunatics murdering three children (and three adults).
How does that song go, the one that Garrett loves so much...? Oh, right: "Look what you made me do."
This is such blatantly false propaganda that even the starting catcher for the Groucher Women's Softball Team, chunky-thighed Jonah Goldberg, realizes he can't defend his leftwing allies and donors on this one:
Jonah Goldberg @JonahDispatch

I think this article gets the causality almost perfectly backwards. It wasn't the right's defeat that launched the trans stuff as a political issue, it was the left's success and need for a new cause, which in turn invited the conservative backlash. 1/

Just as a chronological fact, the issue didn't start with the GOP opposing trans athletes in sports. The issue started with .. the issue! -- pushing trans athletes in sports. You can say that's good, bad, or mixed. But you can't start with the right's *reaction* as the start. 2/

This is a pattern going back decades. Progressives -- sometimes rightly, sometimes not -- push an idea forward (it's inherent in the label "progressive" ffs). And when they meet resistance from conservatives, progressives & the media declare "look what the right is starting!" 3/

Suddenly the forces pushing change (again, sometimes good, sometimes debatable, change) claim to be victims of conservatives trying to "impose" their values on the *original imposers* 4/

I mean just this year, the media and Biden admin introduced the idea of banning gas stoves. Republicans *reacted* (and overreacted in some cases), and the media ran to the battlements to mockingly declare the *right* had just launched a new front in the culture war. 5/

You can't have it both ways. You can't take pride in being the forces of change and "progress" and then claim to be the victims in the culture war every time you meet resistance. I mean you clearly *can* have it both ways, because this happens all the time. But it shouldn't. 6/6
Note that the busty Jonah Goldberg blames conservative for "overreacting" to the push to ban gas stoves.
Repeat after your tyrant thought leaders:
This isn't happening, and also, it's Good that this is happening.
The US arrests two Chinese agents over an illegal China Government "police station" operating in New York City.
Brandon's Business Partners think they own the place.
And as long as Brandon's in office, they do.
US authorities arrested two men Monday for allegedly setting up a Chinese "police station" in New York and charged dozens of Chinese security officials over a campaign to monitor and harass US-based dissidents.

The arrests of Harry Lu Jianwang, 61, and Chen Jinping, 59, are the first anywhere over a suspected campaign by China to establish surreptitious police posts in countries around the world, said Breon Peace, the top federal prosecutor in Brooklyn.

The two men set up the office in Manhattan's Chinatown last year at the behest of the Fuzhou branch of the Ministry of Public Security (MPS), China's national police force, ostensibly to offer services like Chinese driver's license renewal, according to Peace.

But in fact their main job was to help track down and harass fugitive dissidents from the People's Republic of China (PRC), US officials said.

"The MPS established a concrete outpost, an off-the-books police station right here in New York City, to monitor and intimidate dissidents and other critics of the PRC within one of the United States' most vibrant diaspora communities," said David Newman, the Justice Department's principal deputy assistant attorney general for national security.
Communist tyrant Gavin Newsom announces that California will start charging for the utilities -- energy, gas, and water -- that the state has a monopoly on... according to your level of income.
From each according to his ability, to each according to his need, one might say.
I stress that these are strictly-necessary services and that the state has a monopoly on them to underscore how absolutely tyrannical it is for California to begin coercing people to pay huge sums for literally life-sustaining goods like water.
The state of California is implementing full Marxism before our very eyes under the guise of "equity." And so now there can be no possible doubt if there ever was for anyone: instituting Communism has been what "equity" initiatives have been about all along. Now three of its most powerful utility companies are saying that they're going to charge based not on how much of their product was used, but on how much money the user makes.

...

That's what Communism is all about, at least in theory: leveling out economic differences between people by confiscating earnings from the rich and awarding them to those who have less. This is the fundamental reason why Marxism, despite its extraordinarily bloody historical record, still appeals to so many people, rich, poor, and in between: it appears to redress the injustices in life and provide everyone with a decent living.

...

That is the disastrous path that Southern California Edison, Pacific Gas & Electric, and San Diego Gas & Electric are now planning to follow. ABC 7 in Los Angeles reported Friday that the three utility giants "filed a joint proposal this week for a flat-rate charge based on income." Not a flat-rate charge, period, but one based on how much money you make. "The plan would break monthly bills in two parts: The fixed-income rate, plus a reduced usage charge based on consumption. Under the proposal, it would cost as little as $15 a month for low-income households and up to $85 more per month for households making more than $180,000 a year."

...

All this is in the works in California because this is the way Gavin Newsom's state government wants it: "The income-based bill proposal is part of the companies' compliance with legislation passed by the California state government last year requiring these types of plans for utilities. The California Public Utilities Commission would have to approve the proposal and make a final decision by mid-2024. The fixed rate could start showing up on bills as soon as 2025." After that, watch for the wall to be built around California to keep those who are productive from escaping becoming slaves to "equity," unless the whole country has embraced Marxism by then.

Yesterday I wrote that the Mayor-Elect of Chicago defended rioting and looting after three days of riots in which "two teens" were shot.

That was true, but misleading. The article I relied on was stressing that he offered this defense after the "two teens" had been shot.
But over 30 people were shot in Chicago last weekend.
Oh, and teens who were shot... were murdered.
A violent weekend in Chicago left several people dead as shootings, vandalism and rioting raged, according to local media reports.

Shootings in the city killed eight people and injured at least two dozen others from Friday through Sunday, with two teenage boys losing their lives, ABC 7 reported. Rioters smashed car windows Saturday night and two teenagers were shot when hundreds clustered in the vicinity of the Chicago Loop area and attempted to force their way into Millennium Park, according to Fox 32, despite a youth escort policy banning unaccompanied minors from the park after 6 p.m. on weekends.
The Biden Administration is releasing all illegal aliens captured, claiming it doesn't have the space to detain them. So they get released to "hide in the shadows" of America, forever.
House Republicans will introduce a bill reviving Trump's policies, and make it the law that if the government doesn't have the "resources" to detain the few illegal aliens it captures, it must deport them.
Republicans on the House Judiciary panel are set to unveil border legislation that includes codifying controversial Trump-era policies.

Why it matters: GOP infighting over specifics has delayed Speaker Kevin McCarthy's promise to bring immigration legislation to the House floor early in this Congress.

The bill, which is unlikely to gain Democratic support, is slated for a committee markup on Wednesday.
It combines eight separate bills into one, and is expected to be combined with another bill out of the Homeland Security committee before being brought to the floor, a leadership source confirmed.

What to watch: The bill includes measures that would allow the U.S. to suspend entry of migrants and asylum seekers who illegally cross the border if there are no resources to detain, expel or remove them.'
The Democrats will of course block any attempt to deport The Voters of the Future (and also, the Present!).
Meanwhile, the illegals Biden is setting free in this country are unvaccinated against tuberculosis and polio. So diseases we successfully eradicated may soon start spreading.
So say the New York City Health Commissioner.
Approximately 50 percent of illegal immigrants coming into New York City are not vaccinated against the contagious and potentially deadly poliovirus.

The New York Post obtained an eight-page letter, dated April 11, that was sent to physicians and other healthcare providers by the city's Health Commissioner, Ashwin Vasan, urging doctors to help prevent a public health emergency.

According to Vasan, the migrants come from or pass through countries with high rates of infectious tuberculosis and there have also been chickenpox outbreaks in shelters housing them.

"More than 50,000 people have come to New York City (NYC) in the past year shortly after crossing the U.S.-Mexico border. As more people arrive and many make NYC their home, the scale and scope of need continues to grow," Vasan wrote.

He added, "I am writing now to underscore how critical it is that health care providers take a wide range of considerations into account when working with people who are seeking asylum. The scope of this letter represents the scale of the need. It is incumbent upon us as a welcoming city to comprehensively evaluate and meet these needs."

The commissioner wrote that screening and vaccinating the illegals for diseases and viruses that have previously been kept at bay is a top priority.
Biden persecutes Americans for not being vaxxed, but if you're an illegal, you can do whatever the f*** you wanna do.

Fetterman "Returned to work" yesterday.
Pennsylvania State Senator John Fetterman has returned to the Capitol after being out for two months to receive treatment for depression. Fetterman's colleague, Brianna O'Neil, shared the news on Twitter, quoting Fetterman as saying, "It's great to be back. Thank you."

Fetterman checked himself into Walter Reed Medical Center to "receive treatment for clinical depression" on February 16.

Fetterman was also hospitalized at George Washington University Hospital in Washington, DC after feeling lightheaded during a Democratic retreat in February.
Here's Fettermonster returning to the Senate, professionally attired as usual.
Fetterman looks like the guy all the middle school dealers get their weed from, and who is always playing video games on his couch, surrounded by old pizza boxes and bang energy drink cans.

Posted by: bonhomme

posted by Ace at
06:11 PM
|
Access Comments